Description:
New Orleans City Park is distinguished by its a large menu of recreational activities and natural beauty. City Park has a special place in the hearts of generations of New Orleanians and is a must visit for visitors to the city. Located in the heart of New Orleans, City Park is a popular place to picnic, play a favorite sport, wander through its gardens or take a boat ride, hosting 11 million visitors each year.
The New Orleans Botanical Gardens located inside City Park is also home of the New Orleans Museum of Art, The Sydney and Walda Bestoff Sculpture Garden, and the largest collection of mature live oaks in the world. Trees in the oldest grove are over 600 years old.
City Park also features The Bayou Oaks Golf Facility, the largest municipal golf facility in the South, featuring three eighteen hole golf courses and a two-tiered lighted driving range.
Children have much to do at City Park. From feeding ducks at the many lagoons to Storyland, a children's fairy tale playground featuring twenty-six larger than life storybook exhibits, to the Hines' Carousel Amusement Park, City Park will certainly keep your young ones busy and entertained for hours.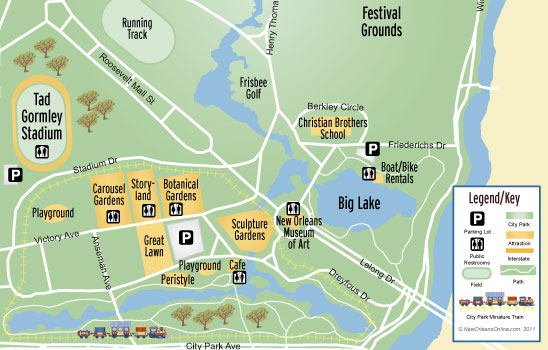 View Larger Map of Lower City Park Online | Download Printable PDF