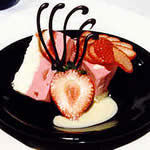 Veranda Restaurant's White Chocolate and Strawberry Mousse
Whip the heavy cream until stiff. Place aside in the refrigerator. Take half of the strawberries and boil with a little water and 5 ounces of sugar. Purée in a blender and strain away the seeds. Dice the remaining strawberries but not too fine. Place the gelatin in some cold water to soften it. Add the gelatin to the warm puree of strawberries and stir until dissolved. Add the rest of the sugar and the diced strawberries to the mixture. Leave to cool stirring frequently. Once the mixture begins to harden add half of the whipped cream and mix well. Place the mixture into a mould. This should only take up half of the mould because the other half will be the chocolate mousse. Place in the refrigerator to set.
Whip the egg whites with 5 ounces of sugar until hard peaks. In the meantime melt the white chocolate over a water bath. In a mixer, beat the egg yolks and sugar until white in color. Continue to beat the yolk mixture over a medium heat (a water bath is the best way to do this). Whip the egg yolks until thick and stiff. Add the melted chocolate to the yolk mixture and blend together. Leave to cool for a few minutes. Gently fold in the egg whites and the remaining whipped cream. This mixture will be placed on top of the strawberry mousse. Place again in the refrigerator and leave until set.
Once you are ready to serve the mousse take it out of the mold. Can be served with a vanilla sauce.