Algiers Folk Art Festival
When:
TBA
Where:
Folk Art Zone & Blues Museum
Cost:
FREE!
More Info:
Click Here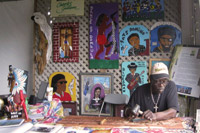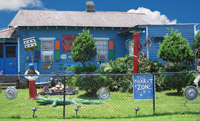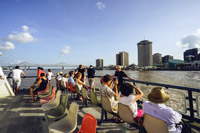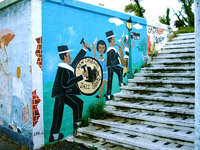 The annual Algiers Folk Art Fest showcases local folk art and some legendary music artists to celebrate the rich culture and personality of the Algiers neighborhood.
The festival is typically held in mid November, and features tons of art, food, and live music. You'll find the fun at Algiers Point, at the Folk Art Zone and Blues Museum.
Entertainment
This FREE festival features some of New Orleans' most legendary local musicians, with previous artists such as blues guitarist Little Freddie King, zydeco musician Bruce "Sunpie" Barnes, and the Confetti Park Players kids chorus. Along with these great tunes, you'll also find artists' tents, food-truck concessions, and several kids' activities!
The Man Behind The Magic
Charles Gillam was born in New Orleans in 1945, and is a self-taught woodcarver and mixed media artist. Gillam's work captures the essence of New Orleans through highlighting the city's renowned musicians, iconic jazz funerals, and second line parades, often through using salvaged furniture, unique architectural elements, and Mississippi River driftwood. He has been featured, locally and nationally, at the New Orleans Jazz & Heritage Festival, and on various radio programs, television shows, and in publications.
In 2000, Gillam opened the Folk Art Zone & Blues Museum, which supports self-taught artists, assists in the visibility of living artists, and educates the public about their work and cultural significance.
The Neighborhood
It is a short ferry ride from the foot of Canal Street in busy downtown New Orleans to Algiers Point. Algiers Point offers great views of both the city skyline and the Mississippi River. Once crowded with industrial sheds, the Algiers riverfront now offers three miles along the levee for walking, biking, and picnics.
Theaters and corner stores have found new life as recording studios, glassblowing workshops, and specialty stores. A walk through the streets of this village will reveal community parks, ancient oaks, and tidy Victorian cottages adorned with gingerbread woodwork. Part of Orleans Parish since the city annexed it in 1870, Algiers Point still has the feel of a village. The character of this neighborhood has made "The Point" a favorite with musicians and artists.
For more information about the festival, call 504-261-6231 or visit the event's website: www.folkartzone.org/folk-art-fest.