Dirty Linen Night
When:
TBA
Where:
French Quarter
Cost:
FREE!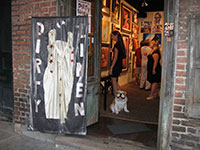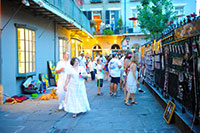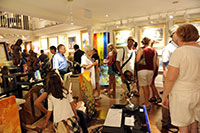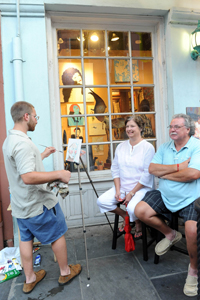 Someone had to think of it sooner or later and, sure enough, someone did. Royal Street jeweler Linda Sampson is credited with coming up with the name for a new event to promote the art galleries and antique shops on Royal Street, and it was catchy and memorable enough to stick.
Sampson's suggestion was to satirize, yet cash in on the name and success of the annual art event in the Warehouse District known as "White Linen Night." The name for the Royal Street event that Sampson came up with was "Dirty Linen Night."
Since the first Dirty Linen Night several years ago, it has evolved into a major happening that has begun rivaling its Warehouse District namesake in terms of pedestrian traffic and business. Held the second Saturday of August every year – a week after White Linen Night – this event takes in roughly five or six blocks of Royal Street and parts of adjoining cross streets.
To make the event even more memorable, many of the participating galleries and shops give away dirty martinis and dirty rice (for the uninitiated, Cajun-style white rice with chicken livers and giblets). Laundry baskets outside the participating businesses add yet another touch of whimsy to Dirty Linen Night, along with suggestions by the Royal Street merchants for people to wear the linens they might have dirtied the week before during White Linen Night. The evening also features participating musical groups, wandering clowns and mimes and other innovative entertainment features. Every year some new touch is added.
In contrast to the raucousness and bright lights of Bourbon Street, Royal Street is the French Quarter's crown jewel in terms of elegance, decorum and culture. Art galleries, antique shops, jewelry stores and other specialty shops designated only by plain wooden signs, and featuring the work of local artisans and specialized craftspeople have been the street's mainstay for many years. Along with some of the finest examples of centuries-old architecture with ornately decorated exteriors and balconies. It is one of the most photographed streets in the world, and one of the most frequently seen in films and TV shows.
On Dirty Linen Night, despite the name, Royal Street is given a chance to shine. Participating merchants in the roughly 500 to 1000 blocks, along with several adjoining blocks along St. Peter and Dumaine streets, are on hand to pleasantly greet strollers and potential customers, and guide them around their establishments' inventories. Also participating are artists in the small section known as "Dutch Alley," where Dumaine Street meets the Mississippi River levee (actually 912 North Peters Street). Gallery owners and other local merchants may offer special prices on their merchandise or may be willing to cut deals with customers.
Admission to the event is, of course, free, and it goes on for roughly four to five hours on the second Saturday in August. The most heavily trafficked blocks of Royal and adjoining streets are blocked off to vehicular traffic and strollers can take in the scene at their own pace. Between 30 and 40 galleries and other shops participate each year.
For more information, visit www.dirtylinennola.com.