Dirty Linen Night

August 8, 2015
When:
August 8, 2015
Where:
French Quarter
Cost:
FREE!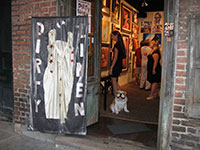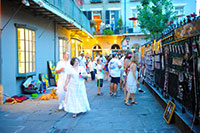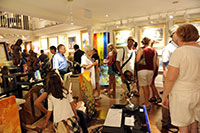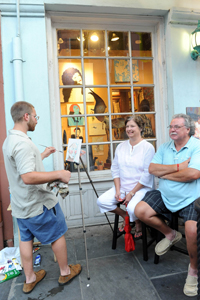 Beginning as a spoof of the popular White Linen Night a dozen years ago, Dirty Linen Night has evolved into a full-scale art event, showcasing local artists and crafts persons in the heart of the French Quarter.
The Event
The 15th Annual Dirty Linen Night will take place on Saturday, August 8 in the art galleries and antique and craft shops of the 200 to 1000 blocks of historic Royal Street, as well as galleries on nearby side streets.
The event, which is free and open to the public, goes 6:00 p.m. to roughly around 9:00 p.m., and as many as 40-50 galleries and shops are expected to participate.
Background
The evening of Dirty Linen Night, annually staged on the second Saturday in August, is patterned after the Arts/ Warehouse District's annual White Linen Night, which is always held on the first Saturday of August. While White Linen Night requires your finest summer linens, Dirty Linen Night gives you the option to bring those linens back out from the previous weekend, stains and all! The event's popularity has grown steadily over the years, drawing crowds into the thousands since it began in 2001.
During Dirty Linen Night, art lovers and casual strollers are invited to visit the participating galleries and shops and hopefully make purchases of artworks on display, thereby supporting some of the top artists and crafts persons in the city. Buyers can arrange with the shops to ship oversized artwork to the addresses they specify at the time of purchase.
Special Features
To add to the fun, many of the participating gallery and shop owners give away dirty martinis and dirty rice.
Laundry baskets outside some of the participating businesses add yet another touch of whimsy to Dirty Linen Night, along with suggestions by the Royal Street merchants for people to wear the linens they might have soiled the week before during White Linen Night.
The evening also features participating musical groups, wandering clowns and mimes and other innovative entertainment features. Every year some new touch is added.
The Art on Royal Street
The annual event, produced by the Arts Council of New Orleans, showcases the unique stretch of Royal Street and all of its artist-owned galleries. Galleries and shops in the area showcase their art, from original oils, watercolors and sculpture to prints, glass and mixed media. These quaint and often historic shops also sell jewelry, home accessories, decorative arts, antiques, hats, wigs, costumes, antiquarian books, collectables and much more. High-end boutiques carry the latest and most colorful fashions in both women's and men's apparel.
Just a block away from Bourbon Street, Royal Street is the French Quarter's crown jewel in terms of elegance, decorum and culture. Galleries and other specialty shops are designated only by plain wooden signs, and feature the work of some of the finest local artists, as well as others with international recognition.
In addition, Royal Street features some of the finest examples of centuries-old architecture with ornately decorated exteriors and balconies. It is frequently photographed by visitors and locals alike, and is also frequently featured in films and TV shows.
Dutch Alley
Also participating in Dirty Linen Night are artists in the small section known as "Dutch Alley", where Dumaine Street meets the Mississippi River levee (actually 912 North Peters Street). Gallery owners and other local merchants may offer special prices on their merchandise or may be willing to cut deals with customers.
During Dirty Linen Night, the most heavily trafficked blocks of Royal and adjoining streets are blocked off to vehicular traffic and strollers can take in the scene at their own pace.
For more up to date information about Dirty Linen Night visit the event's Facebook page.