Whitney White Linen Night

August 5, 2017
When:
August 5, 2017
Where:
Julia Street
Cost:
FREE!
More Info:
Click Here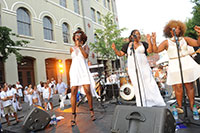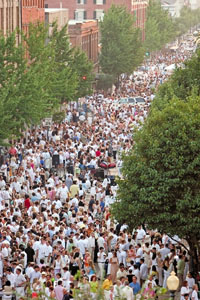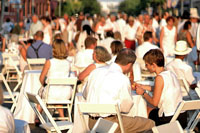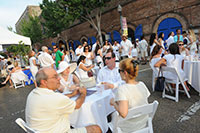 The Warehouse District, also known as the New Orleans Arts District, is the epicenter of NOLA's thriving art scene and every summer the neighborhood hosts White Linen Night to show why it has earned that distinction.
On the first Saturday evening in August, four blocks of Julia Street will be closed to vehicular traffic for a three-hour, New Orleans-style block party. This White Linen Night event is free and open to the public.
The Event
Sponsored by Whitney Bank, Whitney White Linen Night will be held this year on Saturday, August 5. In the closed-off 300 to 600 blocks of Julia Street, three stages are set up for live entertainment featuring some of New Orleans' top bands.
This year's event features over 20 galleries and museums, as well as food and cocktails from 25 local restaurants.
During the hours of 5:30 to 9:30 p.m. the art galleries on or adjacent to Julia Street will open their doors to art aficionados and casual strollers alike. Also, there will be a Cool Down Lounge sponsored by Cox nearby at 743 Camp Street. Entry for the lounge is $40 for CAC members and $50 for nonmembers.
Then from 9 p.m. to midnight, will be the Official Whitney White Linen Night After-Party, held at the Contemporary Arts Center. The after-party is free to CAC members and $10 for general admission. Cash bars, local cuisine and live entertainment will make a great end for your night.
For more details visit the Contemporary Art Center's website or call (504) 528-3805.
Attire
Those who turn out for Whitney White Linen Night are encouraged – but not required – to wear as much white attire as they can, and get into the intended spirit of the event. White linen was chosen both for its breeziness and because traditionally, white linen suits and similar attire are not worn after Labor Day. For those who don't have white outfits, any light-colored combination will do, but there is no required dress code for the event.
The White Linen Tradition
Centuries ago, when New Orleanians who ventured outdoors in the hot summertime had to get where they were going on foot, on horseback or in open carriages, they devised ways to lessen the effects of the summer heat. One of them was wearing white linen clothing. Men wore white suits and hats to reflect, rather than absorb, the sun's rays, and women wore white dresses and hats.
Following the 1984 World's Fair in New Orleans, a massive urban renewal initiative began transforming abandoned and neglected warehouses into lofts, condominiums and – especially – art galleries. In the early 1990s, owners of the art galleries, centered primarily on or near Julia Street, brainstormed about ways to attract potential art buyers into the area. They came up with the idea of reviving the old summertime white linen tradition and the first White Linen Night was held in 1994. Its success took off from there and the event has grown steadily in popularity and attendance ever since.