Boudin, Bourbon and Beer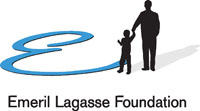 When:
TBD
Where:
TBD
Cost:
$99
More Info:
Click Here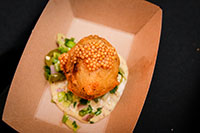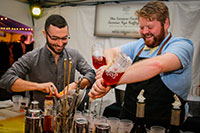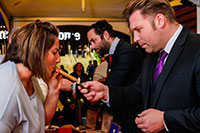 Boudin, Bourbon and Beer is one of the most mouthwatering food and beverage festivals in New Orleans. Created by famous Chef Emeril Lagasse, this one-day event is usually held at Champions Square, adjacent to the Mercedes-Benz Superdome.
While it's title is pretty self-explanatory, this festival will exceed your expectations with more than just food and drink.
The Chefs
Emeril, himself, along with noted New Orleans Chefs: Donald Link, Mario Batali and Stephen Stryjewski headline the event, which has drawn in about 50 other chefs in the past and is expected to increase each year.
Other notable chefs, like Cory Bahr, John Besh, Jimmy Banos Jr. and many more bring their own dishes to the event to make sure that all attendees will have the best Boudin experience one could ask for.
For the full culinary lineup, checkout the festival's Boudin page.
Entertainment
Past performers have included Rock & Roll superstar Grace Potter with her band The Nocturnals, The Lone Below, Sweet Crude and more. This year's musical acts will be announced as the date gets closer.
Beer and Bourbon
Abita Beer is usually a major sponsor, on hand with its famous flagship brews like Abita Amber and Turbodog.
Buffalo trace, the renowned Kentucky Bourbon distillery, has also sponsored the festival, pouring tastes from professional mixologists that create specialty cocktails.
Cigar Tastings
Another popular activity at the festival is the cigar tastings, offered by premium tobacco brands, including Nat Sherman of New York.
Benefit
The festival is a benefit for the Emeril Lagasse Foundation, which supports nonprofit organizations that provide educational programs, life skills development, culinary training and cultural enrichment, all of which help create opportunities in the communities where Emeril's restaurants operate.
For tickets, reservations and information, visit the Boudin, Bourbon & Beer website or check out the Facebook page.
What is Boudin?
Pronounced boo-dan, this tasty delicacy originated in western Europe and was honed to perfection in southern Louisiana. In the versions that originated in Louisiana's Cajun Country, it is a sausage-like meat dish in which a pork rice dressing (much like dirty rice) which is stuffed into pork casings, along with pork meat and herbs. Some people call it the "Cajun hot dog."
The most common variety is boudin blanc (white boudin), taking its name from the color of the finished product, as opposed to the more reddish varieties that use small amounts of blood. The reddish variety is sometimes referred to as "blood sausage." Boudin can be mild or spicy, depending on one's individual tastes, and is frequently stuffed with alligator, crawfish or shrimp meat. It is typically simmered or braised (cooked slowly in fat) to perfection, ready to be served and savored.
About the Principals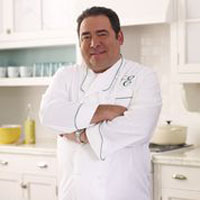 Chef Emeril Lagasse
Chef Donald Link
After more than 30 years of cooking up the highest of haute cuisine, "Super Chef" Emeril Lagasse is a household name today. So much so, in fact, that just his first name is sufficient to conjure up familiar images of him "BAM-ing" his way through countless cooking shows and demonstrations, "kicking it up a notch" each time he leans over the stove.
A native of Fall River, Massachusetts, he made his way to New Orleans in the early 1980s after learning his craft at the world-famous Johnson & Wales University. While prepping at Commander's Palace Restaurant in New Orleans' Garden District, he succeeded Chef Paul Prudhomme as executive chef there in 1982. Eight years later he opened his flagship namesake restaurant at Tchoupitoulas and Julia streets in the Warehouse Arts District and his career skyrocketed from there.
After countless TV cooking and variety shows; more than a dozen restaurants in New Orleans, Las Vegas, Orlando, Charlotte and Bethlehem, PA; roughly 30 cookbooks and videos; and an entire product line consisting of everything from cookware to ingredients, Emeril has established a culinary empire that no other chef could come close to rivaling. New Orleans can proudly claim that his international fame and widespread recognition began right here.
Chef Donald Link is the owner of the popular New Orleans restaurants Cochon, Peche, Herbsaint, Butcher and Calcasieu. In 2007, he earned a James Beard Award for "Best Chef South," and in the same year, Cochon was nominated for "Best New Restaurant." His newest restaurant, Peche, was named "Best New Restaurant" at the 2014 James Beard Awards.