Crescent City Blues & BBQ Festival

October
When:
TBA
Where:
Lafayette Square
Cost:
FREE!
More Info:
Click Here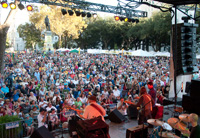 In a city well known for its music and its food, the Crescent City Blues & BBQ Festival combines the best of both. The festival heats up the heart of New Orleans' Central Business District as the weather starts to cool down in October with live music, exquisite barbecue delights and – of course – a fun time for all!
The scene of the action is Lafayette Square, sandwiched in between St. Charles Avenue and Camp Street, one block from bustling Poydras Street and directly across the street from the Federal Court House. The festival is free of charge and open to the public.
Two stages are set up in the square in such a way that the sound from one doesn't conflict with the other and some of the most renowned blues artists in the nation and the city have participated at past events. Taj Mahal, Barbara Lynn, Luther Kent, Don Vappie, Walter "Wolfman" Washington, Anders Osborne and Stanton Moore are just a few of the musicians who have performed there in recent years.
All around the square will be booths offering various types of crafts and foods, especially including some of the best barbecue in the South. The festival is one of several presented by the New Orleans Jazz & Heritage Foundation, the same organization that produces the New Orleans Jazz & Heritage Festival every year.
Hours of the festival are 10:30 a.m.-8:15 p.m. Saturday and 9:30 a.m.-7 p.m. Sunday. For more information, including a convenient map, go to www.jazzandheritage.org/blues-fest/.