Crescent City Blues & BBQ Festival

October 17-19, 2014
When:
October 17-19, 2014
Where:
Lafayette Square
Cost:
FREE!
More Info:
Click Here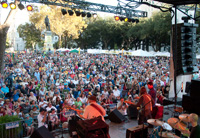 In a city that's world-renowned for its music and its food, the Crescent City Blues & BBQ Festival combines the best of both. Over the weekend of October 17-19 both the grills and the guitars will be heating up the heart of New Orleans' Central Business District as the weather cools down in the fall. Live blues, exquisite barbecue delights and – of course – a fun time; they're all on the menu at this great event!
The scene of the action is Lafayette Square, sandwiched in between St. Charles Avenue and Camp Street, one block from bustling Poydras Street and directly across the street from the Federal Court House. The festival is free of charge and open to the public.
Hours
Friday, Oct. 17: 5:30-8:30 p.m.
Saturday, Oct. 18: 11:00 a.m.-8:30 p.m.
Sunday, Oct. 19: 11:00 a.m.-8:30 p.m.
Music
Two stages are set up in the square in such a way that the sound from one doesn't conflict with the other and some of the most renowned blues artists in the nation and the city have participated at past events. All around the square will be booths offering various types of crafts and foods, including some of the best barbecue in the South. The festival is one of several presented by the New Orleans Jazz & Heritage Foundation, the same organization that produces the New Orleans Jazz & Heritage Festival every year.
This year's headliners include blues legend Bobby Rush, plus Walter "Wolfman" Washington, Little Freddie King, Los Lobos and Mel Waiters. The full lineup is as follows:
Musical Lineup
Friday, Oct. 17
5:30-6:45 p.m.: Little Freddie King
7:00-8:30 p.m.: Ana Popovic

Saturday, Oct. 18
St. Charles Ave. Stage
12:00 noon-1:00 p.m.: King James & the Special Men
2:15-3:15 p.m.: Papa Mali
4:30-5:45 p.m.: Walter "Wolfman" Washington
7:00-8:30 p.m.: Los Lobos
Camp Street Stage
11:00 a.m.-12:00 noon: Marc Stone
1:00-2:15 p.m.: Leo "Bud" Welch
3:15-4:30 p.m.: Selwyn Birchwood Band
5:45-7:00 p.m.: Joe Louis Walker
Sunday, Oct. 19
St. Charles Ave. Stage
12:00 noon-1:00 p.m.: Brother Tyrone & Mind Benders
2:15-3:15 p.m.: Vasti Jackson
4:30-5:45 p.m.: Denise LaSalle
7:00-8:30 p.m.: Bobby Rush
Camp Street Stage
11:00 a.m.-12:00 noon: Luke Winslow King
1:00-2:15 p.m.: Mia Borders
3:15-4:30 p.m.: Valerie June
5:45-7:00 p.m.: Mel Waiters
Food and Crafts
Food and beverages will be on sale on the festival site, primarily around the perimeter of Lafayette Square. Names of all of the vendors have not been announced but, as one of the primary sponsors, plenty of Louisiana-brewed Abita beer will be on sale.
Because the festival relies heavily on food and beverage sales to help cover the costs of the event, the organizers ask patrons not to bring in their own food and drinks.
Hand-made crafts and artworks will also be on sale, including festival posters.
Getting There
By public transit from downtown or the from the uptown Garden District hotels, Lafayette Square is conveniently located along the scenic, historic St. Charles Avenue streetcar line. From downtown or the French Quarter, the fest site is a short taxi or pedicab ride.
On-street parking may be available for those who arrive early, but be aware that parking meters are in effect on Fridays and Saturdays from 7:00 a.m. to 6:00 p.m. At $1.50 an hour (25 cents per 10 minutes; maximum two hours at any given meter), it may not be a cost-effective option for those who plan to spend the whole day at the fest. An easier (and safer) option is parking at any one of several secure, reasonably priced surface and indoor parking lots within a few blocks of the festival. The Poydras Center (650 Poydras Street) will offer all-day parking on Saturday and Sunday for a flat fee of $8 per day. Enter the parking garage from Camp Street.
On-street parking is free on Sunday but early arrival is advised. If meters are bagged or cardboard signs are posted along certain streets, do not park there. You may be towed!
For those going to the festival on bikes, Bike Easy, a nonprofit dedicated to promoting bicycle ridership, is offering free valet bicycle parking. Look for them on the perimeter of the square.
For more information about the festival, including a convenient map, visit the festival homepage.
ADVISORY: No pets are permitted. No chairs within 75 feet of either stage. No outside food or beverage.