French Market Creole Tomato Festival

June 10-11, 2017
When:
June 10-11, 2017
Where:
French Market
Cost:
FREE!
More Info:
Click Here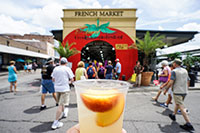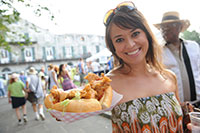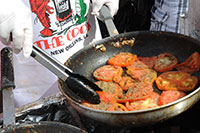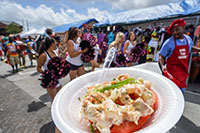 This year's 31st Annual Creole Tomato Festival will be on Saturday, June 10 and Sunday, June 11 in the historic French Market. Festival hours are 8:00 a.m. - 5:00 p.m. Admission is FREE and open to the public.
Background
Tomatoes, especially the succulent Creoles, are essential ingredients in many of the most popular dishes served by New Orleans' top restaurants. Chefs love them for their versatility, and diners love them for their unique flavor.
For 31 years, the Creole Tomato Festival has celebrated this unique Louisiana vegetable, which adds so much to so many local recipes. The festival is beloved by locals and visitors alike for its quaint and quirky traditions, such as life-sized tomatoes strolling the grounds handing out tomato shaped fans, and the auctioning off of the first tomatoes of the season to local chefs.
The Event
Centered around the French Market, which dates back to 1791 and is the nation's oldest city marketplace, the event features:
A Second Line through the festival grounds to kick off Saturday's events
A 'Best of the Fest' cooking contest
Live music
Cooking demonstrations
Creole Tomato Parade
Local farmers' market and food and beverage booths
Food
Food booths typically offer Creole tomato favorites like Fried Green Tomatoes, Creole Tomato Bloody Marys, Creole Tomato with Shrimp Salad, Stuffed Shrimp with Grilled Creole Tomato over Jasmine Rice, Creole Tomato Basil Crepes, Creole Tomato Gelato, Creole Tomato Cream Crawfish Pies, Blooming Onion on a bed of Creole Tomato and more!
Music and Entertainment
For this year's event there will be an additional outdoor music stage at Crescent Park, a 1.4 mile, 20 acre urban linear park that connects the community and visitors to the Mississippi riverfront, just one block from the French Market.
You can expect to hear local legends to be playing throughout the weekend. The live entertainment schedule and the names of participating performers and chefs will be announced closer to the event.
Parking
The French Market is an easy walking distance from all streetcar stops and major attractions in the French Quarter. There is also plenty of space to park your car at the Riverside Parking Lot right behind the Market and Dutch Alley.
For more information on the Creole Tomato Festival visit the event's Facebook page or go to www.frenchmarket.org/event/31tst-annual-french-market-creole-tomato-festival.