French Market Creole Tomato Festival

June 13-14, 2015
When:
June 13-14, 2015
Where:
French Market
Cost:
FREE!
More Info:
Click Here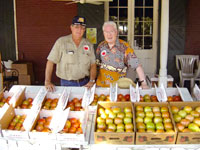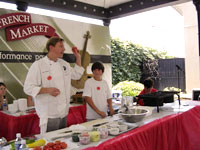 June in New Orleans means the arrival of Creole tomato dishes on local restaurant menus, in farmers markets and at roadside stands. Typically the crop arrives in early June, which is why the French Market Creole Tomato Festival is always held the first or second weekend of that month.
This year's 29th annual Creole Tomato Festival runs from Saturday, June 13 to Sunday, June 14 at the historic French Market for three blocks between Dumaine and Barracks streets. Hours on both days are from 11:00 a.m. to 7:00 p.m.
Admission to the festival is free and open to the public. It is family-friendly with activities for children offered.
Centered around the French Market, which dates back to 1791 and is the nation's oldest city marketplace, the Creole Tomato Festival features:
Live outdoor music
Cooking demonstrations
Creole Tomato Parade
Local farmers' market and food and beverage booths
Fresh Creole Tomatoes for sale by local produce growers
Creole tomato dishes
Creole tomato eating contests
Misting stations
Children's activities
Music
Some top names have confirmed their intent to participate in this year's festival. Among them are:
Jon Cleary
Big Daddy O
Stephanie Jordan
Flow Tribe
New Orleans Nightingales
Paul Sanchez
Johnette Downing
Sazerac Sunrise Band
Tornado Brass Band
Songs for Junior Rangers
Washboard Chaz
Black Dragons
Leroy Jones Quintet
Dianne Gumbo Marie Honore'
Kelcy Mae
Johnny Sansone
The Chorus Girls Project
Meryl Zimmerman
Young Traditional New Orleans Jazz Band
The Swing Setters (with Jayna Morgan)
Food and Cooking Demonstrations
Food booths at the festival will offer such Creole tomato favorite dishes of all kinds, from crabmeat stuffed tomatoes to fried green tomatoes to Creole tomato and basil filled crepes and more. And, of course, Bloody Marys!
Cooking demonstrations will occur throughout the festival, featuring local chefs demonstrating and offering samples of their specialty dishes.
For the Kids
Children's activities will occur in an area known as Dutch Alley, a historic corridor across North Peters Street from the French Market that includes the indoor, air-conditioned New Orleans Jazz National Historical Park.
Among the kid-centered activities being offered there are:
Miniature golf
Craft tents for kids to make and take themed festival crafts, from tomato bracelets and magnets to second-line hankies! FREE
Face painting
Balloon artists and magicians
"Mr. Tomato Head" art project
Playbuild NOLA outdoor playground building project with foam blocks and interactive tabletop building activities
Doc Griggs hosts his signature program "Check in. Get checked. Get fit. Get moving!"
All of the kids activities are free unless otherwise noted.
About Creole Tomatoes
Tomatoes, especially the succulent Creoles, are essential ingredients in many of the most popular dishes served by New Orleans' top restaurants. Chefs love them for their versatility and diners love them for their unique flavor.
The French Market Creole Tomato Festival is a celebration of Louisiana's produce, farmers and the Pelican State's unique cultural and cuisine offerings, of which the Creole tomato is emblematic. Originally imported from the West Indies, the Creole tomato thrives in the rich alluvial soil and subtropical climate of south Louisiana, especially in St. Bernard and Plaquemines parishes.
For almost 30 years, the Creole Tomato Festival has celebrated this unique Louisiana vegetable, which adds so much to so many local recipes. The festival is beloved by locals and visitors alike for its quaint and quirky traditions, such as life-sized tomatoes strolling the grounds handing out tomato shaped fans, and the auctioning off of the first tomatoes of the season to local chefs. Shrimp season coincides with Creole tomato season, so it's a perfect recipe for delicious summer fun to feature fresh seafood and fresh produce in dishes, seminars and in "making groceries" at the historic French Market.
Also on the grounds of the French Market are dozens of booths selling everything you can imagine: clothing, jewelry, artwork, crafts, antiques, compact discs and DVDs and much more. You can enjoy the festival and do some shopping all at the same time.