FoodFest

March
When:
TBA
Where:
Spanish Plaza
Cost:
FREE!
More Info:
Click Here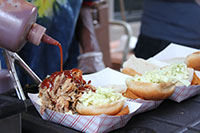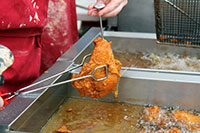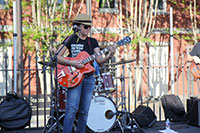 Held annually in the Spanish Plaza in March, FoodFest is a weekend-long celebration of hometown eats focusing on the unique, informal fare found in village cafes and city neighborhoods, shoreline seafood shacks, barbecue parlors, chicken dinner halls, pie palaces, and food trucks.
Cooks from all over the country converge in New Orleans to serve their regional specialties throughout the French Market. Everything from appetizers to entrees to desserts. Everything from Maine lobster, Yankee chowder to Tucson tamales and Texas and Memphis barbecue and genuine Southern mint juleps. Every food offering is a great American classic, cooked and served by the culinary artists who often follow recipes handed down from previous generations. Age-old, tried-and-true formulas that give each dish its distinctive flavor and quality. And, of course, Louisiana's indigenous Cajun and Creole cuisine - especially seafood - fits right in with the rest of them.
Renowned the world over for its culinary reputation, New Orleans is the ideal place for staging a festival dedicated to "America's Hometown Eats." Unlike most other culinary festivals, FoodFest de-emphasizes fast food served by franchise operations and haute cuisine specialties served by pricey, upscale restaurants, preferring instead to feature "authentic regional American food"; food items eaten by the average person at generally affordable prices.
Begun in 2009 as the New Orleans Roadfood Festival and held primarily on Royal Street in the French Quarter, the festival changed its name and location in its fifth year. Now known as FoodFest, it moved to the French Market in 2013 and expanded its range of offerings.
Opening night festivities now include a sampling of dessert confectionaries and the second night offers a real, Cajun-style crawfish boil and fais-do-do music and dance party, both open to the public for an affordable per-person charge. The rest of the festival is free, except for the food itself. In recent years as many as 50 restaurants and vendors have participated and the numbers grow every year.
The FoodFest is a joint venture of Roadfood.com and the New Orleans Convention Company. It was spun out of the website Roadfood.com, which was founded in 2000 by Stephen Rushmore and Jane and Michael Stern.For more information on the event, visit the festival's website at www.nolafoodfest.com or call (504) 888-7608.