Fried Chicken Festival

When:
TBA
Where:
Lafayette Square
Cost:
FREE!
More Info:
Click Here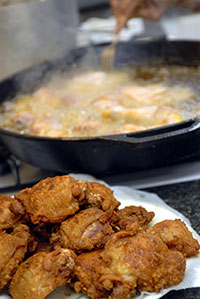 With a festival for almost every food and drink in the Crescent City, it's no surprise that fried chicken would get eventually get its day in the sun. The Fried Chicken Festival aims to celebrate this delicious meal with a variety of restaurant vendors, live entertainment, and events in Lafayette Square of Downtown New Orleans.
Event Information
Dozens of local restaurants offer their take on the classic dish, and Fried Chicken Festival hosts a lineup of local musicians throughout the day. Special events like a Fried Chicken Wing Eating Contest and a Best Fried Chicken Contest also take place.
Parking
Parking near Lafayette Square is available in nearby garages or on adjacent streets with parking meters.

For more information on Fried Chicken Festival, head to www.friedchickenfestival.com.