Fried Chicken Festival

September 23-24, 2017
When:
September 23-24, 2017
Where:
Woldenberg Park
Cost:
FREE!
More Info:
Click Here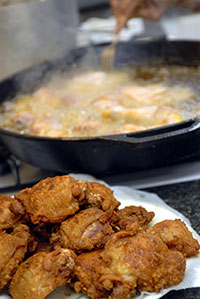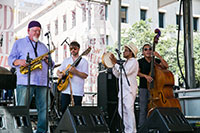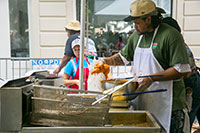 Held in Woldenberg Park along the Mississippi River, Fried Chicken Fest will be jam-packed with food, music, family, and friends throughout the day.
Background
New Orleans is no stranger to food festivals. Po-boys, Creole tomatoes, oysters, and barbecue are just a few of the Southern culinary delights honored by an annual festival here in the Crescent City. With a celebration for every food and an endless array of chefs in the city, it's almost shocking that it took until 2016 to inaugurate a Fried Chicken Festival in New Orleans.
Food
The 2017 festival will feature 35 national vendors, along with celebrity chefs and the Moet Chicken and Champaign VIP Lounge.

This year's vendors include:
...and many more!
For more updates on food vendors, stay tuned to Fried Chicken Festival's official website here.
Music
A variety of locally and nationally renowned musicians will entertain festival goers throughout the day.
Headliners include:
Big Freedia
Naughty Professor
Big Sam's Funky Nation
Sean Ardoin & Zydekool
Los Po Boy Citos
...and many more!
See the full music lineup here.
Events
Cooking Demo Stage
Chef Jeff Henderson, an award-winning chef of Café Bellagio and Caesar's Palace in Las Vegas, author, and public speaker, will host a cooking demo stage throughout the fest.
Events will also include a Best Fried Chicken Contest and Best Use of Chicken in a Dish Contest, which will be judged by renowned food writers and critics.
Stay tuned for updates on event times and additional information here.
Other Experiences
Other experiences at the festival include a Sucré Sweet Spot Lounge to indulge in your sweet tooth, an AT&T and Best Buy Football Fan Zone to watch NFL Football, a Louisiana Federation for Children Kids' Coop with activities, and GoNOLA's Mist and Chill Lounge.
Parking + Getting There
Parking near Woldenberg Park is available in nearby garages or very limited metered street parking. It's also easily accessible from both the Canal Street and Riverfront streetcar lines, as well as by pedicab, taxi or rideshare.
For more information on Fried Chicken Festival, head to www.friedchickenfestival.com.