King Cake Festival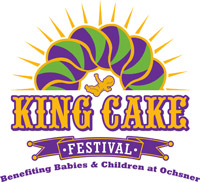 When:
TBA
Where:
Champions Square
Cost:
FREE!
More Info:
Click Here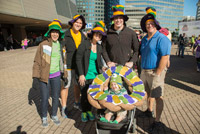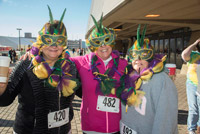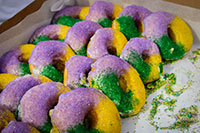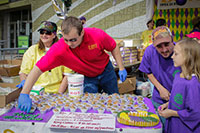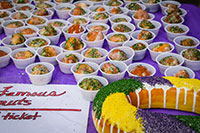 The annual King Cake festival is a great way to taste the culture and history of New Orleans and Mardi Gras. Spend an afternoon listening to live music and celebrating the upcoming Carnival season while sampling some of New Orleans most famous king cakes!
The festival is FREE, family friendly, and open to the public, located in Champions Square outside the Superdome.
The History of the King Cake
The tradition of king cake dates back to the Middle Ages when a popular devotion during Christmas was placed on the Three Wise Men who followed the North Star to find baby Jesus. The twelfth night after the birth of Christ marks the end of Christmas and the celebration of Epiphany, a time for gifts and celebratory cake, or king cake.
Today's king cake is a confection made of braided Danish pastry, laced with cinnamon and often filling, with a hidden tiny plastic baby. The person who finds the baby must buy the next king cake or host the next party. King Cakes are typically iced in the Mardi Gras colors of purple (justice), green (faith) and gold (power), such that each slice is a taste of New Orleans history.
The Food
In the past three years over 15,000 participants have gotten to sample king cakes from some of New Orleans's most famous bakeries, including Haydel's Bakery, Mr. Ronnie's Famous Hot Donuts, and Maurice's French Pastries and even a king cake burger! And all attendees can take part in nominating New Orleans' best king cake through the People's Choice competition.
The Extracurriculars
Come early to participate in the Smoothie King Gladiator Games featuring the Stroller Fun Run and the Fitness Challenge for the perfect prelude to your day. Stroll around Champions Square listening to local music while sampling your slices of New Orleans culture.
Last year's guests were treated to the soulful tunes of Old Sole, Dr. Jazz and Cowboy Mouth to dance off the blissful sugar rush! You can also bring the whole family along and take advantage of the kids' activities with arts and crafts and other fun surprises.
The Benefit
Purchasing tickets to sample King Cake from some of New Orleans' most famous bakers will go towards an even greater cause than satisfying your taste buds! Proceeds go towards benefitting babies and children at the Ochsner Children's Hospital, southeast Louisiana's largest non-profit, academic, multi-specialty healthcare delivery system.In its first year, this tasty festival raised more than $160,000 to help families of pediatric patients at Ochsner Hospital for Children.
For more information visit the King Cake Festival website or check out the festival's Facebook page.