King Cake Festival

January 29, 2017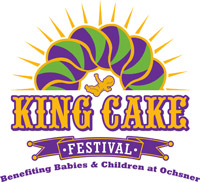 When:
January 29, 2017
Where:
Champions Square
Cost:
FREE!
More Info:
Click Here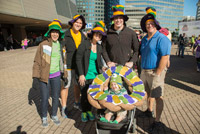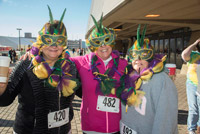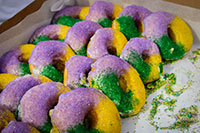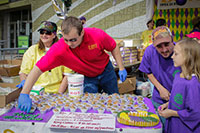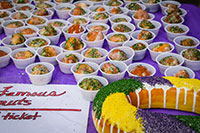 Nothing says that Mardi Gras is here quite like the purple, green, and gold King Cake dessert. At King Cake Festival, over a dozen local shops offer samples of their King Cakes, so you can try every variety. The festival also features food trucks, live music, and drinks. At the end of it all, vote for your favorite dessert!
The festival will be held in Champion's Square in the Downtown New Orleans on Sunday, January 29th from 10 a.m. until 5 p.m. Vendor booths will be located within the square, and a stage playing live music will keep your spirits high.
What is King Cake?
Traditional King Cakes are made from Danish pastry, which is then twisted and sometimes filled with cinnamon, cream cheese, or jelly, and then frosted with purple, green, and gold sprinkles. A tiny plastic baby is hidden inside every King Cake, and the person that finds the baby in their slice purchases the next cake. The beginning of King Cake season is January 6th, and these treats are sold until Ash Wednesday. See here for more information on King Cake and its history.
Vendors
Each vendor will sell their King Cake sample for $1. In addition to traditional King Cake, be sure to keep an eye out for King Cake-inspired donuts, ice cream, and more! Look forward to samples from:
Loretta's Authentic Pralines
Sweet Savors
Caluda's King Cakes
Broad Street Baking Company and Café
Daddy's Donuts
Quintin's Natural Ice Cream & Sorbet
Mr. Ronnie's Famous Hot Donuts
Southern Sweet Potato Pie
Pain Frais – Hyatt Regency New Orleans
Caywood and Randazzo Bakery
Live Music
A lineup of various musical performances will take the stage at Champion's Square. Stay tuned to the festival's website for details on performers.
Special Events
Fitness Challenge and Fun Run
The event begins with a fun run that every festival-goer can participate in. All proceeds benefit Babies & Children at Ochsner Medical Center. Winners of each challenge will also score a free year of Smoothie King smoothies!
Tickets the Fitness Challenge for kids 12 and under cost $15 in advance and $20 day of and adult tickets cost $25 in advance and $30 day of. Registration lasts from 7 a.m. to 9 a.m. and events begin at 9 a.m.
More details on Fitness Challenge and Fun Run events to come here.
Tickets & More Info
Entrance to the festival is FREE. To sample from the vendors, purchase any amount of tasting tickets upon entry. One taste costs $1.
For more information, visit www.kingcakefestival.org.