New Orleans Wine and Food Experience

May 20-23, 2015
When:
May 20-23, 2015
Where:
French Quarter
Cost:
Varies by Event
More Info:
Click Here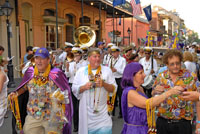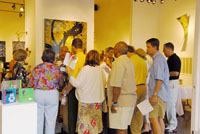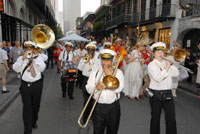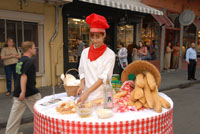 A "Perennial 'Top Ten' Wine and Food Festival" in Wine Enthusiast magazine, The New Orleans Wine and Food Experience is happening here in the city of culinary fame from May 20 through May 23.
Thousands of wine and food lovers are expected to gather here again as they have done every year since 1992 for this extraordinary event. NOWFE spotlights the city's legendary restaurants along with fine wines from around the globe.
Participation from anywhere between 40 and 60 wineries, and a comparable number of restaurants, can be anticipated. Past participants have also included purveyors of gourmet coffees and teas, ice cream and other culinary delights, plus several magazines, culinary websites, bookstores and others with something special to add to the mix.
World-renowned chefs will also be confirming their participation in the months leading up to the festival. Past participants have included names such as John Besh, Susan Spicer, Tory McPhail, Tariq Hanna, Brian Landry and others.
Some of the must-do events of the festival include:
Vintner dinners at local restaurants, hosted by winery representatives and pairing select wines with menus
The Royal Street Experience, a lively stroll through the French Quarter's most elegant street. Live music, food and wine make for a festive offering, plus a gala parade by the New Orleans "funsters," the Krewe of Cork, whose logo is a cluster of grapes and whose motto is "To serve and pour!"
Grand Tastings with dishes from participating New Orleans restaurants and wines from an international selection of vintages
Seminars on a wide range of topics, led by winemakers and other experts in viticulture and the wine industry
Wine Dinners
Wednesday, May 20. 7:00 p.m.
Citywide, prices vary
NOWFE Wine Dinners represent the culmination of a joint effort between a creative and respected New Orleans chef and a talented world-class winemaker. They are brought together for special menus and special wines. At least 40 restaurants from all over New Orleans will be welcoming guests to a set menu at a fixed and reasonable price, which will include all courses and all beverages. The menus are crafted in conjunction with the wines especially for this evening.
Check the NOWFE website for Winery details, prices and menus.
"Vinola" Tasting
Thursday, May 21. 2:00-5:00 p.m.
Omni Royal Orleans Hotel Ballroom, 621 St Louis Street, New Orleans
Should your tastes and wine appreciation experience bring you to a higher level of enjoyment, then Vinola is for you. This mini-Grand Tasting will feature an array of fine wines, each one boasting a retail value of at least $75. There will be so many of these wines that you will be challenged to make it though the collection and taste them all.
Seminars
May 20-23
Marriott Hotel Meeting Rooms
859 Convention Center Boulevard, New Orleans
The 2015 New Orleans Wine & Food Experience Seminar Series is titled "What's Hot in Wine & Food!" Look for more details on the NOWFE Website.
Grand Tastings
Friday, May 22, 6:00-9:00 p.m. and Saturday, May 23, 2:00-5:00 p.m.
New Orleans Convention Center - Hall J
900 Convention Center Blvd, New Orleans
The "Grand" in the title is probably an understatement. The Grand Tastings provide more wine than you have likely ever seen in one place, and more food from New Orleans' finest chefs than you will ever experience again.
The massive Hall J in the Convention Center is packed to the rafters with offerings that show why New Orleans is one of the greatest food cities on the planet, and the wines brought in by wineries from around the world stand very well alongside the cuisine. It's an overload of riches, all brought to this place just for you.
On Saturday, the "King of Louisiana Seafood" will be crowned during the seventh annual Louisiana Seafood Cook-Off, hosted by the LA Seafood Promotion & Marketing Board. Ten chefs from across the state will compete for the coveted title and the winner will represent the Louisiana seafood industry at events throughout the year.
The Big Gateaux Show

A Pastry Competition & Tasting!
Friday, May 22. 9:00-11:00 p.m.
Grand Ballroom at the Royal Sonesta Hotel
300 Bourbon Street, New Orleans
Spectacularly designed pastries to be paired with Champagne & Spirits will be featured at "The Big Gateaux Show." This ticketed event, hosted by celebrity chefs, will feature Trixi Minx & the Beauties from Burlesque Ballroom. Witness the competition at this year's festive after-party following the Friday Night Grand Tasting.
Celebrity judges, as well as attendees, will choose their favorite delight. The winning design and pastry chef will be awarded with a $5,000 prize sponsored by Swiss Chalet.
Royal Street Stroll
Thursday, May 21. 5:30-8:30 p.m.
200-900 Royal Street, New Orleans
Take one of the great shopping streets in the entire world and for one night make it the world's longest wine-tasting area. That's what happens on picturesque, historic Royal Street in the heart of New Orleans' world-renowned French Quarter.
This is the marquee event of NOWFE and has been since the festival was born more than 20 years ago. Inside nearly all of the fabulous antique, art, jewelry, clothing, photography and memento shops along an 8-block stretch of Royal Street participating winemakers will be pouring their exquisite wines as you browse the shops' merchandise, purchasing if you wish, and then moving on to the next location. Down the middle of the street will be winery displays and food tents. There is nothing quite like the Royal Street Stroll anywhere.
Participants must be 21 to enter. At the event, in exchange for your ticket, you will receive a 2015 Wine Glass & Wristband that allows you receive wine & food offerings, rain or shine. Two entrance tents will be positioned in the 400 and 900 blocks of Royal.
As an extra special treat for the revelers, the Krewe of Cork, a New Orleans organization of wine lovers whose motto is "To serve and pour," parades down Royal Street with a retinue of past Grand Marshals that include several renowned winemakers and local celebs. Grab your wine- themed costume and join King Patrick van Hoorebeek as the Corkians celebrate the season of Wine & Food in New Orleans!
Travel Packages and Registration
Travel packages are being offered by some of New Orleans' leading luxury hotels, including the Hotel Monteleone, the New Orleans Downtown Marriott at the Convention Center and the Hyatt Regency New Orleans.
Registration is open until April 1 for those who wish to participate in the NOWFE events. For all other information, including the full schedule of events, call (504) 934-1474, fax: (504) 596-FOOD (3663) or visit www.nowfe.com.