Oyster Festival

June 3-4, 2017
When:
June 3-4, 2017
Where:
Woldenberg Riverfront Park
More Info:
Click Here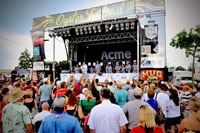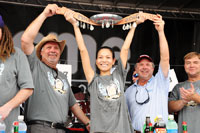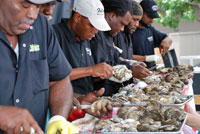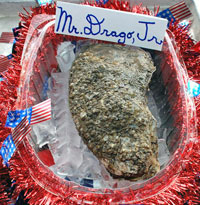 Celebrate, taste, slurp and savor all things oyster at New Orleans Oyster Festival. This free, two-day food festival applauds the French Quarter's position as the "Oyster Capital of America" while educating the public about the benefits of the eating from the Louisiana Gulf and raising funds for Louisiana coastal restoration.
Located in Woldenberg Park on June 3rd and 4th, Oyster Fest highlights unique dishes and flavors from various local restaurants. From 10:30 a.m. to 8:00 p.m., live music, arts and crafts and various contests will also take place. Don't miss the famous oyster shucking and eating competitions! There will also be a New Orleans Fish House Largest Oyster Contest throughout the event among various Louisiana Oyster Farms.
Daily Lineup
The full schedule includes:
Saturday June 3rd
Ponchartrain Wrecks – 10:30am-11:45am
P&J Oyster Shucking Contest – 12:00pm-12:45pm
Billy Iuso & Restless Natives – 1:00pm-2:30pm
Mike Doussan Band – 2:45pm-4:15pm
Bonerama – 4:30pm-6:00pm
Flow Tribe – 6:30pm-8:00pm
P&J Shucking Contest
Sunday June 4th
Gospel Performance – 10:30am-11:30am
Acme Oyster Eating Contest – 11:45am-1:00pm
Luke Winslow King – 1:15pm-2:45pm
The Mulligan Brothers – 3:00pm-4:30pm
Brass-A-Holics – 4:45pm-6:15pm
Bag of Donuts – 6:45pm-8:00pm
Acme Oyster House World Oyster Eating Championship
A cooking demonstration stage will feature Chef Demo's and Brass Band performances between 11:00am and 5:00pm both days.
Food
A variety of oyster dishes will be available at the festival!
Food Vendors throughout the years have included Acme Oyster House, Drago's Seafood , Jacques-Imo's, Luke, Antoine's, Café Reconcile and many more. Dishes have included everything from Oyster Po-boys and Oyster Tacos to Oyster Rockefeller and Oyster Gumbo.
Other various seafood dishes are served as well.
Stay tuned to the festival's official website for details on food vendors.
For more information about New Orleans Oyster Festival, visit www.nolaoysterfest.org