Oak Street Po-Boy Festival

November 23, 2014
When:
November 23, 2014
Where:
Oak St.
Cost:
FREE!
More Info:
Click Here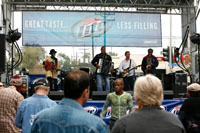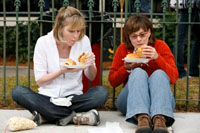 All Photos by Zander White
It's a festival to celebrate a sandwich, but it's not just ANY sandwich. It's a po-boy; "a piece of New Orleans culture," as stated in an advertisement for Leidenheimer Baking Company, which produces most of the French bread for the festival.
Starting small, as most festivals do, the Po-Boy Fest now encompasses the full seven blocks of Oak Street between South Carrollton Avenue and the Mississippi River levee – attracting roughly 50,000 people last year.
The 2014 Oak Street Po-Boy Festival takes place on Sunday, November 23 on Oak Street in the city's historic Carrollton neighborhood. The festival runs from 10:00 a.m. through 7:00 p.m. and admission is free.
Po-boys and more
Spread throughout the festival site are roughly three dozen food vendors, offering delectable New Orleans delicacies with more than forty kinds of po-boys. Served up on varying lengths of French bread, po-boys feature everything from the favorites (fried shrimp, oysters, catfish, ham and cheese and roast beef) to the exotic (shrimp remoulade, fried okra, Greek eggplant and, appropriately for Thanksgiving, roast turkey and gravy).
You can order your po-boys "dressed" with lettuce, tomatoes, onions and mayo or "naked" without the condiments. Either way they are yummy! There's also plenty of barbecue, seafood and steaks.
But don't eat TOO much. You must save some room for dessert. The festival features a wide range of sweet confections as well, including New Orleans' famous bread pudding with rum sauce, pralines and hand-made chocolate goodies. You'd be missing out on some real treats if you didn't leave room for them.
You can view a detailed map of the food booths and the specialties at the festival site, or click here for a history lesson on the po-boy.
Music
And, of course, what would a New Orleans festival be without music? The Oak Street Po-Boy Festival will feature live music on several stages set up on adjacent side streets to avoid the congestion of past years.
Previous years have featured tuneful luminaries like the appropriately named Los Poboycitos, plus Terence Higgins & Swampgrease, Johnny Sketch & The Dirty Notes, Flow Tribe, Rebirth Brass Band and others. For more information on this year's music click here.
Shopping and Dining
Also during the festival, merchants along the Oak Street commercial corridor open their doors for browsers and buyers alike, offering a wide variety of merchandise ranging from vintage books and jewelry to one-of-a-kind works of art and unique wearing apparel.
Coffee shops and cozy little dining establishments offer their specialties, as do larger venues like Jacques-Imo's Restaurant and the world-renowned Maple Leaf Bar with its live music and large dance floor.
Note: The festival is not only pedestrian-friendly, it is also bike-friendly. Sufficient lock-up racks for bicycles will be available by fest time.
For more information check out the festival's website at www.poboyfest.com or view their Facebook page and Twitter for frequent updates.