Louisiana Seafood Festival

September 4-6, 2015
When:
September 4-6, 2015
Where:
Festival Grounds in
City Park
Cost:
FREE!
More Info:
Click Here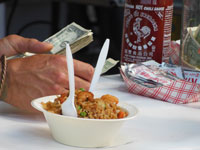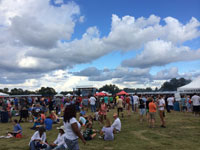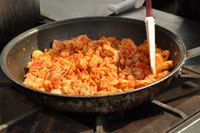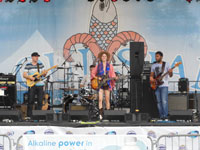 When it comes to Seafood, Louisiana is the place to be, and of course New Orleans has a festival for it!
Hosted by the Louisiana Hospitality Foundation, the Louisiana Seafood Festival celebrates the best seafood in the state, with three days of live entertainment, celebrity chef cooking demonstrations, local arts and crafts and world-famous cuisine from top New Orleans restaurants and caterers.

This year's event will be held on the first weekend in September at the Festival Grounds in City Park. And the best part: it's FREE.
Food
Past years' festival-goers have dined on delicacies from renowned seafood restaurants like Acme Oyster House, Arnaud's, Café Giovanni, Drago's Seafood Restaurant, Galatoire's, Mr. B's Bistro and much more. Shrimp, crab, oysters, fish, crawfish and other delicacies hauled out of the water will be featured in a multitude of creative dishes that will please every palate.
This year's food vendors are coming in hot! An updated list of participating restaurants is coming soon on the festival's website.
Chef's Demonstrations
At the Cooking Pavilion you will be able to learn Louisiana specialties directly from the experts! Expect updates soon for this year's lineup of celebrity chefs to share their secrets (and samples too) for preparing and cooking sensational seafood dishes.
Music
This year's event will feature 15 musical acts throughout the three-day event. Guests will enjoy free admission to see national headliners including Little River Band, Starship featuring Mickey Thomas, and Louisiana's own Marc Broussard.

The music schedule is as follows:
Friday, September 4, 2015
11:00am – Christian Serpas & Ghost Town
12:30pm – Chubby Carrier and the Bayou Swamp Band
2:00pm – Brass-a-Holics
3:30pm – Jon Cleary & the Absolute Monster Gentlemen
5:30pm – Little River Band
Saturday, September 5, 2015
11:00am – The N'awlins Johnnys
12:30pm – Paul Sanchez and Minimum Rage
2:00pm – The Wise Guys
3:30pm – The Vettes
5:30pm – Starship featuring Mickey Thomas
Sunday, September 6, 2015
11:00am – John Boutte
12:30pm – Mia Borders
2:00pm – George Porter Jr. & Runnin Pardners
3:30pm – Bonerama
5:30pm – Marc Broussard
Art Village
At this year's event you'll find artists' booths featuring some of the New Orleans area's most talented artists in jewelry, woodworks, textiles and more. Souvenir baseball caps, posters, T-shirts, aprons, jewelry and other memorabilia will all be for sale on the festival grounds.
About the Louisiana Hospitality Foundation
The Louisiana Hospitality Foundation is a nonprofit organization whose mission is to offer greater access to culinary education and arts, while providing support for the health and social welfare of children across the state. The LHF executes this through community outreach, children's education, hospitality industry financial assistance and benevolence.
For more information and updates on the Louisiana Seafood Festival, visit the event's website at www.louisianaseafoodfestival.com.