Louisiana Seafood Festival

When:
TBA
Where:
Festival Grounds in
City Park
Cost:
TBD
More Info:
Click Here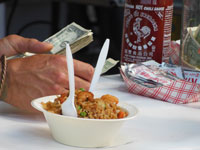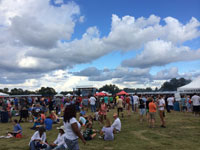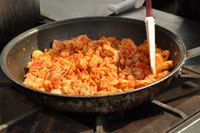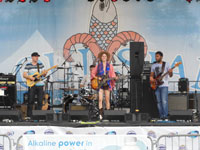 New Orleans is world-renowned for the taste and quality of its seafood, much of which comes from the nearby Gulf of Mexico. Given that reputation, organizers of the Louisiana Seafood Festival felt there was no better place to hold such a festival and they turned it into a three-day celebration.
Held every year during the fall, the free festival features live entertainment, celebrity chef cooking demonstrations, local arts and crafts and world-famous cuisine from top New Orleans restaurants and caterers.
In past years festival-goers dined on delicacies from such renowned seafood restaurants as Acme Oyster House, Arnaud's, Café Giovanni, Drago's Seafood Restaurant, Galatoire's, Mr. B's Bistro, Ninja, Oceana, Pigeon Caterers, Pontchartrain Point Café, Red Fish Grill, Remoulade, Saltwater Grill, and others. Shrimp, crab, oysters, fish, crawfish and other delicacies hauled out of the water are featured in a multitude of creative dishes that will please the palate.
Past festivals have also included artists' booths featuring some of the New Orleans area's most talented artists in jewelry, woodworks, textiles and more. Souvenir baseball caps, posters, T-shirts, aprons, jewelry and other memorabilia are on sale on the festival grounds.
Previous musical performers include such top-draw names as Rockin' Dopsie Jr., Amanda Shaw, Luther Kent, Kermit Ruffins, Rebirth Brass Band and others. Celebrity chefs participating in past events include John Besh, Duke LoCicero of Café Giovanni, Gunter Preuss of Broussard's, Chris Lusk of Café Adelaide, Roberto Bustillo of Galatoire's, Michelle McRaney of Mr. B's Bistro and more.
The festival is staged by the Louisiana Hospitality Foundation, along with the Louisiana Seafood Promotion and Marketing Board. All proceeds from the festival benefit the LHF.
About the Louisiana Hospitality Foundation
The Louisiana Hospitality Foundation is a nonprofit organization whose mission is to offer greater access to culinary education and arts, while providing support for the health and social welfare of children across the state. The LHF executes this through community outreach, children's education, hospitality industry financial assistance and benevolence.
For more information, visit www.louisianahospitalityfoundation.org.