Tales of the Cocktail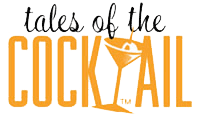 When:
TBA
Where:
French Quarter
More Information:
Click Here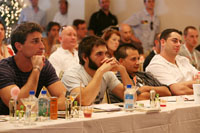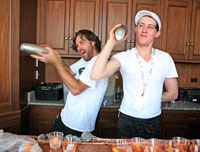 Legend has it that the first true cocktail, the Sazerac, was mixed in New Orleans in the early 19th century by a pharmacist named Antoine Amadee Peychaud. When Monsieur Peychaud poured the mixture of his family's recipe for stomach bitters and French brandy into double-end egg cups known as coquetiers (pronounced koh-kuh-TYAYS) the slurred pronunciation by imbibers came out like "cocktail."
Over the years, the cocktail has taken on many exotic incarnations, the most imaginative of which were concocted here in New Orleans. Famous drinks such as the Absinthe Frappe, the Ramos Gin Fizz, the Obituary Cocktail, the Hurricane, the Hand Grenade and many others owe their beginnings to the imagination and creativity of New Orleans bartenders. To commemorate this grand tradition, "Tales of the Cocktail" was conceived in 2003 and has rapidly grown into one of the city's favorite celebrations.
Tales of the Cocktail is always held in July at various locations throughout the French Quarter. Some of the city's best-known mixologists – along with noted bartenders from around the country – can be counted on to shake, stir and pour their colorful concoctions for thousands of grateful and happy guests. The occasion also features authors on the subject, "Spirited Dinners," lectures, demonstrations, and all things "cocktail" (luncheons, parties and cocktail hours). Close to two dozen of the leading restaurants from around the city participate in the various events.
Reservations to the events are strongly recommended, as are advance hotel reservations. For tickets to Tales of the Cocktail, log on to www.talesofthecocktail.com and for more information call (888) 299-0404.