Tales of the Cocktail

July 17-21, 2013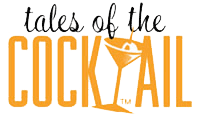 When:
July 17-21, 2013
Where:
French Quarter
More Information:
Click Here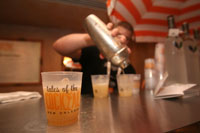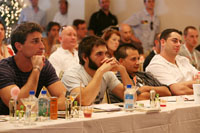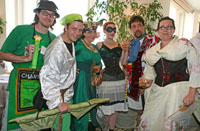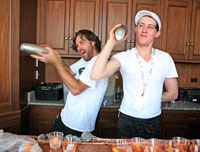 "Drink it in!" That's the watchword for this summer's grand event in New Orleans: the 11th Annual Tales of the Cocktail, celebrating mixed drinks and the joys of life at the bar and in fine dining establishments from around the world.
Tales of the Cocktail is the world's premier cocktail festival, bringing together the most respected minds on mixology for five days of cocktails, cuisine and culture. Held annually in New Orleans, this international event has something for cocktail professionals and enthusiasts alike.
The five-day event, from July 17-21, will feature a series of seminars, mixing competitions, "spirited" luncheons and dinners, complimentary events and invitation-only events. Popular and up-and-coming liquor brands will be showcasing their latest products in tasting rooms. And, as always, there will be "Spirited Awards" given out in sixteen different categories, including "American Bartender of the Year," "Best American Cocktail Bar," "World's Best Cocktail Menu" and more. The top four nominees for each category will be announced on June 7, 2013 on www.TalesoftheCocktail.com.
In addition, cocktail writers will be representing their books and discussing their criteria for judging and critiquing the mixed drinks they write about. To date, more than 80 cocktail professionals have been signed up as panelists and speakers for this year's TOC, with possibly more to come. They include world-renowned mixologists Dale DeGroff, Jeff "Beachbum" Berry, Allen Katz, Lorena Vásquez Ampié (Master Blender of Zacapa Rum), Charlotte Voisey (Mixologist of the Year 2011 for Wine Enthusiast Magazine), Hanna Lee (award-winning wine, spirits and food publicist) and many more.
Most of the TOC events will be held in the Monteleone Hotel in the French Quarter but there will be events at other venues as well. Seminars will be held at both the Monteleone and the Royal Sonesta Hotel. For a list of all the seminars go to www.talesofthecocktail.com/seminars-nola-2013/.
Locally, New Orleans spirits will be represented by Old New Orleans Rum and its founder/CEO, artist James Michalopoulos. He will host a rum tasting at his French Quarter studio on Thursday, July 18 from 2:00-3:30 p.m. For a more detailed schedule of TOC tasting events with topics, times and venues, go to www.talesofthecocktail.com/tasting-rooms-nola-2013/.
"Spirited Dinners" will be served at nearly 30 restaurants in the French Quarter and elsewhere in New Orleans (www.talesofthecocktail.com/spirited-dinner-series-2013/). "Spirited Luncheons" will be served at two popular French Quarter restaurants, The Bombay Club and the Omni Royal Orleans Hotel, on Thursday, July 18. Other "Spirited Luncheon" venues are expected to be announced as well. For more information as the event date gets closer, go to www.talesofthecocktail.com/spirited-luncheons-nola-2013/.
This year's events will culminate with the announcement of the "Spirited Awards" winners at a special ceremony on Saturday, July 20, in the Celestin Ballroom of the Hyatt Regency Hotel adjacent to the Mercedes-Benz Superdome. The event will run from 7:00-11:30 p.m. and will be hosted by Amanda "Lady Lillet" Boccato and Simon Ford. Boccato is the sole U.S. representative for Lillet, the French Aperitif from Bordeaux, France and she is participating in ten other TOC events. Ford is a world-renowned cocktail and bartending authority, with frequent appearances on Emeril Lagasse's televised cooking shows and other widely-read media.
Reservations to the TOC events are strongly recommended, as are advance hotel reservations. For a list of French Quarter hotels offering special rates go to www.talesofthecocktail.com/hotels-new-orleans-2013/.
Ticket packages for the 2013 Tales of the Cocktail can be accessed at www.talesofthecocktail.com/ticket-packages-all/ and individual ticket sales can be made through www.talesofthecocktail.com/individual-tickets/. For more information about all TOC events visit their website at www.talesofthecocktail.com.
You can also access their Facebook page at www.facebook.com/TalesoftheCocktail, Twitter at https://twitter.com/TOTC, or email them at info@talesofthecocktail.com. Their phone numbers are 504-948-0511 and 888-299-0404.
History of the Cocktail
Legend has it that the first true cocktail, the Sazerac, was mixed in New Orleans in the early 19th century by a pharmacist named Antoine Amadee Peychaud. When Monsieur Peychaud poured the mixture of his family's recipe for stomach bitters and French brandy into double-end egg cups known as coquetiers (pronounced koh-kuh-TYAYS) the slurred pronunciation by imbibers came out like "cocktail."

Over the years, the cocktail has taken on many exotic incarnations, the most imaginative of which were concocted here in New Orleans. Famous drinks such as the Absinthe Frappe, the Ramos Gin Fizz, the Obituary Cocktail, the Hurricane, the Hand Grenade and many others owe their beginnings to the imagination and creativity of New Orleans bartenders. To commemorate this grand tradition, "Tales of the Cocktail" was conceived in 2003 and has rapidly grown into one of the city's favorite celebrations.