Tremé Creole Gumbo Festival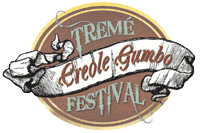 When:
TBD
Where:
Congo Square
in
Armstrong Park
More Info:
Click Here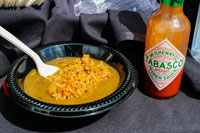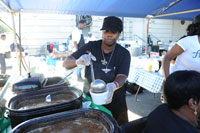 Celebrating the long heritage of what is believed to be the oldest neighborhood of free African Americans in the United States, the New Orleans Jazz & Heritage Festival and Foundation hosts the annual Tremé Creole Gumbo Festival on the second weekend of November each year, just prior to the Thanksgiving holiday.
The festival is staged in Congo Square in the corner of Louis Armstrong Park, as well as in other sections of the park on North Rampart Street between St. Peter and St. Philip streets, directly opposite the French Quarter. Hours are from 11:00 a.m. until just after sunset (between 6:00 and 6:30 p.m.), and admission is free.
The highlight of the festival, in addition to the gumbo of its theme and other uniquely New Orleans culinary delights, is the great traditional New Orleans jazz performed by renowned artists, many of whom grew up in the historic Tremé neighborhood. These may include musicians seen in episodes of the popular HBO TV series "Tremé," as well as some of the city's most popular brass bands.
In addition, you'll discover some of the best gumbo cooking to be found anywhere in the southern Louisiana region. Representing the cultural mix of New Orleans, gumbo is a type of soup that is a signature dish at many of the city's great restaurants, several of which always maintain a presence at the festival. The ingredients of gumbo vary from one cook to another but basic elements may include okra, chicken, sausage (including spicy andouille), shrimp, crab, crawfish, oysters and other types of seafood and fish. It is traditionally served with white rice and should be at least mildly spicy. The sign of a good gumbo is, when you bite into it, it should bite back!
Other signature New Orleans dishes may be served at the festival as well, and many colorful, uniquely creative handicrafts are available for sale.
For more information about the festival contact the Jazz Foundation at 504-558-6100 or Toll Free at (888) 652-8751. You can also visit the festival website: www.jazzandheritage.org/treme-gumbo/.
For more information about the Tremé neighborhood go to www.neworleansonline.com/tools/neighborhoodguide/treme.html.