Southern Decadence

August 27-September 1, 2014
When:
August 27-September 1, 2014
Where:
French Quarter
Cost:
FREE!
More Info:
Click Here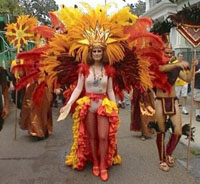 What began as a simple going-away party on Barracks Street in 1972 has evolved into one of New Orleans' premier yearly events and one of the wildest weeks of partying in the American South.
Held annually in the French Quarter over Labor Day weekend, this celebration of GLBT (gay, lesbian, bisexual, and transgender) culture has begun attracting as many as 125,000 participants from all over the world. Dozens of related fun events are scheduled over the fest's six-day stretch.
About Southern Decadence
Join the GLBT community in the French Quarter during August 27-September 1 for this decadent celebration.
Nicknamed the "Gay Mardi Gras," Southern Decadence is one of those quintessential New Orleans occasions in which participants get to strut their stuff in elaborate costumes and high fashion. Ground Zero for the action is around the intersection of Bourbon and St. Ann streets in the French Quarter.
There is always plenty of lively live entertainment. A number of GLBT bars and dance clubs in area provide nonstop music, dancing, and partying during the entire event. Outdoor concerts on the closed-off streets also add to the weekend's festivities, as do stage shows in the individual clubs.
One of the highlights of each year's Southern Decadence is the annual parade through the French Quarter on the Sunday before Labor Day. The Grand Marshals lead the marchers and their floats through the streets to the delight of appreciative crowds all along the parade route.
2014 Specifics
The 2014 Grand Marshals are Aubrey Synclaire, Chad Boutte, and Reba Douglas. The 2014 theme is Under the Big Top, and the colors are Canary Yellow, Turquoise Blue, and Pearl White. The 2014 Official Charity is PFLAG, an organization comprised of family, friends, and straight allies of GLBT organizations.
Events
While most of the events of Southern Decadence are free to the public, some special events are available to VIP members only. Weekend passes to some of the special events are available for advance purchase, which is strongly recommended. These passes guarantee admission, save you some money, and allow you to avoid general admission lines. To see the full list of events and information on how to purchase tickets for special events, click here.
Dates & Times
This year's Southern Decadence Parade will start at 2:00 p.m. on Sunday, August 31st. Kicking off at the Official Home of Southern Decadence, the Golden Lantern Bar (1239 Royal Street).

For the most up-to-date information on Southern Decadence, check out their website.

You can also follow Southern Decadence on Facebook or on Twitter.