Southern Decadence
When:
TBD
Where:
French Quarter
Cost:
FREE!
More Info:
Click Here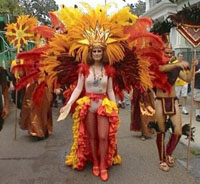 What began as a simple going-away party over 36 years ago has evolved into one of New Orleans' premier annual events: Southern Decadence. Held annually over Labor Day weekend, this celebration of gay, lesbian, bisexual and transgender culture has begun attracting as many as 100,000 participants from all over the world in recent years.
Nicknamed the "Gay Mardi Gras," Southern Decadence is one of those quintessential New Orleans occasions in which participants get to strut their stuff in elaborate costumes and high fashion. Ground Zero for the action is in the French Quarter around the intersection of Bourbon and St. Ann streets. A number of gay bars and dance clubs in the immediate vicinity provide nonstop music, dancing and prancing over the entire duration of the event. Outdoor concerts on the closed-off streets also add to the weekend's festivities, as do stage shows in the individual clubs.
One of the highlights of each year's Southern Decadence is the annual parade that rolls on the Sunday before Labor Day. The Grand Marshal, chosen every May, leads the marchers and their floats through the streets to the delight of appreciative crowds all along the parade route.
Weekend passes to some of the special events are available and advance purchase is strongly recommended. They guarantee admission, save money and allow you to avoid general admission lines. Advance hotel reservations are strongly suggested, as well.