Southern Decadence

September 2-7, 2015
When:
September 2-7, 2015
Where:
French Quarter
Cost:
FREE!
More Info:
Click Here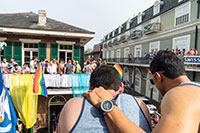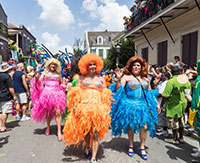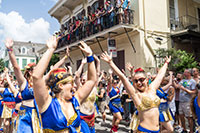 Get ready for one of the biggest celebrations of the summer, New Orleans' 44th annual Southern Decadence event is coming up!
Background
What began as a simple going-away party in 1972 has evolved into one of New Orleans' premier annual events: Southern Decadence. Held annually over Labor Day weekend, this celebration of LGBT culture now attracts over 160,000 participants from all over the world.
Southern Decadence is one of those quintessential New Orleans occasions in which participants get to strut their stuff in elaborate costumes and high fashion – or barely anything at all!
Everyone gets in on the action and all the bars will have their own drag shows, contests, DJs, music and events. Southern Decadence welcomes you to grab a costume, wander around the French Quarter, take a Gay Walking Tour and visit one of the city's world-famous gay bars.
The Event
Starting on Wednesday, September 2, the festivities will kick off with block parties, walking tours, Café Karaoke and, of course, parades.
This year's celebration will be bigger and better than ever, as five Grand Marshals lead marchers and their floats through the streets of the French Quarter.
Parades
The first parade of the weekend, the Knights of Decadence Parade, starts at 7 p.m. on Friday, September 4. The lineup will begin on Elysian Fields next to Washington Square Park and continue through the streets of the French Quarter.
The 41st Annual Official Southern Decadence Parade kicks off on Sunday, September 6, at 2 p.m. Starting from the Official Home of Southern Decadence, Golden Lantern on Royal St., this parade is considered the main event of the celebration that brings in visitors and participants from all over the world.
Additional Events
If you're looking for even more entertainment, there will be special events for Southern Decadence happening hourly throughout the week.

From Wednesday through Sunday, you'll find afternoon block parties at The Corner Pocket. You can take a Gay New Orleans Walking Tour every evening at 5:30 p.m. There will be late night dance events at Oz and other themed parties all over the French Quarter!

G L-f de Villiers Tours also offers a fantastic walking tour called The Twirl! Available Saturday, September 5, at noon and 3pm, the fare is $30 per person. Private tours are also available by appointment for $200. To make a reservation visit www.glfdevilliers.com

And of course there will be late night dance events at Oz and other themed parties all over the French Quarter! Other popular events include the Official Southern Decadence Bead Toss at 4 p.m. on Sunday, September 6, and even the Annual Miss Hair Contest at Good Friends Bar on at 5 p.m. that same day.

For the full schedule of Southern Decadence events, check out the event's website.

Fundraising
The 44th celebration of Gay life in New Orleans will raise funds to benefit three charities: the LGBT+ Archives Project of Louisiana, Louisiana Equality Foundation, and PFLAG New Orleans (Parents, Families and Friends of Lesbians and Gays) Scholarship Fund.
For more information on the Southern Decadence celebration, visit the event's official site at www.southerndecadence.com.