Southern Decadence

August 30-September 4, 2017
When:
August 30-September 4, 2017
Where:
French Quarter
Cost:
FREE!
More Info:
Click Here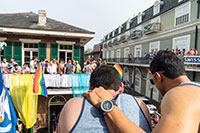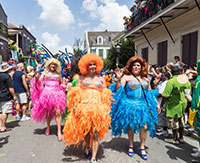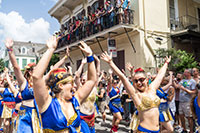 As Travel + Leisure's 2nd most Gay-Friendly City for Travel in America, New Orleans draws in people from all over the world to join the parades, parties and contests, for the 46th annual Southern Decadence event! New Orleans celebrates the fact that it is ALWAYS open.
Background
What began as a simple going-away party in 1972 has evolved into one of New Orleans' premier annual events: Southern Decadence. Held annually over Labor Day weekend, this celebration of LGBT culture now attracts over 160,000 participants from all over the world.
Southern Decadence is one of those quintessential New Orleans occasions in which participants get to strut their stuff in elaborate costumes and high fashion – or barely anything at all!
Everyone gets in on the action and all the bars will have their own drag shows, contests, DJs, music and events. Southern Decadence welcomes you to grab a costume, wander around the French Quarter, take a Gay Walking Tour and visit one of the city's world-famous gay bars.
The Event
Starting on Wednesday, August 30th, the festivities will kick off with block parties, walking tours, Café Karaoke and, of course, parades.
This year's celebration will be bigger and better than ever, as the Grand Marshals lead marchers and their floats through the streets of the French Quarter. This year's Grand Marshall's include: Princess Stephaney, Coca J Mesa and Persana Shoulders.
Parades
The first parade of the weekend typically starts at 7 p.m. on Friday, rolling through the streets of the French Quarter.
The 42nd Annual Official Southern Decadence Parade kicks off the afternoon of Sunday, September 3rd. Starting from the Official Home of Southern Decadence, Golden Lantern on Royal St., this parade is considered the main event of the celebration that brings in visitors and participants from all over the world.
Additional Events
If you're looking for even more entertainment, there will be special events for Southern Decadence happening hourly throughout the week.
From Wednesday through Sunday, you'll find afternoon block parties around the Quarter. You can take a Gay Heritage and Drinks Tour and other walking tours each day of the event. There will be late night dance parties at Oz and other themed parties all over the French Quarter!
For the latest on the Southern Decadence celebration, and information on other LGBTQ NOLA events, see here.