Tennessee Williams Literary Festival

March 19-23, 2014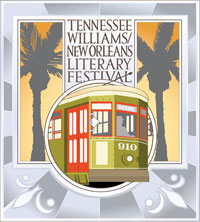 When:
March 19-23, 2014
Where:
French Quarter
Cost:
FREE!
More Info:
Click Here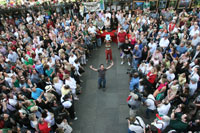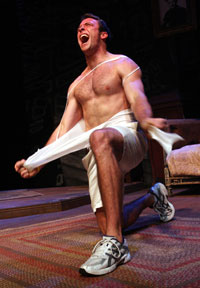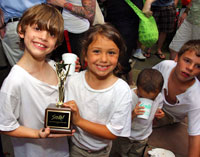 Celebrating the life and career of Tennessee Williams, America's most famous playwright who made New Orleans his home during one of the most creative periods in his life, the annual Tennessee Williams Literary Festival offers other aspiring and established writers a chance to tap in to his creative spirit.
Now in its 28th year, the 2014 Tennessee Williams Festival is being held at various locations in the French Quarter from March 19-23. As always, it will feature literary panel discussions, theatrical performances and master classes for individuals desiring a more intensive "one-on-one" opportunity with a notable expert in writing or the arts.
There will also be a variety of additional events, including a Scholars' Conference, "Drummer and Smoke" music program, Literary Late Night Series, and literary walking tours and food events.
The Tennessee Williams Festival organizers are still fine-tuning the programming, but keep yourself informed of festival updates at www.tennesseewilliams.net.
More than 100 guest speakers specializing in nearly all categories of writing, acting and other related subject areas are lined up to participate in the 2014 festival including
Megan Abbott: award-winning author of six novels and Grisham Writer-in Residence at Ole Miss
Bryan Batt: actor, designer, civic activist, and author
Alicia Anstead: editor-in-chief of "Inside Arts" and "The Writer" magazines
David Kaplan: curator and co-founder of the Provincetown Tennessee Williams Theater Festival
Darrell Bourque: former Louisiana Poet Laureate and author
Greg Herren author, editor, award-winning mystery series writer
Diane Ladd: actress, director, author, producer, three-time Academy Award nominee
Judith Chapman: veteran actress of half a dozen soap operas since the 1970s
Nigel Hamilton: biographer, author of 20 books on famous world leaders
Jeremy Lawrence: actor, created and performed seven one-man shows of Williams in the playwright's own words
Laura Lippman: New York Times bestselling author, creator of Tess Monaghan "accidental detective" series
Tom Sancton: author, educator, editor, correspondent for TIME magazine and renowned clarinetist and music scholar
Visit www.tennesseewilliams.net for full biographies and those of the other distinguished guests.
The Tennessee Williams Literary Festival will take place in the city's historic French Quarter at venues including, the Hotel Monteleone, the Williams Research Center of the Historic New Orleans Collection, the Palm Court Jazz Café, The Historic New Orleans Collection, the Hermann-Grima and Gallier Houses, and Muriel's restaurant.
The Night of the Iguana
During the festival, New Orleans' renowned theatrical presenter, Southern Repertory Theatre, will be staging one of Tennessee Williams' most celebrated plays, "The Night of the Iguana."
Shows begin on March 12 and run through April 8 at The Art Klub, 513 Elysian Fields Avenue (Michalopoulos art studio), just a short distance from the French Quarter. For tickets and information call the Southern Rep box office at (504) 522-6545 or visit www.southernrep.com.
"Stella!"
The Tennessee Williams Festival would not be complete without the "Stella!" shouting contest, also held in the French Quarter.
Hopeful winners, usually attired in Stanley Kowalski-style sleeveless undershirts, compete to shout the most plaintive and convincing appeal to the judges on the balcony of the Pontalba Apartments on Jackson Square.
This is one fun event you won't want to miss. And, in the interests of gender equality, female contestants are allowed to shout "Stanley!"
Accommodations
A limited number of rooms are reserved at the Hotel Monteleone in a block for festival attendees. The discounted room rate is $190 a night from March 19 through March 23, 2014.
Call 866-338-4684 for reservations or book online. You won't be charged until after your stay is up, and should you need to cancel before the start of your reservation, you'll have 72 hours to do so.
Audio Downloads
Audio downloads are available for Tennessee Williams Literary Festival-goers. You'll need to have javascript enabled and the latest flash player installed on your browser. Please wait a moment for the MP3 store to load.
For help with downloads, to register for the festival or for more information call 504-581-1144 or 1-800-990-FEST. You can also email info@tennesseewilliams.net or visit www.tennesseewilliams.net.