Tennessee Williams Literary Festival

March 25-29, 2015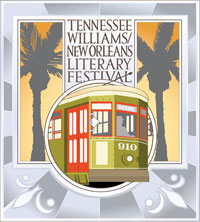 When:
March 25-29, 2015
Where:
French Quarter
Cost:
FREE!
More Info:
Click Here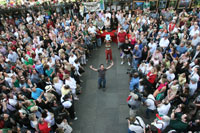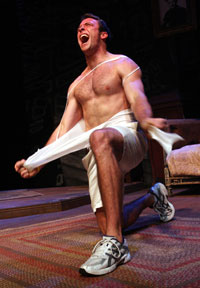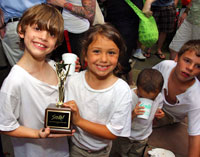 Celebrating the life and "STELLAr!" career of America's most famous playwright who made New Orleans his home during one of the most creative periods in his life, the annual Tennessee Williams Literary Festival offers other aspiring and established writers a chance to shine as well.
Now in its 29th year, the 2015 Tennessee Williams Festival is being held at various locations in the French Quarter from March 25-29. As in previous years, it will feature literary panel discussions, theatrical performances and master classes for individuals desiring a more intensive "one-on-one" opportunity with a notable expert in writing or the arts.
In addition, there will also be a variety of other events, including a Scholars' Conference, "Drummer and Smoke" music program, Literary Late Night Series and literary walking tours and food events.
Festival organizers are still fine-tuning the programming process, but interested persons can keep posted on the Festival Updates and Speakers pages. You can sign up for their e-newsletter to receive program updates.
Guest Speakers
Guest speakers and seminar coordinators encompassing nearly all categories of writing, acting and other related subject areas are being lined up to participate in the 2015 festival. Among those booked include:
Lauren Cerand – Independent publicist, writer. Time Out New York describes her as one of the "cultural gatekeepers in the literary world" Flavorwire named her one of "50 Up-and-Coming New York Culture Makers to Watch in 2013."
Molly Crabapple – Artist, writer and columnist for VICE and has written for The New York Times,Newsweek, The Paris Review, and many more.
Amy Dickinson – Author of the syndicated advice column "Ask Amy," read in over 200 newspapers by an estimated 22 million people each day. She is also a regular featured panelist on NPR's popular comedy quiz show, "Wait Wait, Don't Tell Me." She is author of the NYT bestselling memoir: The Mighty Queens of Freeville. She is currently working on a screenplay.
Keir Dullea – A professional actor for 50 years, best known as Cmdr. Dave Bowman in 2001: A Space Odyssey (1968). His stage work on Broadway includes Butterflies Are Free (1969) and Cat In A Hot Tin Roof with Elizabeth Ashley (1974). Recently he performed in Strings at the 78th Street Theater Lab.
Nigel Hamilton – Acclaimed historian and author of The Mantle of Command: FDR at War, 1941-1942, which made the 2014 National Book Award long list.
General Russel Honoré – Former commander of Joint Task Force-Katrina and CNN contributor.
Phil Klay – U.S. Marine Corps veteran, National Book Award "5 under 35" honoree, and author of the haunting short story collection Redeployment.
Laila Lalami – Author of Hope and Other Dangerous Pursuits, and Secret Son, will discuss her novel of a great unknown American explorer, The Moor's Account.
Pamela Paul – Editor of The New York Times Book Review and By the Book: Writers on Literature and the Literary Life, to be published by Henry Holt in October 2014.
Michael Pitre – New Orleanian and former Marine will discuss his Iraq war debut novel, Fives and Twenty-Fives.
Radclyffe – Author of more than 40 published novels and 100 short stories, founder and publisher of Bold Strokes Books one of the world's largest independent LGBTQ publishing companies
Vijay Seshadri – Winner of the 2014 Pulitzer Prize for his 3 Sections, and #TWF15 Poetry Contest judge.Enter now!
Martin Sherman – Dramatist and screenwriter best known for the Pulitzer Prize-nominated play Bent.
Bryant Terry – Food writer, activist, and author of the recent and very delicious Afro-Vegan: Farm-Fresh African, Caribbean, and Southern Flavors Remixed.
John Waters – American filmmaker, actor, writer, and visual artist best known for his cult films, including Hairspray, Pink Flamingos, and Cecil B. DeMented. He is also the author of a memoir, Role Models.
Venues
Venues in the city's historic French Quarter where festival events will take place include the Hotel Monteleone, the Williams Research Center of the Historic New Orleans Collection, the Palm Court Jazz Café, The Historic New Orleans Collection, the Hermann-Grima and Gallier Houses, Le Petit Theatre and its adjoining Tableau restaurant, Arnaud's restaurant and Muriel's restaurant.
Theatrical Production
During the festival, New Orleans' renowned theatrical presenter, Southern Repertory Theatre, will be staging one of Williams' most celebrated plays, "Suddenly Last Summer." More details on the venue, dates and times will be announced soon. For tickets and information call the Southern Rep box office at (504) 522-6545.522.
"Stella!" Shouting Contest
And, of course, no Tennessee Williams Festival would be complete without the "Stella!" shouting contest, also held in the French Quarter. Hopeful winners, usually attired in Stanley Kowalski-style sleeveless undershirts, compete to shout the most plaintive and convincing appeal to the judges on the balcony of the Pontalba Apartments on Jackson Square.
This is one fun event you won't want to miss. And, in the interests of gender equality, women contestants are allowed to shout "Stanley!"
The contest is the last public event of the festival and early arrival to the site is strongly urged. Large crowds are always on hand for the contest and, weather permitting, a large crowd can be anticipated for this year's event as well.
Accommodations
A limited number of rooms are reserved at the festival's official host hotel, the Hotel Monteleone, in a block for festival attendees. A discounted room rate will be offered for a limited time.
Call 866-338-4684 for reservations or book online. You won't be charged until after your stay is up, and should you need to cancel before the start of your reservation, you'll have 72 hours to do so.
Audio Downloads
Audio downloads will again be available for festival-goers. More detailed information on them will be made available as it is announced.
Registration and Information
To register for the festival or for more information call 504-581-1144 or 1-800-990-FEST. You can also email info@tennesseewilliams.net, visit www.tennesseewilliams.net, or find them on Facebook and Twitter.