Asian Heritage Festival
When:
TBA
Where:
Audubon Zoo
More Info:
Click Here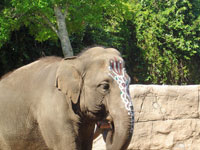 Over the nearly 300 years since the city's founding, New Orleans has welcomed dozens of nationalities into its rich cultural and ethnic mix. Among the most recent group of arrivals are the Asian Americans and Pacific Islanders whose original homelands lie along the western rim of the Pacific Ocean; from Vietnam, China and the Indonesian and Philippine archipelagos to the islands of Japan, and along the northern shores of the Indian Ocean, from Pakistan and India to Thailand, Malaysia and Singapore.
And, like most of the city's ethnic groups, the Asian Americans of New Orleans hold a festival every year celebrating their culture and heritage, one that dates back thousands of years. This year's Asian Heritage Festival will be held at the Audubon Zoo on Saturday, May 25 from 10:30 a.m. to 4:30 p.m. As in past years, the Asian Heritage Festival will feature music indigenous to the individual nations, accompanied by graceful dancers in kimonos and other colorful attire, along with ethnic foods and intricate, imaginative handicrafts.
This year's theme is "Flowers of Asia." Visitors to the festival can expect to see floral arrangements resplendent with color, plus exotic potted plants and many other specialties of Asian horticulture.
Details of this year's Asian Heritage Festival were not available at this time. For more information on this and other upcoming events, click here or call (504) 417-3282.
Asian/Pacific Islanders in New Orleans
Of the estimated 10.2 million Asian/Pacific Islanders living in the United States, roughly 54,000 of them live in Louisiana, comprising 1.2 percent of the state's population. The largest numbers come from Vietnam, where large Vietnamese communities have become concentrated in eastern New Orleans and in several areas on the West Bank of the Mississippi River.
However there are also large numbers of Japanese, Chinese, Korean, Indian, Laotian and Philippine immigrants and their families living in the New Orleans area, each making their own unique contributions to the local culture and multiethnic heritage. Buddhist temples on the West Bank and in several locales throughout the city have introduced many locals to the art and music that are rooted in ancient Eastern rituals. Vietnamese restaurants and food markets throughout the area, serving and selling their culinary specialties – much of which is locally home-grown in community gardens – have been flourishing here in recent years and are favorites of local food critics.
The Asian Pacific American Society of New Orleans maintains a website to keep members and others abreast of events happening in the community, as well as a database of demographic information and local resources. To learn more about the society and the local Asian Pacific Islander Community go to www.apasneworleans.com.