Bastille Day Fête in New Orleans

July 14-15, 2016
When:
July 14-15, 2016
Where:
Citywide
More Info:
Click Here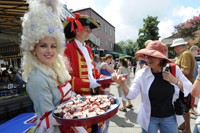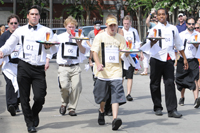 Photos by Frank Stansbury
Named the third best Bastille Day celebration in the world by Reuters.com, Bastille Day Fête is excited to announce its new home at the New Orleans Museum of Art. Now in its fifth year, the celebration will be bringing even more of its French flair to the people of New Orleans. On July 15, from 4 p.m.-10 p.m., you can immerse yourself in the French culture of New Orleans with the following activities. Admission is FREE and open to the public for outdoor activities and $5 for activities inside NOMA. Admission is free for all NOMA members.
The Festival
2016 festival highlights will include:
An exciting line-up of local musicians including The Lost Bayou Ramblers and a live accordion player
French and English tours of the museum
French cooking demonstration in Café NOMA
French inspired kids' activities in partnership with the brand-new bookstore, The French Library
Mini French language lessons by Alliance Française teachers
A spectacular light show finale on NOMA's building
In addition, Bastille Day Fête is taking the celebrations onto the grounds of City Park with activities including pétanque demonstrations and contests, a mime, a balloon artist, a dance floor, and French-inspired food trucks! The area will be transformed into a French village in traditional fireman's ball theme.
Don't forget to check out Bastille Day's website to see a full list of festivities in New Orleans from partners across the Crescent City.
Food
The festival grounds will have no shortage of incredible French food to choose from. This year's vendors include:
Be sure to keep up with Bastille Day NOLA's official website for updates on food vendors.
Contests
Bastille Day Dog Contest
Dress your pup in its finest French attire for a chance to win this adorable competition! Head to the front of NOMA at 5 p.m. to participate. A portion of the proceeds benefit the LA SPCA, and prizes include boarding and grooming from Good Dog Legacy.
Costume Contest
Ladies and gentlemen are invited to wear their best Marie Antoinette or Napoleon costumes for the chance to win prizes at the festival.
Special Events
Saturday, July 9

Faubourg St. John Block Party
Enjoy a block party throughout the 3100 block of Ponde de Leon. Festivities will include food, music, children's activities, and an art market. Parents can have a drink to toast the occasion in this historically French Creole neighborhood.

Thursday, July 14

Arnaud's Bastille Day Dinner
At 7 p.m., enjoy a celebration of French heritage and cuisine at Arnaud's. Authentic wine, cuisine, and communal dining will make for a spirited evening. Be sure to try the Parisian Spritz, a specialty cocktail by Chris Hannah of Arnaud's French 75 Bar.

Sunday, July 17

French Market Bastille Day Bartender & Waiters Race
Head to the French Market at 3 p.m. to watch local bartenders and waiters speed walk down French Market Place! Whoever does not spill their croissants, champagne, and water is the winner. Enjoy live entertainment at 3 p.m. and watch the race and awards ceremony at 4 p.m.

Bastille Day Fête is presented in partnership by the Alliance Française, the Consulate General of France in Louisiana, the French-American Chamber of Commerce (Gulf Coast Chapter), the New Orleans Museum of Art and the New Orleans Tourism and Marketing Corporation.

About the Alliance Française of New Orleans
The Alliance Française of New Orleans is a 501(c)(3) not-for-profit organization founded in 1984 and incorporated in the State of Louisiana. Its mission is to promote knowledge and appreciation of the French language and Francophone cultures, and to encourage friendship and collaboration with the French-speaking world. The Alliance Française offers French language courses, language certifications, cultural activities and online resources to the local community.

About the Consulate General of France in Louisiana
The Consulate General of France in Louisiana was founded in 1803, following the sale of the Louisiana territory to the United States by Napoleon Bonaparte. It is oldest French consulate in the United States. The Consulate's principal missions include: consular assistance to the French community in Louisiana; support of French language educational programs; development of French cultural initiatives; facilitation of economic exchange between France and Louisiana. The Consul General of France in Louisiana, Mr. Grégor Trumel, is the Consulate's chief of mission.

About the French-American Chamber of Commerce – Gulf Coast
The French American Chamber of Commerce, Gulf Coast Chapter, is an independent non-profit private organization dedicated to promoting and developing trade and investment between France and the Gulf Coast. The Chamber is one of 19 chapters of the French-American Chamber of Commerce in the United States of America.

For more information visit www.bastilledaynola.com or check out the festival's Facebook page.