Bastille Day Celebrations in New Orleans

July 11-14, 2015
When:
July 11-14, 2015
Where:
Citywide
More Info:
Click Here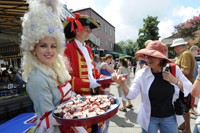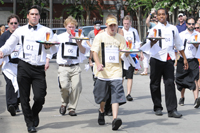 Photos by Frank Stansbury
Bastille Day, France's as their equivalent of our 4th of July, will once again be celebrated in this "Most French of American Cities." A series of events commemorating the French Independence Day are scheduled for the weekend of July 11-14 in downtown New Orleans, in and around the French Quarter and elsewhere in the city.
The Alliance Française of New Orleans, and partners, the French Consulate and French-American Chamber of Commerce, have planned a day-long celebration in Spanish Plaza, adjacent to the Mississippi Riverfront at the foot of Canal Street on Saturday, July 11, plus an exciting series of other Alliance-sponsored events.
Across town, in the historic Faubourg St. John neighborhood alongside Bayou St. John, the Faubourg St. John Neighborhood Association will be staging its annual celebration, also on July 11.
Later that evening, the city will continue their tradition of a Bastille Day fireworks show over the Mississippi River.
Other Bastille Day events may be held in or around the French Quarter. Here are the details on Bastille Day events as they are known so far:
Spanish Plaza Celebration
On Saturday, July 11, from 11:00 a.m.-6:00 p.m., Spanish Plaza turns French for a day.
For the fourth year, New Orleans' Bastille Day weekend's main event is Bastille Day Fête, a free, public festival taking place this year at the revitalized Spanish Plaza.
Located at the foot of Canal Street between the Algiers Ferry landing and the entrance to the Outlet Collection at Riverwalk marketplace, Spanish Plaza is a scenic, terraced Mississippi River overlook. You can enjoy the cooling breeze coming off the river while feasting on delicious French food from local restaurants and dancing to the sound of live music.
As in past years, Bastille Day Fete is expected to feature exceptional local musicians, artists and francophone acts. Food vendors offering French delicacies line the plaza. Children will be treated to face-painting, French storytelling and arts activities.
And to top it off, dogs are invited too! You can dress up your poodle or other pup and enter the annual "French Dog Contest" where dogs of all breeds are welcome to show off their French spirit and win prizes. The contest begins at 12:30 p.m. Saturday.
This event is produced by the Alliance Française, the French-American Chamber of Commerce, and the Consulate General of France in New Orleans. For more information visit the event website at or www.bastilledaynola.com/bastilledaynola/ or check out the event Facebook page.
Other Bastille Day Events in New Orleans
On Sunday, July 12, the Alliance is sponsoring two other events, the CitroeNOLA French Car Club Parade at 10:00 a.m. and the French Market Bartender and Waiters Race at 2:00 p.m. The parade will feature vintage and sporty cars from such French car manufacturers as Citroen, Renault, Peugeot and others. Following the parade, the vehicles will be parked in the 700 block of Frenchmen Street alongside Washington Square Park for public viewing from 12 noon-4:00 p.m.
The French Market Bartender and Waiters Race will take place on Decatur Street between Jackson Square and the French Market. Participants from local bars and restaurants compete in a fast, furious, and hilarious speed-walking race that follows the tradition of Waiters Races around the world on Bastille Day. The race is only four blocks long, so if you want to view it, take a spot on the sidewalk a few minutes before 2:00 p.m...otherwise you'll miss it!
On July 13, the Alliance is sponsoring a French Cooking Class at 5:30 p.m. at the Southern Food and Beverage Museum. This class will feature favorite dishes from the region of Provence. Advance purchase required; deadline to register Friday July 10.
Later that evening and the following evening, at 8:00 p.m., local pianist/vocalist Philip Melancon will be playing a tribute to celebrated French vocalist Charles Aznavour, "The Sinatra of France." Joining Melancon will be singers Heidi Campbell and Hector Ventura. The venue is the Mid City Theatre. General Admission tickets can be purchased by calling (504) 488-1460 or at www.MidCityTheatre.com.
Closing out the Alliance-sponsored series of events is the Council of French Societies' Wreath-Laying Ceremony on Tuesday, July 14 – the official Bastille Day – at 10:00 a.m. The ceremony will take place at the bronze statue of St. Joan of Arc at St. Philip and Decatur streets in the French Quarter. The Consul General of France and other dignitaries will be taking part in the event, at which a celebratory glass of wine will be offered to all attendees and soda for the kids.
Faubourg St. John Celebration
In recent years, the Faubourg St. John Neighborhood Association has staged a one-day Bastille Day celebration in the 3100 block of Ponce de Leon Street, between North Lopez Street and Esplanade Avenue near the Fair Grounds Race Course.
This year's Bastille Day celebration will be on Saturday, July 11 from 5:00-9:30 p.m. Celebrate it in the original neighborhood of the French Creole aristocracy. The 2015 Faubourg St. John Bastille Day fete will feature food, music, children's activities and an art market, much of it with a French flair.
The music starts at 5:00 with Harmonouche with guitarists Raphael Bas and Bart Rames. At 5:30 Cynthia Scott will sing her powerful rendition of "La Marseillaise," the French national anthem. At 7:00 p.m., Ukulele Jake will play, followed, at 7:30, by renowned trumpeter, Kid Merv. There will be dancing in the street and prizes for the best costume as Marie Antoinette or Napoleon.
Participating restaurants and cafes include Café Degas, Liuzza's by the Track, Nonna Mia, Fairgrinds Coffee, 1000 Figs, Pal's Lounge, Santa Fe, and Swirl Wines.
For more up-to-date information, visit the Faubourg St. John Neighborhood Association website at www.fsjna.org.
History of Bastille Day
On July 14, 1789 more than 8,000 men and women stormed a prison fortress in Paris known as the Bastille, demanding the release of the political prisoners being held there, plus the prison's store of weapons. The storming of the Bastille was the spark that set off the French Revolution, an event that had a significant impact not only on France itself but its colonies and former colonies as well, including New Orleans and Louisiana.
Arising from the tumult and chaos of the French Revolution was a young, ambitious general named Napoleon Bonaparte. In order to help finance his wars in Europe, Napoleon sold off his country's largest North American colony in what became known as the Louisiana Purchase. With that 1803 transaction, New Orleans and the rest of Louisiana – plus a vast swath of land between the Mississippi River and the Rocky Mountains – became part of the United States.
Bastille Day is commemorated in hundreds of cities and nations around the world as the French National Holiday, equivalent to the American 4th of July. It is traditionally celebrated with fireworks displays and other festivities that pay tribute to those cities' and nations' French heritage. In North America it is celebrated in cities like New Orleans that were founded by the French and in the Canadian Province of Quebec, explored and founded by the French a century or two before New Orleans.