Bastille Day Fête in New Orleans
When:
TBA
Where:
Citywide
More Info:
Click Here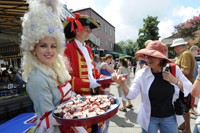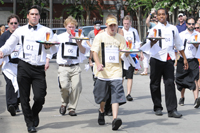 Photos by Frank Stansbury
On July 14, 1789 more than 8,000 men and women stormed a prison fortress in Paris known as the Bastille, demanding the release of the political prisoners being held there, plus the prison's store of weapons. The storming of the Bastille was the spark that set off the French Revolution, an event that had a significant impact not only on France itself but its colonies and former colonies as well, including New Orleans.
Arising from the tumult and chaos of the French Revolution was a young, ambitious general named Napoleon Bonaparte. In order to help finance his wars in Europe Napoleon sold off his country's largest North American colony in what became known as the Louisiana Purchase. With that 1803 transaction, New Orleans and the rest of Louisiana – plus a vast swath of land between the Mississippi River and the Rocky Mountains – became part of the United States.
Bastille Day is commemorated in New Orleans on the closest Saturday preceding the 14th of July. The occasion is celebrated with a block party in the 3100 block of Ponce de Leon Street in the city's historic Faubourg St. John neighborhood, adjacent to Esplanade Avenue. This quiet, residential section of the city was once the home of many families of French Creole aristocracy. Most of the historic houses they lived in are still visible and in use today.
The Bastille Day party features live music, food and drinks to toast the memorable occasion. This is a family-oriented event with fun things for the kids to do, including arts and crafts and games. All of the neighborhood's stores and businesses actively participate.
There are also pétanque games going on during the Bastille Day celebration. Similar to the Italian bocce and English lawn bowling, pétanque is played by nearly 20 million people worldwide, 17 million in France alone.
For more information visit the Faubourg St. John Neighborhood Association website at www.fsjna.org.