Congo Square New World Rhythms Festival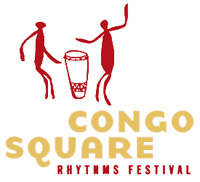 When:
TBA
Where:
Congo Square
Cost:
FREE!
More Info:
Click Here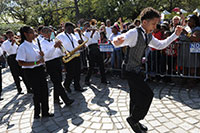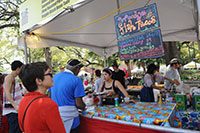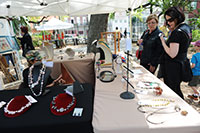 In the years before the slaves were liberated, their owners in New Orleans would give them a "day off" from their free labor on Sundays-get out and enjoy a little revelry. They would gather in a place known as Congo Square-sing and dance and beat on drums in keeping with their ancestral African heritage.
From these hypnotic African rhythms and other strains of music that filtered into New Orleans in the late 1800s came the musical art form now known as Jazz.
Today that colorful African heritage is celebrated in the same locale, in Congo Square, which is now a section of Louis Armstrong Park. It is held annually in mid-November, usually around the second weekend of the month. The festival began in 2007 and is presented by the New Orleans Jazz & Heritage Foundation, in conjunction with the Foundation's Tom Dent Congo Square Symposium.
The late Tom Dent, for whom the symposium was named, was a noted New Orleans writer, folklorist and civil rights activist.
This free, day-long festival celebrates the historic role of Congo Square as the birthplace of American music. The Tom Dent Symposiums feature panel discussions in topics relating-the mixture of world cultures that took place at Congo Square, resulting in the development of jazz and, by extension, all of American music.
The festival offers the best of African drumming and dance, together with music from Africa, the Caribbean and the American South. It opens at 11 a.m. For more information on the festival lineup check local listings as the date gets closer or go-their website www.jazzandheritage.org/congo-square.
The New Orleans Jazz & Heritage Festival and Foundation, Inc. was established in 1970 with a mission-sow the seeds of our unique culture for generations-come. As the nonprofit owner of the New Orleans Jazz & Heritage Festival -- Jazz Fest -- the foundation works all year long-promote and develop the culture of New Orleans and the surrounding region. Their areas of focus are education, economic development and culture.