Congo Square New World Rhythms Festival

March 19-20, 2016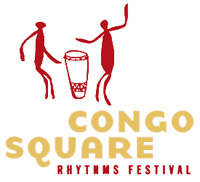 When:
March 19-20, 2016
Where:
Congo Square
Cost:
FREE!
More Info:
Click Here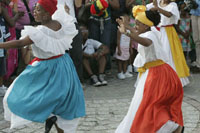 In the years before the slaves were liberated, their owners in New Orleans would give them a "day off" from their free labor on Sundays to get out and enjoy a little revelry. They would gather in a place known as Congo Square to sing, dance and play drums in keeping with their ancestral African heritage.
From these hypnotic African rhythms and other strains of music that filtered into New Orleans in the late 1800s came the musical art form now known as Jazz.
Today that colorful African heritage is celebrated during the Congo Square New World Rhythms Festival in the same locale.
The Event
This year's 9th Annual Congo Square Festival is being held over the weekend of March 19-20, from 11:00 a.m. to 7:30 p.m., both days, and it is free and open to the public.
Location
Congo Square, now a section of Louis Armstrong Park on North Rampart Street, lies opposite the French Quarter in the famous Treme neighborhood. It is a convenient walking distance from the French Quarter and downtown hotels.
Music
The festival features Afro-Caribbean music, art and food, with much of the focus on African drumming, chanting and ritualistic dancing. There will also be New Orleans-based brass bands, hip-hop artists, Mardi Gras Indians, African dance troupes and more.
In addition, there will be a stage that features performances by youth groups from local schools. School-based vocal and instrumental groups, especially those specializing in gospel and jazz will keep you on your feet!
Background
The festival began in 2007 and is presented by the New Orleans Jazz & Heritage Foundation, the same organization that stages the annual New Orleans Jazz & Heritage Festival and several others throughout the year. The foundation also sponsors educational events aimed at keeping the New Orleans musical culture heritage alive and vibrant.

For more information on the festival lineup and details, follow the event on Facebook or visit www.jazzandheritage.org/congo-square.