ESSENCE Festival

July 2-5, 2015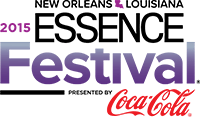 When:
July 2-5, 2015
Where:
Mercedes-Benz Superdome
Book a Room:
Click Here
The lineup is out for the 2015 ESSENCE Festival presented by Coca Cola! ESSENCE Festival is returning to the Mercedes Benz Superdome on July 2nd, and tickets are on sale now.
Get ready for the best in R&B, hip-hop, jazz, blues, and more! This year, New Orleans is proud to again host ESSENCE Festival, the nation's premier showcase for contemporary African American music and culture.
Background
Since the early 1990s Essence Magazine, the distinguished lifestyle magazine for African American Women, has chosen New Orleans for its annual 3 day event. Each year the festival brings in the best performers and entertainers in the country, as well as holding a series of seminars created to empower African American men and women.
This year's weekend event will rock with more DJ's, artists, performers, and comedy than ever before!
Music
Previous artists at ESSENCE Festival have included Beyoncé, Prince, Alicia Keys, and more! This year's event brings in even more music legends to perform across 5 different stages.
Music at the ESSENCE Festival will be performed in two locations, on the Main Stage in the Superdome itself and in four smaller, more intimate "SuperLounges" in separate areas of the Dome.
Here a just a few of this year's headliners:
Kendrick Lamar
Mary J. Blige
Common
Missy Elliott
India.Arie
Trombone Shorty & Orleans Avenue
Erykah Badu
Doug E. Fresh
Leon Bridges
Bilal
Kelly Price
Check out Essence Magazine's website for a full list of this year's lineup.
Speakers
In addition to hearing live music from these world famous performers, you can participate in the 2015 ESSENCE Empowerment Experience. ESSENCE Festival is bringing in some of the most knowledgeable experts to share their ideas and tips to pursue your personal success.
Some of this year's acclaimed speakers include:
Sybrina Fulton
Reverend Al Sharpton
Claudia Jordan
Cynthia Bailey
Shaun T
Noelle Robinson
The Walls Group
Kim Burrell
Anita Wilson
Visit the ESSENCE Festival Speakers page for more information on this year's experts and seminars.
Arts and Crafts
ESSENCE Festival also gives African American artists, writers, craftsmen, culinary artists, businesspeople and others a chance to show off their talents and sell their work.
All vendors will have displays set up in different locations around the Superdome and park areas that will be temporarily turned into outdoor markets. You can expect to see variety of quality fine art and crafts from clothing and jewelry, to collectable paintings and sculpture. All art displays and demonstrations will represent the rich culture developed from all over the African Diaspora.
Tickets
Doors will open for nightly events at the Superdome at 6 p.m., Friday through Sunday. Weekend tickets and VIP packages for ESSENCE Festival are now on sale!
See Ticket Master or the ESSENCE Festival Ticket page to purchase tickets and get more information on packages.
ESSENCE Day Party Series
You can also purchase tickets for DJ Day Parties offered Thursday- Sunday from 1 p.m.- 5 p.m. ESSENCE Day Parties feature celebrity DJs, like Funkmaster Flex, Spinderella, Biz Markie, and DJ Drama, as well as special festival guests, cocktails, and energetic crowds.
Tickets can be purchased for the entire weekend, or for just one day. For Day Party Admission and VIP packages visit the ESSENCE Festival Ticket page.
ESSENCE Festival Day of Service
Starting at 9am on the first day of the Festival, ESSENCE, Walmart and the City of New Orleans are hosting a Day of Service to give back and commemorate the resilience of New Orleans 10 years post Katrina. This is a great opportunity to bring the whole family for a day of planting flowers, building play areas and helping to prep classrooms for the next school season. The ESSENCE Festival Day of Service also includes a book donation as well as a Community Health and Resource Fair in the afternoon.
All participants must sign up by June 30. To register and view details about the Day of Service, visit the event's sign-up page.
Hotels
There are also many conveniently located hotels are offering special deals for Fest-goers. For a detailed list of participating hotels go to www.essencefestivalhotels.com
There are more updates on the ESSENCE Festival lineup and schedule to come! For more information on the event, check out the festival's website, www.Essencefestival.com or follow ESSENCE Festival on Twitter or Facebook.