Greek Fest

May 26-28, 2017
When:
May 26-28, 2017
Where:
Holy Trinity Greek Orthodox Cathedral
More Info:
Click Here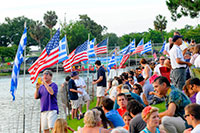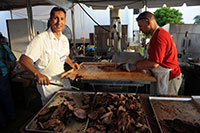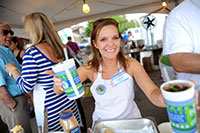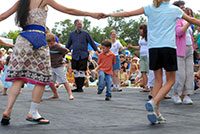 This Memorial Day weekend, head towards the bayou for this family-friendly event with food, live music, dance and one big Greek celebration!
The Schedule
Expect a full weekend of Hellenic Dance performances, cooking demos, Cathedral tours and even a Toga Contest on Sunday! The hours are as follows:
Friday, May 26- 5 p.m.- 11 p.m.
Saturday, May 27- 11 a.m.- 11 p.m.
Sunday, May 28- 11 a.m.- 9 p.m.
Click here for the full schedule.
History
New Orleans was founded by the French, governed for forty years by the Spanish, and was also settled by large numbers of Germans, Italians, Irish and those of African-Caribbean descent. But the city also has a sizable population of Greeks, and every year descendants of one of the Western world's oldest cultures celebrate their heritage with a festival celebrating all things pan-Hellenic.
Food
Souvlaki, baklava, dolma (stuffed grape leaves), spanakopita (spinach pie), and gyro sandwiches (pita bread pockets stuffed with lamb, pork and zesty sauce) and other Greek specialties will all be served up.
Music
Expect traditional Greek music, especially the distinctive sounds of the bouzouki guitar, as well as Hellenic dancers in colorful native costumes. Before long, you, too, will be shouting "Opa!" like they did in the movie's wedding reception scene.
Entertainment
There will be entertainment for all ages, from kids' activities to fun things for the adults to do, like dancing or renting a canoe to ply the serene waters of Bayou St. John. Lucky winners of random drawings may win trips to Greece and the fabled Grecian isles of the Aegean and Mediterranean seas. Those who wish to take something Greek home with them can purchase the latest festival poster or other souvenirs and handcrafted items.
The Cathedral
The cathedral houses what is reported to be the first and oldest Greek Orthodox congregation in the United States, founded in 1866. Visitors may tour the ornate structure with its magnificent, Byzantine-style dome. Frescoes and stained glass windows in the distinctive Eastern Orthodox artistic style greet the eye in every direction one looks.
Entrance to the festival is $7 – children under 12 admitted free.
Location and Parking
You'll find Holy Trinity Greek Orthodox Cathedral adjacent to Bayou St. John on Robert E. Lee Boulevard. for a Greek celebration with New Orleans flare.
Free off-site parking and shuttle service will be available. Be sure to check the festival's website for parking details to avoid construction in nearby areas.
For more information call 504-282-0259 or visit their website at www.greekfestnola.com.