Greek Fest

May 22-24, 2015
When:
May 22-24, 2015
Where:
Holy Trinity Greek Orthodox Cathedral
More Info:
Click Here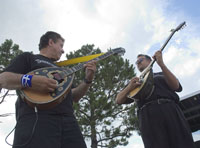 Photo by Terry DeRoche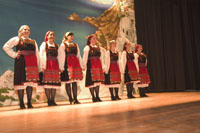 Photo by Terry DeRoche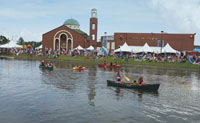 Photo by Terry DeRoche
As one of the oldest and most culturally and technologically advanced Western civilizations, the Greeks are justifiably proud of their long heritage. Much of that proud heritage and culture was transplanted into New Orleans when large numbers of Greeks settled here in the mid-1800s.
Every year on Memorial Day Weekend, descendants of the city's earliest Greek settlers commemorate their heritage with a festival celebrating all things pan-Hellenic. This year's 42nd Annual Greek Festival runs from May 22-24.
The festival is held on the grounds of Holy Trinity Greek Orthodox Cathedral on Robert E. Lee Boulevard adjacent to Bayou St. John. The church, with its distinctive, round, Byzantine-style dome, is a local landmark and is the center for Greek faith and culture in New Orleans.
Like all other ethnic festivals in New Orleans, the Greek Festival features music and culinary specialties whose roots go back to the ancient homeland. As you enter, you may be pleasantly greeted with a "Kalos Orisate" (ka-los-o-REE-sa-te), meaning "Welcome" in Greek.
Food
Aficionados of souvlaki, baklava, dolma (stuffed grape leaves), spanakopita (spinach pie), and gyro sandwiches (pita bread pockets stuffed with lamb, pork and zesty sauce) will find more than their share of it at the New Orleans Greek Festival. These and dozens of other unique food specialties will be served up.
Entertainment
Fans of Greek music, especially the distinctive sounds of the bouzouki guitar, will find more than their share of that too, as Hellenic dancers in colorful native costumes sway to the driving rhythms. Don't be surprised if you hear shouts of "Opa!"
There is entertainment for all ages, from kids' activities to fun things for the adults to do, like dancing or renting a canoe to ply the serene waters of Bayou St. John. Lucky winners of random drawings may win trips to Greece and the fabled Grecian isles of the Aegean and Mediterranean seas. Those who wish to take something Greek home with them can purchase souvenirs from the mother country and various types of handcrafted items.
Holy Trinity Cathedral
Holy Trinity Cathedral houses what is reported to be the first and oldest Greek Orthodox congregation in the United States, founded in 1866. Visitors may tour the ornate structure with its magnificent, Byzantine-style dome. Frescoes and stained glass windows in the Eastern Orthodox artistic style greet the eye in every direction one looks. Some visitors have likened it to touring an art museum.
More Information
There is a nominal admission charge and children under 12 admitted free. Free off-site parking and shuttle service is available.
For more information call 504-282-0259, email opa@gfno.com, visit the festival website at www.greekfestnola.com or find them on Facebook and Twitter.