San Fermin en Nueva Orleans
(Running of the Bulls)
When:
TBA
Where:
Multiple Locations
Cost:
FREE to Watch; $15 to Participate
More Info:
Click Here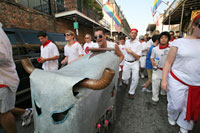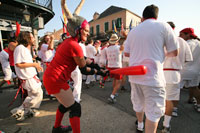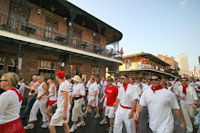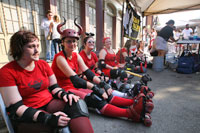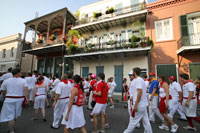 Every July in New Orleans, the Annual Running of the Bulls swarms through the streets of downtown New Orleans! Set to coincide with the world-famous Encierro (Running of the Bulls) at the San Fermin Festival in Pamplona, Spain, the New Orleans version of the event is uniquely it own.
The Run
The Running of the Bulls usually begins at 8:00 a.m. sharp, with participants arriving at 7:15. The run begins and ends at the Sugar Mill (1021 Convention Center Blvd.), and of course there will be parties before and after the main event, where Sangria, Spanish wine, tapas and good cheer are available.
All are welcome to come out and watch the run and there is a $15 registration fee to participate. The event can get quite crowded, so preregistering and arriving early are highly encouraged.
Other special events on days prior to the Running of the Bulls include a luxurious wine dinner, multiple theme parties, and even a delicious Sunday brunch for all to rejuvenate after the main event.
A portion of the proceeds for this series of fiestas will go towards Animal Rescue New Orleans. For details on registration and special packages, visit the event's website at www.nolabulls.com/events.
The Bulls
Though the event is meant to pay homage to the world famous, Encierro of Pamplona, there is one major difference. The "Bulls," for San Fermin are the young ladies from the New Orleans-based all-female flat-track derby team, the Big Easy Rollergirls!
These "RollerBulls" skate behind the runners and, as they catch up with the slowest runners along the 12-block French Quarter route, they are allowed to whack them with soft foam-core wiffle ball bats. Of course this is much less dangerous than the real bulls that run through the streets of Spain.
Attire
The main requirement is that all who plan to participate wear either a white shirt or white pants and have a red scarf or long red cloth tied around their waists and necks. Of course, this being New Orleans, many of the participants take it even further, showing up in clever and imaginative costumes, especially dressed up as matadors and bulls.
For further information check out the group's website www.nolabulls.com.