San Fermin en Nueva Orleans (Running of the Bulls)
When:
TBA
Where:
Multiple Locations
Cost:
FREE!
More Info:
Click Here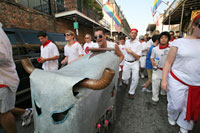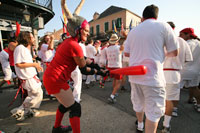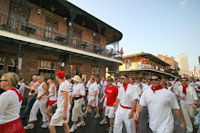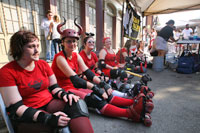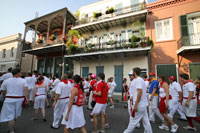 It's not as dramatic as its counterpart in Pamplona, Spain but, then again, it's not as dangerous, either. And it's probably more fun! And, it's FREE!
"It" is the Annual Running of the Bulls through the streets of the French Quarter in July. Set to coincide with the world-famous Encierro (Running of the Bulls) at the San Fermin Festival in Pamplona, Spain, the popularity of the New Orleans event has mushroomed since it was first staged in 2007.
The "Bulls," in case you're wondering, are the young ladies from the New Orleans-based all-female flat-track derby team, the Big Easy Rollergirls! These "RollerBulls" skate behind the runners and, as they catch up with the slowest runners along the 12-block French Quarter route, they are allowed to "gore" them by whacking them with soft foam-core wiffle ball bats. Some participants consider it an honor to be "gored" by the "bulls." They allow themselves to get whacked several times and no one has ever been hospitalized. It's all in good fun, taking the famous New Orleans saying "Let the good times roll" to its literal extreme. And, in typical New Orleans fashion, it begins with a party and ends with a party!
Those who plan on taking part in the run can start gathering on event day at 7 a.m. at the Three-Legged Dog bar on the corner of Conti and Burgundy streets in the French Quarter for a pre-race party. Sangria, Spanish wines and good cheer are served up. There is no fee for the event and anyone who shows up can participate. The main requirement is that all who plan to participate wear either a white shirt or white pants and have a red scarf or long red cloth tied around their waists and necks. Of course, this being New Orleans, many of the participants take it even further, showing up in clever and imaginative costumes, especially dressed up as matadors and bulls.
The run ends at the Gazebo Cafe in Latrobe Park on the corner of Ursulines and Decatur streets, where more Sangria, Spanish wine, tapas and good cheer are available.
No sign-up is necessary to participate; just show up. However, because of the growing popularity of the event, arriving early is strongly advised.
For further information go to the group's website www.nolabulls.com.