Tet Fest: Vietnamese New Year
When:
TBA
Where:
Mary Queen of Vietnam Church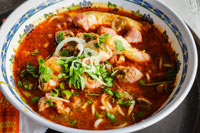 Tet, or Vietnamese New Year, is the biggest celebration in Vietnamese culture. With one of the largest and most vibrant Vietnamese populations in the country, New Orleans is a prime destination to enjoy the event!
Every year the Mary Queen of Vietnam Church on Dwyer Blvd. holds a three-day celebration that is open to the public.
The event features food, carnival games, dragon dances, concerts and other surprises to celebrate the Lunar New Year and ancient traditions of Vietnamese heritage.
History
As the Communist regime took over Vietnam in the mid-1970s, many Vietnamese nationals resettled in America, and South Louisiana was one of the most popular destinations.
After many years in the city, the Vietnamese community has revitalized many neighborhoods in New Orleans while maintaining their distinct ancestral heritage and sharing their culture with the rest of the city.
Closely based on a variation of the Chinese lunar-solar calendar, Tet Nguyen Dan, or Tet for short, is one of the most sacred holidays in Vietnam. As the marker of springtime and the start of the Lunar New Year, Tet is a huge celebration of tradition, history and ancestry. The Vietnamese brought this tradition with them when settling in Louisiana, and it continues to grow each year, as all are welcome to join the festivities.
The Event
In Orleans Parish, the festival typically begins with church services in the evening, followed by fireworks and traditional dances. The festival continues though the weekend.
Entry to the event is free and attendees can expect traditional Vietnamese cuisine, music, dancing, fireworks and other cultural performances.
Food
From Spring rolls, to Báhn Mì and Pho, visitors come from near and far to get a taste of the phenomenal Vietnamese cuisine at the church grounds.
The food is delicious, affordable and comes in hearty portions. There are also spacious seating areas available for attendees to sit back, eat and enjoy the live entertainment.

For more culinary delights you can even take a short trip to the "Little Vietnam" settlement, also known as Village de L'Est, where the Mary Queen of Vietnam church is located. Little Vietnam is just a short drive from the festival grounds and offers an authentic assortment of traditional and contemporary Vietnamese dishes.
Buddhist Tet Celebrations
If you miss the event at Queen Mary of Vietnam, there are more Buddhist celebrations in Belle Chasse at the Bo Do Temple located on Louisiana State Highway 996. This event takes place in the West Bank of the Mississippi River in Plaquemines Parish and is well worth the drive to experience the Buddhist side of Tet celebration.