Tremé/7th Ward Arts and Culture Festival
When:
TBA
Where:
Various Locations Throughout Tremé and the 7th Ward
Cost:
FREE!
More Info:
www.treme7thwardcd.org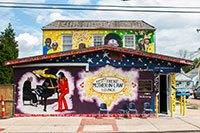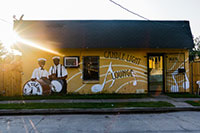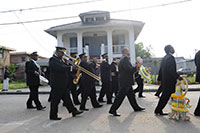 Treme and the 7th Ward are the origins of some of New Orleans' most famous works of art, music and culture.
To celebrate these two thriving areas, the Treme/ 7th Ward neighborhoods host a FREE spring festival, neighborhood tours, a Bar Crawl, an Elders Gospel Breakfast and a Congo Square Second Line!
Under the Bridge Arts and Culture Festival
This 2-day music festival is FREE to attend and held in the spring under I-10 between Basin & St. Bernard Ave. along N. Claiborne Avenue.
Attendees can expect to see some legends in live music, local cuisine and crafts, as well as community organizations and city partners who will engage and educate you on the history and significance of these neighborhoods.
Special Events
In addition to this truly immersive festival, the following events are also typically available:
T7 Baby Doll Bar Crawl
Jump on this one-of-a-kind bus tour of the historic bars and taverns in both neighborhoods, including Seal's, Kermit's Tremé Mother-in- Law Lounge, Bullets, Little People's Place, Candlelight Lounge and more! Admission includes transportation, a t-shirt and specialty drinks by Jack Daniel's.
Elders Gospel Breakfast and Congo Square Second Line
Sunday morning kicks off with Gospel Breakfast for the elders in the community. Entry for this event is free and breakfast will be provided for all those over 60. And no festival is complete without a Second Line, taking off from Congo Square and followed by a live performance by the Andrews Family of Music.
Tour and Panel Discussions
If you really want to immerse yourself in history, you can take a special neighborhood tour of Treme and the 7th Ward on Saturday or Sunday (previous admission of $25). You can also participate in one of the panel discussions, a rare opportunity to get involved with some of the biggest names in NOLA Art & Culture.
To purchase tickets for these special opportunities and for more details about the festival, visit www.treme7thwardcd.org.