Tremé Fall Festival

When:
TBD
Where:
St. Augustine Catholic Church
Cost:
FREE! Donations appreciated.
More Info:
www.tremefest.com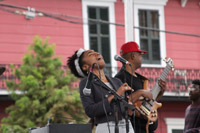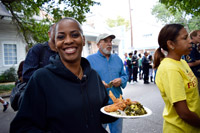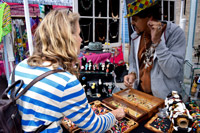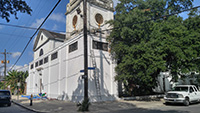 To kick off the fall season in New Orleans, the famous Tremé neighborhood hosts its lively annual festival. For an entire weekend you can enjoy the local music and food of this cherished New Orleans neighborhood that people come from all over the world to see.
Tremé Fest is a donation-based event, created to raise money for the neighborhood. The inaugural event in 2015 benefitted the beloved St. Augustine Catholic Church. The festival is typically held on the streets bordering the church. It is FREE and open to the public.
If you really want to experience the unique history and heritage that is New Orleans, you won't want to miss this event!
The Event
Previously Treme Fest has hosted a patron party on Friday night to kick off the weekend. Then on Saturday, attendees can expect a full day of live music, art and more. Sunday morning typically holds a Gospel Mass and other choir-related events.
The Festival also hosts a kid's fest with painting, building projects' and entertainment, as well as free health screenings and tours of St. Augustine Church.
And the music lineup is a rare opportunity to see some of NOLA's greatest all in one place. Previous artists have included Kermit Ruffins, Shannon Powell, Leroy Jones, John Boutte and other renowned names.
Tremé
As America's Oldest African American Neighborhood, Tremé is a site of significant economic, cultural, political, social, and legal events that have shaped the course of events in Black America for the past two centuries.
The residents of this beloved neighborhood actively honor its history and culture, and visitors come from near and far to experience it. Tremé is home to celebrations like second-line parades and jazz funerals, museums dedicated to African American life, art, and history, as well as Armstrong Park, a memorial to the great jazz legend Louis Armstrong.
St. Augustine Catholic Church
One of the most significant landmarks to the Tremé neighborhood is St. Augustine Catholic Church. Since it's dedication in 1842, St. Augustine has been a church of the free black citizens of New Orleans. It continues today as a vital component to the local community, as well as a landmark and meaningful history lesson for all.
The Historic Faubourg Tremé Association (HFTA) is hosting the Tremé Festival to help kick off St. Augustine Catholic Church's fund raising efforts to make needed repairs and improvements to this important historical site. Donations will be accepted prior to and during the celebration.
To donate to St. Augustine Church or get more information about the event, visit www.tremefest.com.