Bayou Boogaloo

May 16-18, 2014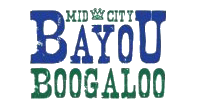 When:
May 16-18, 2014
Where:
Along Bayou Saint John at Orleans Ave. and N. Jefferson Davis Pkwy.
Cost:
FREE!
More Info:
Click Here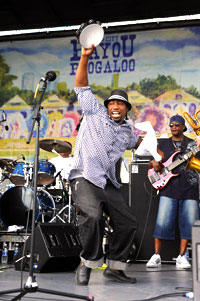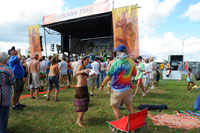 Photo by Ben Barnes
Bayou Boogaloo comes once again to the banks of scenic Bayou St. John in one of the most unique neighborhoods in New Orleans. Come out to the shores of the "urban bayou" to experience New Orleans greenery and some of the best music, food and crafts the city has to offer. The festival is in it's 9th year and takes place over the weekend of May 16 -18. Admission is FREE.
Bayou Boogaloo jams out for three days, and stages are set up in several widely separated locations. Fest-goers can leisurely stroll about, grab some great New Orleans signature food items and a cold drink, then go sit by the bayou and dangle their feet in the water while enjoying music by some of the city's top bands.
Music
Big Freedia
Eric Lindell
Rosie Ledet & The Zydeco Playboys
Nigel Hall & The Congregation
Mike Dillon Band
Tank & The Bangas
Sweet Crude
Gillet & Singleton
Big Chief Juan Pardo & Golden Comanche Mardi Gras Indians
Mister Fred's Round Pegs (Featuring Lynn Drury, Beth Patterson, Mark Mullins, Craig Klein And John Fohl)
Waylon Thibodeaux
Kid Merv
Beyond the Music
In addition to food vendors from some of the most famed restaurants in New Orleans, a number of special events occur throughout Bayou Boogaloo weekend.
A designated area for craft booths and artists displaying their works
Family-friendly games and activities located near the "kid's stage."
A 5K race
A Bicycle Pub Crawl and Second Line
The Rubber Ducky Derby, where as many as 10,000 rubber ducks are set afloat on the bayou with sponsors' names on them.
See more musical acts, scheduling information, vendor listings and details about special events on the Bayou Boogaloo official website or the Bayou Boogaloo Facebook Page.
Access for Persons with Disabilities
Bayou Boogaloo is handicap-friendly, with four specially equipped Port-O-Lets onsite and designated parking facilities. The walking path along Jeff Davis Parkway has curb cuts and ramps to allow for wheelchair accessibility and stage access. Service animals for the blind are welcomed. They must be on a leash and owners must observe all regulations regarding waste disposal.
Those with special needs can make arrangements with the festival's Access Coordinator by emailing access@thebayouboogaloo.com or by calling 504-488-3865.
About Bayou St. John
Situated in one of the most scenic sections of New Orleans, Bayou St. John was once the city's "back door." In the early 1700s, the city's founders approached the newly established French outpost from the bayou, rather than traversing the much longer route up the Mississippi River. At the time, a small fort guarded the waterway's entrance at Lake Pontchartrain. The remains of that fort are still visible today.
Until the early 20th century, boaters could travel from Lake Pontchartrain to within a mile of the New Orleans business district. They could then take public transportation the rest of the way in.
The bayou is now cut off from the lake but the present-day waterway is still ideal for small non-motorized boats, rubber rafts, canoes and kayaks. The bayou runs for several miles, paralleling City Park for much of its distance. Nature lovers can observe many types of aquatic waterfowl and colorful flora.
Bayou St. John is lined with many older and newer architecturally distinct – in some cases historic – houses and churches. Several low bridges span the canal, including the scenic, steel-frame, pedestrians-only Magnolia Bridge. In years past, the bayou banks were the sites of rituals conducted by voodoo priests and priestesses, some of which are still practiced today. Colorfully clad Mardi Gras Indians also gather there, once a year, on St. Joseph Day (March 19)
About the Mothership Foundation
The Mid-City Bayou Boogaloo Festival is hosted by the Mothership Foundation, a nonprofit 501(c)3 organization "dedicated to encouraging social change by bringing forth a higher quality of life for all Louisiana and New Orleans residents through the promotion of arts, culture, and recreation."
Through the foundation, large portions of the proceeds from sales at the festival go toward charitable organizations and events. In recent years they have helped replace many live oak trees destroyed by Hurricanes Katrina and Isaac.