Bayou Boogaloo

May 19-21, 2017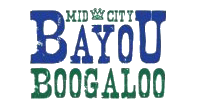 When:
May 19-21, 2017
Where:
Along Bayou Saint John at Orleans Ave. and N. Jefferson Davis Pkwy.
Cost:
FREE!
More Info:
Click Here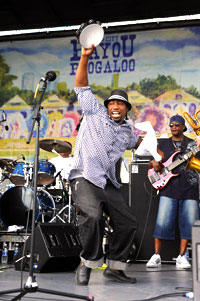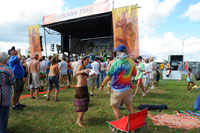 Photo by Ben Barnes
More than two dozen incredible bands and solo artists will be performing at this year's 12th Bayou Boogaloo Festival on the weekend of May 19-21!
Bayou Boogaloo is truly a NOLA-style party with lots of live music, food, arts and handicrafts. And, best of all, admission is FREE!
Music
Four stages will be set up in separated locations, so festival-goers can stroll about, grab some great New Orleans signature food items and a cold drink, then sit beside the bayou while enjoying the music of some of the city's top bands.
This year's lineup includes:
Cupid
Jon Cleary& the Absolute Monster Gentlemen
Cracker
Tank & the Bangas
Chris Thomas King
New Breed Brass Band
Marco Benevento
...and many more!
For a full lineup of musicians and day-by-day schedule, see the festival's official website here.
Local Art
A separate section of the festival site, between Orleans Avenue and Dumaine Street, is designated for craft booths where talented artists and artisans display and sell their works.
Other Special Events
Bayou Boogaloo is a family-friendly event with a kid's stage, along with games and activities for children. Fun events usually include the Bayou Boogaloo Bicycle Pub Crawl, kayak races, a Bicycle Second Line and more.
Festival Hours
Bayou Boogaloo is typically scheduled for Friday evening and all day Saturday and Sunday. And, if should happen to be raining, don't let that stop you. Bayou Boogaloo goes on – rain or shine!
For more information about participating musicians, food offerings, special events visit www.thebayouboogaloo.com or the festival's Facebook page. 
Handicap Access
Bayou Boogaloo is handicap-friendly, with four specially equipped Port-O-Lets onsite and designated parking facilities. The walking path along Jeff Davis Parkway has curb cuts and ramps to allow for wheelchair accessibility and stage access. Service animals for the blind are allowed. They must be on a leash and owners must observe all regulations regarding waste disposal.
Those with special needs can make arrangements with the festival's Access Coordinator by emailing access@thebayouboogaloo.com.
About Bayou St. John
Off the beaten path and situated in one of the most scenic sections of New Orleans, Bayou St. John was once the city's "back door." In their small boats, the city's founders in the early 1700s approached the newly established French outpost from the bayou, rather than traversing the much longer route up the Mississippi River. The waterway's entrance at Lake Pontchartrain was guarded by a small fort built in 1701, the remains of which are still visible today.
Until the early 20th century boaters could travel from Lake Pontchartrain to within a mile of the business section of New Orleans and take public transportation the rest of the way in.
The bayou is now cut off from the lake but the present-day waterway is still ideal for small non-motorized boats, rubber rafts, canoes and kayaks. The bayou runs for several miles, paralleling City Park with a scenic bicycle trail and jogging/walking path.
About the Mothership Foundation
The Mid-City Bayou Boogaloo Festival is hosted by the MotherShip Foundation, a nonprofit 501(c)3 organization "dedicated to encouraging social change by bringing forth a higher quality of life for all Louisiana and New Orleans residents through the promotion of arts, culture, and recreation."
Through the foundation, large portions of the proceeds from sales at the festival go toward charitable organizations and events. In recent years they have helped replace many live oak trees destroyed by Hurricanes Katrina and Isaac.