Bayou Boogaloo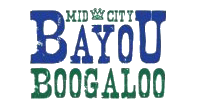 When:
TBA
Where:
Along Bayou Saint John at Orleans Ave. and N. Jefferson Davis Pkwy.
Cost:
FREE!
More Info:
Click Here
Photo by Ben Barnes
Off the beaten path but comfortably situated in one of the most scenic sections of New Orleans, Bayou St. John was once the city's "back door." Until the early 20th century boaters could travel to within a mile of the business section of New Orleans from Lake Pontchartrain and take public transportation the rest of the way in.
The bayou is now cut off from the lake but the present-day waterway is still ideal for small non-motorized boats, rubber rafts, canoes and kayaks and it's also a great place to have a party. That's what happens every year in late May when the Bayou Boogaloo comes to the shore of Bayou St. John in the Mid-City neighborhood of the Crescent City.
Like most other New Orleans festivals, Bayou Boogaloo features music, food, arts and handicrafts and other sensory delights. It goes on for three days and stages are set up in several widely separated locations so the music on one stage doesn't clash with another. Fest-goers can leisurely stroll about, grab some great New Orleans signature food items and a cold drink and go sit by the waterside and enjoy it, along with the music of some of the city's top bands. A separate section of the festival site, on the neutral ground (median) of Jefferson Davis Parkway is designated for craft booths where talented artists and artisans display and sell their works.
The entire festival is free and open to the public. Large portions of the proceeds from sales at the festival go toward charitable organizations and events.
For a schedule of events and other information, go to the festival's website at www.thebayouboogaloo.com.