Buku Music + Art Project

March 10-11, 2017
When:
March 10-11, 2017
Where:
Blaine Kern's Mardi Gras World
Cost:
$99.50 per day or $179.50 for the weekend
More Info:
Click Here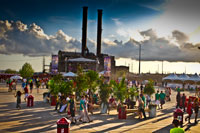 Buku Music + Art Project is a festival that keeps getting bigger and better.
Taking its cue from the French word, "beaucoup" – meaning "plenty" – Winter Circle Productions premiered the Buku Music + Art Project in 2012. In addition to Winter Circle, the event is now co-produced by Huka Entertainment and MCP Presents.
As in previous years, Buku will be staged along the Mississippi Riverfront in the vicinity of Blaine Kern's Mardi Gras World. The dates are March 10 and 11, 2017.
Like most New Orleans festivals, this one will also feature music, food and locally produced art. The music specialties are EDM, hip-hop and various sub-genres of indie rock.
There will be large-scale art installations, exotic culinary specialties and special VIP packages that include rides on the Mississippi aboard the Creole Queen, an authentic paddlewheel riverboat.
Music
Headliners at the festival include:
Deadmau5
Travis Scott
Zeds Dead
Young Thug
Zhu
Tycho
Jauz
...and many more. See the full music lineup here.
Live and pre-recorded music will be offered on four separate stages, each within easy walking distance of each other but far enough apart that the sounds won't clash with each other.
Two of the festival's four stages will be outdoors, along the Riverfront and adjacent to an old, no-longer-functioning power plant. The other two stages will be indoors; one inside the "den" where Mardi Gras floats are built and the other inside an adjacent, Southern, antebellum-style ballroom. The Riverfront stage will feature changeover sets and late night nu-disco.
Art
During past festivals, there were about half a dozen colorful and imaginative public art installations on display. In a statement released by the festival organizers, their mission was spelled out as follows: "Buku was born in the dirty docks of the Mississippi and resides in its forgotten industry. Art emerges of its own accord, reusing its context. Buku is no 'art gallery,' it is an "art project," its landscape in a constant state of change. Through innovation and adaptation the site has been revived, an evolving mutation of New Orleans' muddied past."
The festival's producers are keeping the art installation details under wraps until the event itself. Unveilings will take place as the festival opens its gates.
Food
In a city world-renowned for its unique, multi-layered cuisine, the Buku event will once again feature a wide variety of food choices for all tastes. Past offerings included everything from breakfast to dessert, including "womelettes" (a waffle-omelet combination), fish tacos, barbecue specialties, vegetarian specialties, crepes and New Orleans-style "snowballs" (flavored, shaved ice in a plastic cup).
Tickets
General admission and VIP tickets for the 2017 Buku Festival are now on sale, along with the two-day VIP packages.
General admission two-day passes cost $290 and VIP packages cost $420. Head to Buku's official website to purchase.
VIP Packages
Festival organizers are again offering VIP and Travel Package programs for Buku 2017. VIP Tickets include a weekend pass to the festival, access to the S.S. BLU-KU (the temporarily-rechristened Creole Queen riverboat) with open bar, main stage viewing area and VIP-only secret performances.
VIP guests will also receive limited edition Buku swag, Buku posters and T-shirts, a VIP entrance, VIP viewing areas at each stage and VIP parking close to the festival site. Introduced two years ago and continuing this year are the "TOO BUKU" VIP passes. These offer all the perks of VIP, plus your group's own private section with an elevated view of the main stage, bottle service, waitress service for drinks and food, access to the TOO BUKU massage parlor and more.
Parking
Up to two parking lots adjacent to the New Orleans Convention Center, on Convention Center Boulevard, will be open for Buku Project attendees. Approximately 1,000 spots will be available on a first-come, first-served basis. These lots will be controlled and staffed by New Orleans Convention Center security personnel.
No overnight camping or tailgating will be allowed.
Other Details
Festival attendees must be 16 years of age or older and able to prove it with ID at the gate. And, as a reminder, 21 is the legal age for drinking alcoholic beverages in Louisiana and it is 18 or older to buy or use any tobacco products.
ATMs will be on-site, both near the box office and inside the festival grounds itself. The box office will take credit and debit cards, but the bars and all vendors will most likely be on a cash- only basis.
For all other information about Buku visit their website at www.thebukuproject.com.