Buku Music + Art Project

When:
TBA
Where:
Blaine Kern's Mardi Gras World
Cost:
TBA
More Info:
Click Here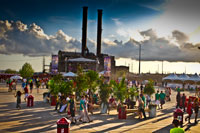 Buku Music + Art Project is one of New Orleans' most thriving music festivals with a culture of its own.
Taking its name from the French word, "beaucoup" – meaning "plenty", Buku Music + Art Project features live music, local art, world-renowned food vendors, and even riverboat cruises along the Mississippi!
History
The Buku event first premiered in March 2012 and was an immediate success. It is now co-produced by Winter Circle, Huka Entertainment, and MCP Presents, and occurs every year at Blaine Kern's Mardi Gras World along the Mississippi Riverfront.
Music
Buku Music + Arts Project features specialty music like EDM, hip-hop, and sub-genres of indie rock. Past events have offered as many as 50 musical acts, including Avicii, Ellie Goulding, Wiz Khailfa, Major Lazor, Kid Cudi, Zed's Dead, and Skrillex.
Venue
Live and pre-recorded music is offered on four different stages, two of which are outside along the riverfront, one inside the "den" of Mardi Gras World where the floats are built, and one in the Southern, Antebellum-style ballroom.
Art
In addition to the energizing music and unique industrial venue, Buku displays imaginative public art demonstrations to reflect the lively street culture of New Orleans. Displays include a Live Graffiti Gallery and the projects of local artists, which create an interactive environment for creatives and festivalgoers alike.
Food
In a city world-renowned for its unique, multi-layered cuisine, the Buku event also features a wide variety of food choices for all tastes. Food vendors offer everything from breakfast to dessert, including "womelettes" (a waffle-omelet combination), fish tacos, barbecue specialties, vegetarian specialties, crepes and New Orleans-style "snowballs" (flavored, shaved ice in a plastic cup).
VIP Packages
Every year the Buku festival organizers offer VIP and Travel Package programs. VIP Tickets may include a weekend pass to the festival, access to the S.S. BLU-KU (the temporarily-rechristened Creole Queen riverboat) with open bar, main stage viewing area and VIP-only secret performances.
VIP guests also receive limited edition Buku swag, Buku posters and T-shirts, a VIP entrance, VIP viewing areas at each stage and VIP parking close to the festival site.
Past events have also included "TOO BUKU" VIP passes. These offer all the perks of VIP, plus your group's own private section with an elevated view of the main stage, bottle service, waitress service for drinks and food, access to the TOO BUKU massage parlor and more.
Parking
Up to two parking lots adjacent to the New Orleans Convention Center, on Convention Center Boulevard, are open for Buku Music + Art Project attendees. Approximately 1,000 spots are made available on a first-come, first-served basis. These lots will be controlled and staffed by New Orleans Convention Center security personnel.
No overnight camping or tailgating is allowed.
Tickets
Tickets and VIP Packages for the festival can be purchased on the Buku website.
Other Information
Festival attendees must be 16 years of age or older and able to prove it with ID at the gate. And, as a reminder, 21 is the legal age for drinking alcoholic beverages in Louisiana and it is 18 or older to buy or use any tobacco products.
ATMs can be found onsite; both near the box office and inside the festival grounds. The box office will take credit and debit cards, but the bars and all vendors will most likely be on a cash-only basis.
For more information about Buku Music + Arts Project visit their website at www.thebukuproject.com.