French Quarter Festival

April 12-15, 2018
When:
April 12-15, 2018
Where:
French Quarter
Cost:
FREE!
More Info:
Click Here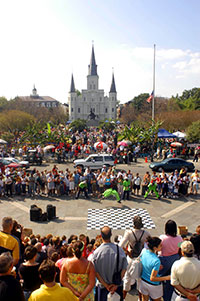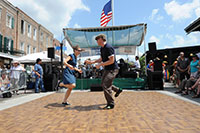 Looking for a uniquely New Orleans event where some of this city's finest food, music and fun celebrate life in the French Quarter? Then come to French Quarter Festival this Spring and enjoy Louisiana's largest FREE music festival.
More than one dozen stages will rock the French Quarter throughout the three-day weekend. Music lovers will find traditional and contemporary jazz, Latin, rhythm and blues, Cajun and zydeco, New Orleans funk, classical, swing, rock, international and the many diverse sounds that are part of this city's rich cultural gumbo. Look for more than 100 of New Orleans' favorite musical performers to entertain—with a whole raft of other New Orleans legends and international all-stars.
Plan to attend the festival's signature event, the "world's largest jazz brunch" in Woldenberg Riverfront Park and the French Quarter — a tantalizing spread of beverages and specialty items from some of the best known restaurants in the Crescent City. Sample Pat O'Brien's Hurricanes, jambalaya, blackened catfish po-boys, crawfish étouffée, Cajun meat pies and more. More than 60 food and beverage booths will be scattered throughout the historic French Quarter. All dishes are priced in the $3-$5 range.
For additional information, call (800) 673-5725 within the U.S. or (504) 522-5730. Or visit: www.fqfi.org.