French Quarter Festival

April 6-9, 2017
When:
April 6-9, 2017
Where:
French Quarter
Cost:
FREE!
More Info:
Click Here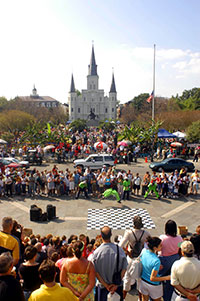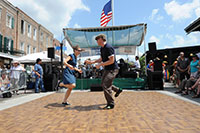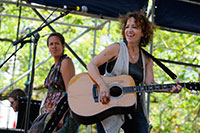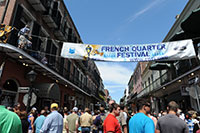 Gear up to celebrate the unique and vibrant culture of New Orleans' French Quarter this upcoming spring! The 34th Annual French Quarter Festival is just around the corner, boasting musicians, food, and tours all with FREE admission once again.
Music
Twenty-three stages will be placed throughout the French Quarter during this four-day celebration, featuring over seventeen hundred Louisiana musicians and more than 170 Louisiana acts. Genres will include anything and everything: traditional and contemporary jazz, rhythm and blues, Cajun and zydeco, New Orleans funk, classical, swing, rock, and international sounds that will bring a smile to any music lover's face. This year's lineup includes:
Thursday, April 6, 2017
Aaron Neville
Bag of Donuts
Brass-A-Holics
Brother Tyrone & The Mindbenders
Cha Wa
Chubby Carrier and the Bayou Swamp Band
Darcy Malone and the Tangle
Dr. Michael White
John "Papa" Gros
Friday, April 7, 2017
Amanda Shaw
Audacity Brass Band
Bruce Daigrepont Cajun Band
Cedryl Ballou & the Zydeco Trendsetters
Charmine Nevile
Corey Henry's Treme Funktet
Gal Holiday and the Honky Tonk Revue
Irma Thomas
Soul Queen of New Orleans
Lagniappe Brass Band
Storyville Stompers Brass Band
Susan Cowsill
The Dixie Cups
Saturday, April 8, 2017
Honey Island Swamp Band
Hot Rod Lincoln
John Rankin
Kenneth Terry Jazz Band
Kermit Ruffins & the Barbecue Swingers
New Orleans Classic Jazz Orchestra
New Orleans Nightcrawlers
Soul Rebels
Terrance "Hollywood" Taplin leads the Uptown Jazz Orchestra
Tim Laughlin
Tommy Sancton's New Orleans Legacy Band,
The Treme Brass Band
Walter "Wolfman" Washington and the Roadmasters

Sunday, April 9, 2017
Andrew Hall's Society Brass Band
Chance Bushman & the Ibervillianaires
The Creole String Beans
Dancing at Dusk with Tom Saunders and the Tomcats
Jeremy Davenport
John Royen's New Orleans Rhythm Band
Leroy Jones & New Orleans' Finest
Little Freddie King
Paul Sanchez and the Rolling Road Show
Red Hot Brass Band
Rockin' Dopsie and the Zydeco Twisters
Soul Brass Band
Steve Pistorius & the Southern Syncopators
Stooges Brass Band
Tony Green and Gypsy Jazz
And these are just some the artists performing throughout the weekend! See the festival's website for more the full lineup and schedule.
Food
More than sixty food and beverage booths will be scattered around the historic French Quarter, with prices ranging from $3-$11. Pat O'Brien's Hurricanes, jambalaya, crawfish étouffée and other New Orleans classics will be available for purchase.
Keep up with all vendor updates at French Quarter Fest's website.
Special Events
In addition to the incredible live music, this year will host some special events, including dance lessons, parades, art shows and talks with some of the biggest legends in NOLA music.
Click here to see the special event schedule for this year.
Official 2017 Poster by Tony Green
Every year the French Quarter Festival Team selects an official painting to represent the spirit and culture of the French Quarter. This year's beautiful poster was painted by Italian Artist, Tony Green. 2,000 Silkscreened prints are available starting at $50 each.
Click here to get yours before they sell out!
How to Get There
French Quarter Fest is located throughout the New Orleans French Quarter. The French Quarter is accessible via car or public transportation, like the streetcar line. Many public parking lots will be open nearby with a daily parking fee, especially nearby local hotels or the river.
Tickets/Admission
Admission to French Quarter Fest is completely FREE and open to the public!
To stay tuned with all details of French Quarter Fest, head to www.fqfi.org.