New Orleans Jazz & Heritage Festival

April 25-27 & May 1-4, 2014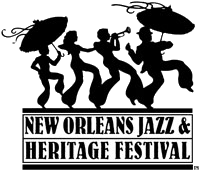 When:
April 25-27 & May 1-4, 2014
Where:
The Fair Grounds
Cost:
$55 for advance adult single day tickets
$70 at the gate
$5 Child tickets (available at the gate only, ages 2-10)
VIP Tickets also Available
More Info:
Click Here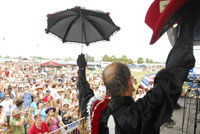 It's official!
The lineup for this year's 45th annual JazzFest has been announced and it's another stellar year for one of the nation's top-rated musical events. Some of the biggest names on today's music scene, representing nearly every genre of popular music will be coming to the Crescent City for the two-weekend, seven-day New Orleans Jazz and Heritage Festival at the historic Fair Grounds Race Course this spring.
From country to gospel to blues to zydeco to R&B to good old rock and roll, this year's JazzFest has something for everyone. And, of course the festival's namesake – jazz.
Here are just a few of this year's headliners:
Eric Clapton
Bruce Springsteen and the E Street Band
Christina Aguilera
Santana
Phish
Robin Thicke
Maze featuring Frankie Beverly
Chaka Khan
Boz Scaggs
Public Enemy
Trey Songz
John Fogerty
Arcade Fire
Robert Plant and the Sensational Space Shifters
The Avett Brothers
Charlie Wilson
Johnny Winter
Some of the most famous native New Orleans artists will also be performing. Among them are:
Aaron Neville
Trombone Shorty and Orleans Avenue
Allen Toussaint
Irma Thomas
Irvin Mayfield
Little Freddie King
Kermit Ruffins
James Rivers
Dukes of Dixieland
Rockin' Dopsie Jr. and the Zydeco Twisters
And many more. Check festival lineup for more information.
Modern Jazz, Brass Bands, Mardi Gras Indians and More
Representing the festival's namesake genre are some of the most prominent performers in modern jazz, including saxophonists Pharaoh Sanders and Donald Harrison, organist Dr. Lonnie Smith, trumpeters Terence Blanchard and Nicholas Payton and vocalists Rachelle Farrell and Al Jarreau. Rene Marie will offer a tribute to the late jazz vocalist Eartha Kitt on Saturday, April 26.
As for the brass bands for which New Orleans is famous, there will be plenty of them too. Among them are Rebirth, Hot 8, Original Dixieland Jazz Band, Dirty Dozen, Storyville Stompers and the Palm Court Jazz Band with legendary trumpeter Lionel Ferbos who still has his chops at 102 years of age!
Also, be on the lookout for the Mardi Gras Indians! In their colorful suits and headdresses of feathers, rhinestones and sequins and singing their native chants, you can't miss them. Some of the city's top church and school choirs will be singing at this year's JazzFest as well, so, if you're in the mood for some good old gospel, they've got it going on.
For a full day-by-day lineup visit www.nojazzfest.com. Go to the "Music" pull-down menu and click on each individual day. That will tell you who is playing on which day. However, the "JazzFest Cubes," listing the stages and tents where the various acts will be performing, have not yet been finalized. Keep checking back with the JazzFest website for that updated information.
For a complete alphabetical listing of performers, with their biographies, click here http://lineup.nojazzfest.com/?sort=alpha.
In addition to the music, here are some other choice offerings at this year's JazzFest.
Crafts & Marketplaces
Painters, sculptors, jewelry designers, basket weavers and many more skilled craftspeople have their handiworks on display and for sale during each day of JazzFest. Since the 1970s, when the artists and artisans began bringing their work to the festival, their numbers have grown to several hundred, concentrated in three distinct event venues.
At the Congo Square African Marketplace you can experience music and art from Africa and the African Diaspora. The Congo Square stage features performances by African, African-American, African-Caribbean and Latino musicians. Shop at Congo Square African Marketplace for original paintings, sculpture, clothing, jewelry, musical instruments, and an array of handcrafted artworks.

Contemporary Crafts is a nationally recognized showcase of alluring handcrafted clothing, beautiful leather goods and hand-blown glass, along with a brilliant array of paintings, photographs, sculptures and irresistible jewelry. It is set among the blues, jazz and gospel music tents in Heritage Square and, appropriately, offers handmade musical instruments for sale as well.
In the Louisiana Marketplace, the state's finest traditional and contemporary artists display and sell hand-colored photographs, pine needle baskets, whimsical jewelry, and other creations that evoke the state's unique cultural landscape and history.
Food
Nowhere else will you find such matchless cuisine as is found at JazzFest. Classic New Orleans culinary staples are in abundance, along with Creole and Cajun offerings and international cuisine. You'll find everything from appetizers to yummy desserts: whatever your tastes happen to be.
In addition to the dozens of fine foods offered, there are two cooking stages at the Fair Grounds Grandstand demonstrating the rich culinary history of New Orleans and offering samples of signature dishes featuring local ingredients from celebrated chefs, farmers, fishermen, and home cooks.
The 2014 JazzFest food vendors haven't yet been announced. As the festival gets closer, check back at this web address: www.nojazzfest.com/food/.
Official Poster
The official 2014 New Orleans Jazz and Heritage Festival 45th anniversary poster was created and designed by renowned New Orleans artist Terrance Osborne. It depicts New Orleans' famous Preservation Hall Jazz Band fronted by its horn players marching out the entrance to their namesake venue in the French Quarter and into the street.
The PHJB, founded in 1961 by Allan and Sandra Jaffe, celebrated its 50th anniversary in 2011 and its 50th year of touring last year. The band, which plays primarily traditional New Orleans jazz (often referred to as Dixieland), has logged millions of miles on American and international tours, produced over 30 albums and has performed at every JazzFest since the festival's founding.
For more information on the 2014 JazzFest poster and to place orders go to www.art4now.com.
How to Get There
The Fair Grounds Race Course is located at 1731 Gentilly Boulevard, just minutes from downtown and the French Quarter. However, the immediate area around the site will be barricaded and off-limits to most vehicular traffic. Convenient bus service on the Esplanade route will take festival-goers to within walking distance of the festival gates, as will shuttle bus service from various park-and-ride lots and other convenient pick-up points around the city.
For a scenic route to the festival you can take the Canal Street Streetcar line from downtown New Orleans, transfer to the North Carrollton Avenue branch and take it to the end at City Park. From there the festival is about a half-mile walk down Esplanade Avenue. Follow the crowd and you can't miss it.
To order tickets or receive more information on JazzFest 2014 visit their website at www.nojazzfest.com.