New Orleans Jazz & Heritage Festival

April 24-26 & April 30-May 3, 2015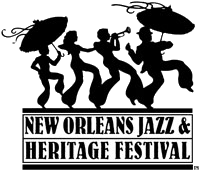 When:
April 24-26 & April 30-May 3, 2015
Where:
The Fair Grounds
Cost:
$58 for advance adult single day tickets
$70 at the gate
$5 Child tickets (available at the gate only, ages 2-10)
VIP Tickets also Available
More Info:
Click Here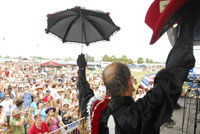 The lineup is out for this year's 46th annual Jazz Fest! With some of the biggest musical acts scheduled to perform, this year's festival looks irresistible. This spring, people will come to New Orleans from all over the world for this two-weekend, seven-day music festival at the historic Fair Grounds Race Course.
The Music
Whether you like jazz, rock, hip-hop, pop, funk, indie, or any other kind music, Jazz Fest has live entertainment for everyone.
In addition to world famous performers like Elton John and Lady Gaga, some of the most prominent names in modern jazz and funk will represent New Orleans at Jazz Fest this year, including trumpeters Terence Blanchard and Nicholas Payton, Trombone Shorty, and Dumpstaphunk. Nola's legendary brass bands will also be performing, including Rebirth Brass Band on Sunday, April 26th, and The Dirty Dozen on Friday, May 1st.
And if you enjoy gospel music, some of the city's top church and school choirs will be singing at Jazz Fest this year.
Here are just a few of this year's headliners:
Elton John
The Who
Jimmy Buffet
Tony Bennett and Lady Gaga
No Doubt
Keith Urban
Pitbull
John Legend
Ed Sheeran
T.I.
Chicago
Hozier
Widespread Panic
Jerry Lee Lewis
Ryan Adams
Jimmy Cliff
Buddy Guy
Galactic Featuring Macy Gray
Some of New Orleans' most famous performers will include:
Trombone Shorty and Orleans Avenue
Rebirth Brass Band
The Meters
Irma Thomas
Dumpstaphunk
Irvin Mayfield and the New Orleans Jazz Orchestra
Big Freedia "Queen of Bounce"
Allen Toussaint
Aaron Neville
Dr. John
And many more! Check out the Jazz Fest Line-up for the full day-by-day performance schedule.
Food
Nowhere else can you find such a delectable variety of local and worldly food options as at Jazz Fest. There will be an abundance of Cajun and Creole and other New Orleans traditional staples, as well as appetizers, desserts, and drinks with international inspiration.
In addition to the dozens of fine foods offered, there are two cooking stages at the Fair Grounds Grandstand demonstrating the rich culinary history of New Orleans and offering samples of signature dishes featuring local ingredients from distinguished chefs, farmers, fishermen, and home cooks.
Art and Activities
Musicians aren't the only form of live entertainment at Jazz Fest this year. There will be professional craft showcases, cultural marketplaces, and of course, the Mardi Gras Indians! Be sure to keep an eye out for their colorful suites and feathered headdresses.
Crafts and Marketplaces
As in previous years, the Festival Crafts will showcase the works of hundreds of local and nationally known artists. Festivalgoers can visit multiple marketplaces throughout the event space to get a taste of art inspired from cultures across the globe.
At the Congo Square and African Marketplace, you will find a combination of both ancient and modern crafts from around the African Diaspora. These pieces are full of culture and soul that have shaped New Orleans today.
The Louisiana Marketplace will display traditional and contemporary works, including woven baskets, unique jewelry items, and hand-colored photographs.
Among the blues and gospel tents in Heritage Square will be Contemporary Crafts, a nationally recognized showcase of intriguing handcrafted pieces, like clothing, accessories, pottery, jewelry and more!
Culture
If you're looking for even more cultural immersion, Jazz Fest will present the Louisiana Folk Life Village and the Native American Village, which will celebrate our state's rich heritage with songs, dancing, crafts, and exhibits for all to enjoy!
Location
The Fair Grounds Race Course is located just minutes from downtown and the French Quarter.
How to Get There
The immediate area around the site will be barricaded and off-limits to most vehicular traffic. Bus service on the Esplanade route will take festival-goers to within walking distance of the festival gates, as will shuttle bus service from various park-and-ride lots and other convenient pick-up points around the city.
Taking the Streetcar
For a scenic route to the festival you can take the Canal Street Streetcar line from downtown New Orleans, transfer to the North Carrollton Avenue branch and take it to the end at City Park. From there the festival is about a half-mile walk down Esplanade Avenue. Follow the crowd and you can't miss it.
For more information on travelling to and from Jazz Fest, visit www.nojazzfest.com/travel/
Tickets
Early bird tickets will be available through April 23rd for $58. Gate price is $70 per ticket. Children's tickets available for $5 for kids ages 2-10 (must be accompanied by an adult).
You can also purchase a variety of VIP packages for special access to a hospitality lounge, parking, and upfront viewing.
To order tickets or receive more information on Jazz Fest 2013 visit the website at www.noJazz Fest.com.