Mirliton Festival

October 25, 2014
When:
October 25, 2014
Where:
The Brickyard at Chartres and Montegut streets in the Bywater
Cost:
FREE!
More Info:
Click Here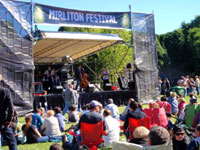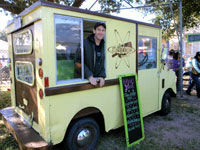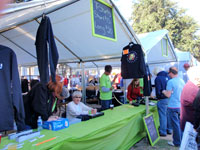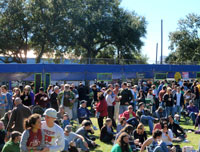 In New Orleans and Louisiana you can find a festival for just about anything that can be pulled out of the water, plucked from the trees or grown in the garden. In keeping with that tradition, residents of the Bywater neighborhood of New Orleans got together in 1989 and started a festival paying tribute to the mirliton, a pear-shaped member of the squash family found in many indigenous New Orleans dishes.
Marking their 25th anniversary on the 25th of October, the Annual Mirliton Festival is returning to its former location in Mickey Markey Park, at the corner of Royal and Piety streets.
This year the festival runs from 11:00 a.m. till 7:00 p.m. and admission is free. The event is easily reachable from the French Quarter and downtown. The site is only about a mile or so from the French Quarter but, if you're not up for the walk, a taxi or pedicab will be happy to take you there.
From entrees to dessert, you can expect to see (and hopefully sample) some of the creative ways the mirliton can be prepared into something delightfully edible. For the entire day, visitors can enjoy music, art, food, and a bunch of good ol' fun from the Bywater neighborhood and its unique culture.
Proceeds from the festival are put back into the community in support of the Bywater Neighborhood Association and projects that it contributes to- such as Alvar Arts, neighborhood beautification, Fringe Festival, Good Children's Easter Parade and other worthy causes.
For more detailed information about the Mirliton Festival visit www.bywatermirlitonfestival.com, or stay connected with Facebook.
Music
What would a New Orleans festival be without music? Non-existent is the correct answer. This year's Mirliton Festival features the following musicians and singers:
Daria & The Hip Drops
One Love Brass Band
Social Set
Strange Roux
The Mirliton
Now, what is a mirliton, you might ask? First of all, let's start with the pronunciation. Most locals pronounce it mel-a-tonn. Its technical name is chayote, and it is native to Central and South America.
Introduced here during the French and Spanish settlement of the 18th century, mirlitons take root in the region's rich, alluvial soil and many people grow them in their home gardens.
The mirliton is a pear-shaped, wrinkled, light-green vegetable that grows on a vine and offers very little flavor on its own. However, when stuffed with seafood and bread crumbs, this humble vegetable takes on a unique flavor. For this reason, stuffed mirlitons have been a staple on Creole menus and family tables in New Orleans for generations.
You can also boil, mash, bake, fry, or even pickle this rather oddball squash. It can be incorporated into breads like zucchini, added to pies, or eaten raw. Even the plant's young leaves, shoots, and roots are edible! The roots are similar to potatoes, and young leaves and shoots are popular additions to salads, sandwiches and stir-fry.
Bywater
The Bywater is a small, compact enclave, sandwiched in between the CSX Railroad and the Industrial Canal between St. Claude Avenue and the Mississippi River levee (hence the name, "By the Water").
In recent years, the Bywater has become a hip place to live, attracting artists, musicians, writers and others of a creative bent. Old warehouses, shotgun homes and other structures have been renovated and transformed into both living and working space for their creative occupants.
To learn more about the Bywater visit www.bywater.org or follow them on Facebook or Twitter.