Ponderosa Stomp

October 1-3, 2015

When:
October 1-3, 2015
Where:
Rock n' Bowl
Cost:
Single Night Tickets - $60; Double Night Pass - $110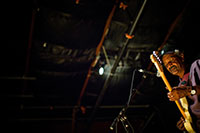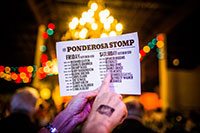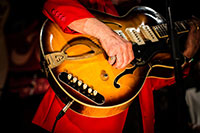 Mainstream artists are easy to come by, but how often can you hear the undiscovered legends behind American Music?
The Ponderosa Stomp Festival was created in 2001 to showcase these unsung heroes of American rock, jazz, funk, blues and more. Today the event draws in fans from across the country for a 3-day series of concerts, film screenings, conferences and other special events.
This year's 12th annual festival will be hosted during the first week in October at Rock n' Bowl in Mid City. Rather you're a musicologist or just looking for some live entertainment, the Ponderosa Stomp will knock your socks off with the "best music you've never heard of!"
The Hip Drop VII
For the official kick-off party on Thursday night, the Ponderosa Stomp will showcase 10 DJs and selectors from around the world. Participating DJs will each do a half-hour set, dropping their best selections of R&B, funk, soul and garage. With this energetic selection of music artists, participants can expect to start the night off dancing.
The Concert
Taking its name from a song by Louisiana blues musician Lazy Lester, the Ponderosa Stomp presents two nights of concerts that feature some of the biggest talents behind American music. Past events have featured Barbara Lynn, Archie Bell, Sam the Sham, Rock & Roll Hall of Famer Dave Bartholomew, longtime Fats Domino sideman Herb Hardesty, former Elvis drummer Scotty Moore and many others!
This year's headliners for Friday and Saturday night include:
Brenda Holloway- Motown's West Coast Golden Girl
Freddy "Boom Boom" Cannon
Mable John
Willie Hightower
P.F. Sloan
The Mama Mama Mamas
Steve Riley
And much more! To see the full list of this year's performers, check out the event's official lineup page.
The Ponderosa Stomp Music History Conference
In addition to the outstanding music performances, the festival has partnered with the Rock and Roll Hall of Fame to present a conference focusing on the history of American music in a unique, first-person context. This year's conference, held on October 1 and 2 at the AC Hotel by Marriott, will host a full slate of daytime panels, discussions, oral histories and opportunities to chat with musicians and speakers about their life-long histories with music and art.
For more information about this two-day presentation, visit the event's conference page.
Ponderosa Stomp Record Show
Featuring Gulf Coast musicians from this Music History Conference, the Ponderosa Stomp will present a special, vinyl-only record show for all three days of the festival. Attendees can expect tens of thousands of records from a variety of genres, including Rock, Soul, Boogaloo, 70s Punk, Jazz and much more.
This one-of-a-kind record show will also be held at the AC Hotel from 11 a.m. - 5 p.m. from Thursday through Saturday.
The Mystic Knights of Mau Mau
The Ponderosa Stomp is sponsored by The Mystic Knights of the Mau Mau, a charitable cultural organization dedicated to preserving and presenting the rich history of American roots music. Through festivals, special events, concerts and outreach activities featuring musical living legends, they honor influential artists and educate audiences about their massive contributions to American culture. They have presented more than 40 concerts with over 150 musical legends, with the Ponderosa Stomp.
Tickets
Tickets for the Ponderosa Stomp are available to purchase on the event's website for one night, or you can buy a two-day concert pass. Travel packages are also available through the festival's site.
Getting There
Travel packages include continuous shuttle service between the AC Hotel and Rock n' Bowl. Individual shuttle passes, however, are not for sale.
The easiest way to reach Rock n' Bowl is by taxi or car. You can also take RTA Bus 39. If you take the bus, you will get off at Saratoga St. and Canal St. for the AC Hotel (roughly an 8 minute walk), or get off at South Carrolton at Earhart Blvd. for Rock n' Bowl.