Ponderosa Stomp

When:
TBA
Where:
TBA
Cost:
FREE!
More Info:
Click Here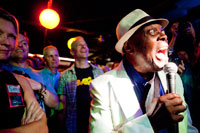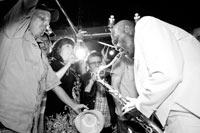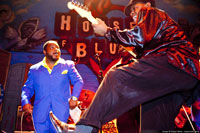 Founded at the turn of the century (the 21st century, that is) by New Orleans anesthesiologist and avid record collector Ira "Dr. Ike" Padnos, the Ponderosa Stomp is an American roots music festival dedicated to recognizing the architects of rock-n-roll, blues, jazz, country, swamp pop, reggae and soul.
Taking its name from a song by Louisiana-born blues harmonic player Lazy Lester, the Ponderosa Stomp came into existence to celebrate and pay tribute to the unsung heroes and heroines of rock-n-roll, rhythm & blues and other forms of American roots music while they are still alive. These "unsung heroes and heroines" – most of them natives of Louisiana and elsewhere in the Deep South – include often-overlooked sidemen, session musicians and other influential musical pioneers whose contributions have shaped American culture for over 50 years.
The Stomp traditionally takes place between the two weekends of the city's world-famous New Orleans Jazz & Heritage Festival, which usually falls on the first week of May. Past events have featured, among others, Barbara Lynn, Lazy Lester, Archie Bell, Sam the Sham, the Sun Ra Orchestra, Robert Jr. Lockwood, DJ Fontana, Dale Hawkins, Roy Head, Bobby Rush, Rock & Roll Hall of Famer Dave Bartholomew, longtime Fats Domino sideman Herb Hardesty, and former Elvis drummer Scotty Moore. Appearances at The Stomp have helped revive the careers of many of its musician participants.
The Ponderosa Stomp is sponsored by The Mystic Knights of the Mau Mau, a charitable cultural organization dedicated to preserving and presenting the rich history of American roots music. Through festivals, special events, concerts and outreach activities featuring musical living legends, they honor influential artists and educate audiences about their massive contributions to American culture. They have presented more than 40 concerts with over 150 musical legends, with the Ponderosa Stomp being the main event at The House of Blues in the French Quarter.
For more information of the Mystic Knights and the Ponderosa Stomp log on to www.ponderosastomp.com.