Praise Fest
When:
TBA
Where:
Bayou St. John
Cost:
FREE!
More Info:
Click Here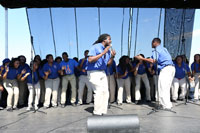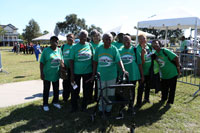 With some of the oldest churches and congregations in the country, New Orleans is the proud host of traditional Gospel music, as well as Gospel Jazz and many other forms of Christian music.
To experience this lively music tradition that is so beloved by the city, people come from near and far to gather "on the Bayou" for Praise Fest every year.
This highly anticipated 3-day outdoor event is FREE to all, so come on down to Bayou St. John and experience the love, praise and incredible music!
The Music
Praise Fest produces three days of "hand clapping, foot stumping good old gospel music." Presented by Versatile Music, the event hosts local and national Christian/Gospel music artists, entertainers, and world renowned speakers to grace the stage and minister to crowds of at least 5,000 people over the 3-day period.
The purpose of this event is to bring different cultures together for praise, worship and expression through music. In past years the festival has brought in a diverse crowd including families, churches, community leaders and professionals.
Previous performers have included Joel Jones & JJ3MC, Zie'l, Kevin Styles & Psalms, Kathy Taylor, and over 45 other gospel artists and performers from the New Orleans area and across the country.
Not only does Praise Fest display three days of gospel music, but it also gives attendees an opportunity to participate in a Career and Health Fair, meet other Gospel lovers and experience New Orleans on a whole new level.
Versatile Entertainment
Versatile Entertainment, Inc. ("Versatile") is a music center and management company, specializing in artist development, event planning, marketing, mobile staging, productions, promotions, publishing and recording that has established a strong presence in New Orleans over the past 10 years. Versatile has demonstrated the ability to execute numerous operations, as well as putting together strong marketing strategies to gain entrance within the entertainment industry.
Location
The main event takes place on the Bayou St. John at the Corner of Orleans Ave. and Jeff Davis Pkwy.
For more details and information on Praise Fest, visit www.praisefestnola.com.