Satchmo SummerFest
When:
TBA
Where:
Old U.S .Mint
Cost:
TBD
More Info:
Click Here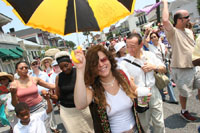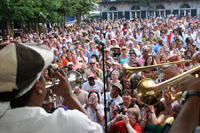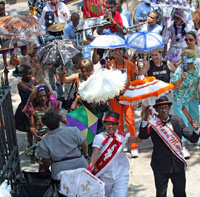 Louis "Satchmo" Armstrong was born in New Orleans on August 4, 1901. By the time he was in his 20s he was already starting to change the face of American popular music. By the time of his death 70 years later, he had completely revolutionized it.
One of the most dynamic personalities of the 20th century, Armstrong almost single-handedly transformed jazz into the popular musical art form it is today. With his trademark solos, his gravelly voice and numerous other stylistic innovations, he became a recording industry superstar and a movie star, as well, playing himself and his horn with a broad, infectious grin. He was a goodwill ambassador for his country for much of his adult life, traveling widely and introducing American jazz to the world.
Although he spent most of his adult life elsewhere and is buried in New York City, Satchmo never forgot his native city. And his native city never forgot him. Satchmo SummerFest started out to be a one-time salute in 2001 to commemorate his 100th anniversary and reaffirm his vital role in the development of American musical culture. However, the festival that year succeeded so well that the city and the festival's sponsor, French Quarter Festivals, Inc., decided to make it an annual event.
Over the years, Satchmo SummerFest has evolved into what one visiting music writer called "a mini-JazzFest." With three days of outdoor concerts, music history seminars, jazz exhibits, a jazz mass, a second-line parade and plenty of local food delicacies and drinks, the festival has become a travelers', as well as a local, favorite. Nearly all of the participating musicians are New Orleans-based. A Satchmo art contest and exhibit at the Crescent City Brewhouse attracts some of the city's most talented artists to create works in a Satchmo motif. There's even a fun-filled "Satchmo Strut" down Frenchmen Street, taking in most of the nightclubs in the city's preeminent live music district.
Most of the Satchmo SummerFest's activities take place in and around Jackson Square. Daily admission to the event is $5. For the most up-to-date information on Satchmo SummerFest call French Quarter Festivals at (504) 522-5730 or log onto www.fqfi.org.