Satchmo SummerFest

July 30-August 2, 2015
When:
July 30-August 2, 2015
Where:
Old U.S .Mint
Cost:
$5
More Info:
Click Here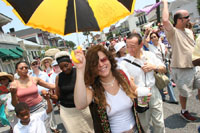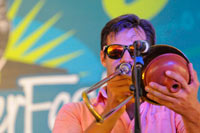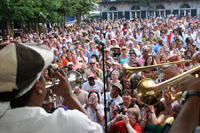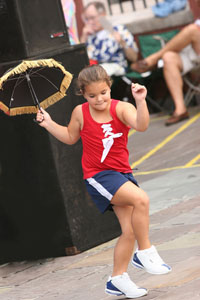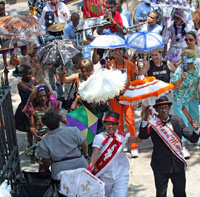 When the City of New Orleans was planning a tribute to one of its most famous native sons, the late Louis "Satchmo" Armstrong on the centennial of his birth, they had no way of knowing how successful such an event would be.
Even in the heat of the summer, thousands of people turned out for the first Satchmo SummerFest in 2001. In fact, it was so successful that it became an annual three-day event held on the first weekend of August every year since.
Sponsored by French Quarter Festivals, Inc., the organization that also sponsors the highly successful French Quarter Festival and Christmas New Orleans Style, "Satchmo SummerFest," has evolved into one of the top celebrations in a city internationally renowned for its large-scale festivities. For many people who regularly attend the festival, it is the highlight of the summer season.
Satchmo SummerFest 2015
Satchmo SummerFest 2015 will take place over the weekend of July 30-August 2, primarily on the grounds of the Old U.S. Mint, conveniently situated on the edge of the French Quarter between the French Market and Esplanade Avenue. The festival includes a $5 daily admission fee, but is free for children.
Music
Outdoor events at SatchmoFest feature live bands on two different stages, starring some of New Orleans' top musicians. Many of them will pay their tributes to Armstrong and his music. This year's event will feature over 40 contemporary and traditional Jazz musicians and Brass Bands throughout the three days.
The 2015 music lineup includes:
Deacon John
Jewel Brown
Bill Summers
Rebirth Brass Band
Yoshio Toyama
Kermit Ruffins
And much more! For the full music lineup by day, check out the festival's schedule page.
Food
Samplings of New Orleans' world-famous culinary delicacies will be offered for sale in and around the festival site, while refreshing Southern-style beverages and other soft drinks will keep you cool and hydrated.
Satchmo Seminars
In addition to all the lively outdoor music and food, indoor events will feature some inspiring seminars, lectures by musical authorities and scaled-down concerts at the recently opened cabaret-style theater inside the Old Mint.
This year's seminars and presentations will run throughout the weekend, including the following subjects:
Keynote Conversation: Musical First Responders – On the 10th anniversary of Hurricane Katrina and those who worked to help rebuild the irreplaceable infrastructure that supports New Orleans music
Satchmo: His Life in New Orleans
Suburban Gardens: The Checkered Past of Louis Armstrong's 1931 'Home Away from Home'
Satchmo vs Sidney: The Inside Story of Their Musical "Battles"
And those are only a few! You can find a full schedule of speakers and seminars on the festival's special events page.
Additional Events
As if the above activities aren't enough to keep you entertained, Satchmo SummerFest features a wide variety of other unique events, including:
A film screening of High Society at Le Petit Theatre
An opening reception at the Omni Hotel on Thursday, July 30 at 8 p.m.
Opening Day Second Line Parade beginning at Washington Artillery Park at 700 Decatur Street at 10:30 a.m.
Jazz Mass and Second Line Parade from the Church of Sidney Bechet. Located at 1210 Governor Nicholls Street on Sunday, August 2nd
There is also a full lineup of kids' activities, with a book nook, coconut decorating, instrument making and even a Kids Second Line Parade! See the event's full schedule here.
For the most up-to-date information on Satchmo SummerFest call French Quarter Festivals,Inc. at (504) 522-5730 or log onto www.fqfi.org/satchmo.