Satchmo SummerFest

August 5-7, 2016
When:
August 5-7, 2016
Where:
Old U.S .Mint
Cost:
$5
More Info:
Click Here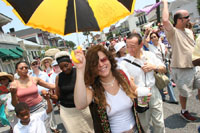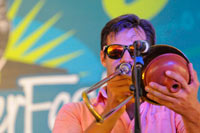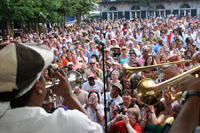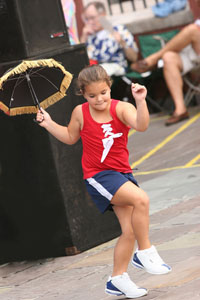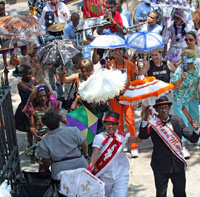 When the City of New Orleans was planning a tribute to one of its most famous native sons, the late Louis "Satchmo" Armstrong on the centennial of his birth, they had no way of knowing how successful such an event would be.
Thousands of people turned out for the first Satchmo SummerFest in 2001. In fact, it was so successful that it became an annual three-day event held on the first weekend of August every year since.
Sponsored by French Quarter Festivals, Inc., the organization that also sponsors the highly successful French Quarter Festival and Christmas New Orleans Style, "Satchmo SummerFest," has evolved into one of the top celebrations in a city internationally renowned for its large-scale festivities. For many people who regularly attend the festival, it is the highlight of the summer season.
Satchmo SummerFest 2016
Satchmo SummerFest 2016 will take place over the weekend of August 5-7, primarily on the grounds of the Old U.S. Mint, conveniently situated on the edge of the French Quarter between the French Market and Esplanade Avenue. The festival typically includes a $5 daily admission fee, but is free for children.
Music
Outdoor events at SatchmoFest feature live bands on two different stages, starring some of New Orleans' top musicians. Many of them will pay their tributes to Armstrong and his music. This year's lineup has not yet been released, but in the past, has included over 40 contemporary and traditional Jazz musicians and brass bands throughout the three-day festival.
Food
Samplings of New Orleans' world-famous culinary delicacies will be offered for sale in and around the festival site, while refreshing Southern-style beverages and other soft drinks will keep you cool and hydrated.
Satchmo Seminars
In addition to all the lively outdoor music and food, the festival typically inlcudes indoor events that feature inspiring seminars, lectures by musical authorities and scaled-down concerts held within the Old Mint.
More information about this year's seminars will be available soon!
For the most up-to-date information on Satchmo SummerFest, log onto www.fqfi.org/satchmo.
About Louis "Satchmo" Armstrong
Louis "Satchmo" Armstrong was born in New Orleans on August 4, 1901. By the time he was in his 20s, he was already starting to change the face of American popular music. By the time of his death 70 years later, he had completely revolutionized it.
One of the most dynamic personalities of the 20th century, Armstrong almost single-handedly transformed jazz into the popular musical art form it is today. With his trademark solos, his gravelly voice and numerous other stylistic innovations, he became a recording industry superstar and a movie star, as well, playing himself and his horn with a broad, infectious grin. He was a goodwill ambassador for his country for much of his adult life, traveling widely and introducing American jazz to the world.
Although he spent most of his adult life elsewhere and is buried in New York City, Satchmo never forgot his native city. One of the highlights of his very eventful life was during the Mardi Gras Season in 1949 when he triumphantly returned as the King of the Krewe of Zulu parade, an achievement that landed him on the cover of TIME magazine.
Fifteen years later he made musical history by being the oldest performing artist to have a #1 hit record. He was almost 63 years old when his gravelly-voiced version of "Hello Dolly" hit the charts in early 1964, and the song had the additional distinction of being the first record to knock The Beatles out of their long-held #1 position.
Shortly before his passing, Armstrong recorded what has since become a classic ode to the simple joys of life, "What a Wonderful World," a song that could very well sum up the story of his life as well. His death on July 6, 1971 was universally mourned and his music today remains as popular as it was during his lifetime.