Voodoo Music + Arts Experience

October 28-30, 2016
When:
October 28-30, 2016
Where:
City Park
More Info:
Click Here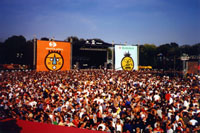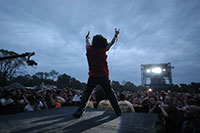 Like most festivals, here in New Orleans and elsewhere, the Voodoo Music + Arts Experience started out small and, over time, exploded into a mega-event spanning several days and drawing big names and even bigger numbers.
Over its first 18 years, Voodoo has booked over 2,000 acts and has drawn more than a million people, along with some of the top acts on the contemporary popular music scene. It is now second only to the New Orleans Jazz & Heritage Festival in annual attendance figures.
The Event
This year's Voodoo will take place on Halloween weekend, from Friday, October 28th through Sunday, October 30th.
The festival, which invites attendees to "Worship the Music," is held annually at the Festival Grounds in City Park. Four unique performance areas, each of which is enhanced by the use of interactive art, will feature top-tier and innovative artists from a variety of musical genres, all of which reflect the multitude of cultures that define the New Orleans demographic.
Music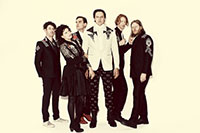 Arcade Fire
The Weeknd
This year's lineup is as stellar as it has been in previous years. Voodoo 2016 headliners include Tool, Arcade Fire, The Weeknd and dozens more.
Other acts among those announced for 2016 include:
G-Eazy
The Chainsmokers
Band of Horses
Cage the Elephant
Kevin Gates
Die Antwoord
Porter Robinson
Carnage
Foals
Rebelution
Excision
Gramatik
Ghost
Tory Lanez
STS
Mutemath
And many more! For a full lineup of musical acts by day, visit the Voodoo Official Musical Lineup.
Voodoo Music + Arts Experience also features a wide variety of food specialties, many of which can only be found in New Orleans and south Louisiana. Artwork and local crafts will also be on hand for display and sale.
Accommodations
The organizers of Voodoo have negotiated special discounted rates with some local hotels for visiting festivalgoers. To view a list of those hotels, along with rates and reservation information, click here.
Parking Advisory
Under normal conditions, City Park is located just a short, 15-minute drive from the French Quarter and downtown. However, during Voodoo Music + Arts Experience you can likely expect to hit some additional traffic as you near the festival site. Parking restrictions will likely be in effect and illegally parked vehicles may be towed at the owners' expense.
Be advised it is illegal to park on the grassy medians between the lanes of major streets, as well as too close to driveways and fire hydrants or in specially designated zones such as freight, handicapped or passenger zones. Additional information regarding general parking restrictions can be found here.
Getting There
Due to increased traffic and parking demands, it is highly recommended to take advantage of public transportation to get to and from the fest site. The North Carrollton Branch of the Canal Streetcar Line will take you from downtown right up to the main gates of City Park. You can catch the Canal Streetcar along any one of many stops downtown and ask the conductor for a transfer to the North Carrollton Line. Fares are $1.25 each way, transfers included.
City buses may also be running along Esplanade Avenue that will bring you close to City Park. Check out the streetcar and bus schedules on the Regional Transportation Authority website.
For More Information
For more details and the most up-to-date information about Voodoo Music + Arts Experience 2016, check out their website at www.VoodooFestival.com.
For the most up-to-date information on Voodoo Music + Arts Experience, follow them on Facebook, Twitter, and Instagram.