Voodoo Music Experience

November 1-3, 2013
When:
November 1-3, 2013
Where:
City Park
More Info:
Click Here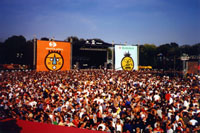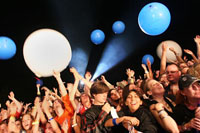 Fifteen years. A decade and a half. That's how many years the VOODOO Music + Arts Experience has been presenting top-name entertainment in New Orleans' City Park.
Fifteen is also the magic number for the first performers to be announced for this year's Voodoo Fest, to be held from November 1-3 at the City Park Festival Grounds. Headlining the pack are Pearl Jam, Nine Inch Nails, Calvin Harris, Bassnectar, Paramore and Macklemore & Ryan Lewis.
Other acts among the first fifteen to be announced for 2013 include:
Afrojack
Boys Noize
The Gaslight Anthem
Big Gigantic
How To Destroy Angels
Cults
Alkaline Trio
Desaparecidos
Robert DeLong
More performers, including the New Orleans musicians slated to take the stage, will be announced in the months and weeks leading up to the festival. Tickets and camping passes are on sale now.
For Pearl Jam, this will be the band's VOODOO debut and their first show in the city since 2010. The Seattle-based alternative rock band formed under its present name in 1990 and, since that time, they have sold over 31.5 million records in the U.S. and an estimated 60 million worldwide. Their 1991 debut album, Ten, produced the hit singles "Alive", "Even Flow" and "Jeremy" and was certified gold a year later, reaching number two on the Billboard charts. The current band consists of original members Jeff Ament (bass), Stone Gossard (guitar), Mike McCready (guitar) and Eddie Vedder (vocals), plus Matt Cameron who replaced original drummer Jack Irons in 1998.
This performance will mark Nine Inch Nails' fourth appearance at VOODOO. NIN's Trent Reznor, a former New Orleans resident who was given the keys to the city when NIN played a free, post-Katrina VOODOO in 2005, is re-launching Nine Inch Nails since going on hiatus in 2009.
During the course of its 15-year history, VOODOO has booked more than 2,000 acts and has drawn over one million spectators. It has become the largest New Orleans festival held in the fall and is second only to the Jazz & Heritage Festival in overall attendance. It is always scheduled to coincide with closest weekend to Halloween, although this year it starts a day later than that.
VOODOO's annual lineup features top-tier and innovative artists from a variety of musical genres, all of which reflect the multitude of cultures that define the New Orleans demographic. Once again, concert-goers will "Worship the Music" at VOODOO's six unique performance areas, each of which is enhanced by the use of interactive art.
VOODOO Fest also features a wide variety of food specialties, many of which can only be found in New Orleans and south Louisiana. Artwork and local crafts will also be on hand for display and sale, including this year's official VOODOO poster, the design and artist of which will be announced later.
Credentials and camping passes for VOODOO 2013 are available now via www.worshipthemusic.com. Prices (as of April 15) are as follows:
Three-day weekend credentials: $175
Loa VIP credentials: $500
Loa VIP credentials with parking: $550.
Camping options include:
Weekend Camping for two persons: $50
Weekend Camping for two persons with parking: $65
This option allows campers to arrive to their 12 x 12 site with their own tent. Amenities include 24-hour security, medical assistance, AM and PM food trucks and other activities.
Loa VIP Camping (luxury camping) for two persons - including artist credentials for the special behind-the-fences access and Loa privileges – are available for $2,500. These ready-to-go, pre-built safari tents include beds, linens, furniture, carpet, electricity, reserved parking, premium showers, bathrooms, 24-hour security and medical assistance, breakfast, late-night snacks and more.
More details about the credential options and the most up-to-date information on VOODOO 2013 can be found at www.worshipthemusic.com.
For information from social media sites, check out the following:
https://www.facebook.com/voodooexperience, https://twitter.com/VoodooNola and http://instagram.com/voodoonola#