Wednesday at the Square

March-May
When:
TBA
Where:
Lafayette Square
Cost:
FREE!
More Info:
Click Here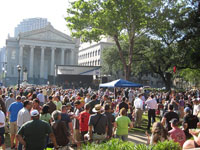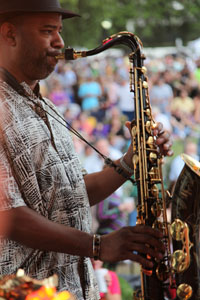 Looking for something free and exciting to do in downtown New Orleans on a Wednesday afternoon in the spring? Come to Lafayette Square for a taste of great New Orleans music, food and fun!
Wednesday at the Square, sponsored by the Young Leadership Council of New Orleans, presents a series of free outdoor concerts by well-known New Orleans and Louisiana artists that will liven up your spirits and maybe even get you into a dancing mood. Elevated above the crowd on a big sound stage, bands perform a wide variety of indigenous musical styles, including jazz, rock, funk, swamp pop, Latin rhythms and more. In addition, you will be treated to the sounds of some of New Orleans' most famous brass bands. You can bring your own chairs or blankets and sit on the ground. The front of the stage is reserved for dancing.
There is no admission charge to the square. The concert series runs from late March through mid-June every year.
All around Lafayette Square are food booths and concessions offering local culinary specialties: everything from entrée items to yummy desserts. And, to wash it all down, a variety of alcoholic and non-alcoholic beverages are also offered for sale. All food and beverage items must be purchased with tickets that are sold on the grounds. Food and beverage sales are what help sponsor the events and keep them admission-free. No outside food or beverages may be brought in to any of the events.
Concerts start at 5:00 p.m. and usually last until 7:00-7:30 p.m. Lafayette Square is located just one block off of Poydras Street, between St. Charles Avenue and Camp Street, opposite the Federal Court buildings. It is within convenient walking distance from all downtown hotels.
For those who drive to the event, parking is available in nearby garages or on the adjacent streets where there are parking meters. Paid, on-street parking ends at 6:00 p.m., so bring enough quarters to feed the meters until then. Cars parked by expired meters or not displaying a paid parking receipt on the dashboard will be ticketed.
Pets are allowed in the square during the concerts, provided they are on a leash no longer than six feet at all times. If they display aggressive behavior the owner may be asked to remove them.
For more information about the Wednesday at the Park Concert Series call 504-585-1500, email feedback@WednesdayAtTheSquare.com or visit their website at www.wednesdayatthesquare.com.