Wednesday at the Square

March 19-June 4, 2014
When:
Wednesdays from
March 19 - June 24, 2014
5:00 p.m. - 8:00 p.m.
Where:
Lafayette Square
Cost:
FREE!
More Info:
Click Here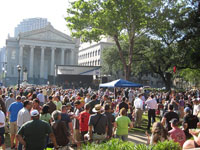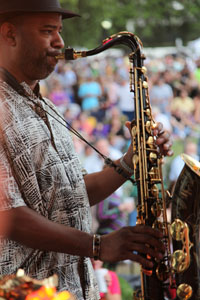 Everyone knows that weekends in New Orleans are great. But don't forget that Spring brings lots of great outdoor concerts midweek. Come to Lafayette Square on Wednesdays for a taste of great New Orleans music, food, and fun!
Wednesday at the Square, sponsored by the Young Leadership Council of New Orleans, presents a series of free outdoor concerts by well-known New Orleans and Louisiana artists. This year's series runs 12 weeks, from March 19 through June 4, and each evening features two acts.
Elevated above the crowd on a big sound stage, bands perform a wide variety of local musical styles, including jazz, rock, funk, swamp pop, Latin rhythms, and more. In addition, listeners will be treated to the sounds of some of New Orleans' most famous brass bands.
You can bring your own chairs or blankets to sit on, but the front of the stage is reserved for dancing. There is no admission charge to the square.
Performers and Dates
March 19: Karl Denson's Tiny Universe + Moon Hooch
March 26: Dirty Dozen Brass Band + Louisiana Spice
April 2: Marcia Ball + Robin Barnes
April 9: New Orleans Suspects + Funk Monkey
April 16: Honey Island Swamp Band + Billy Iuso & Restless Natives
April 23: Theresa Andersson + Paul Sanchez & The Rolling Road Show
April 30: All-Star Lineup of Eric McFadden, Jerry Joseph, Norwood Fisher, Eric Bolivar & Special Guests + Gravy
May 7: The Iguanas + Otra
May 14: Gravity A + King Rey
May 21: Dave Jordan & The NIA + Jacob Landry & The Right Lane Bandits
May 28: Flow Tribe + Colossal Heads
June 4: Anders Osborne + Seth Stainback & Roosterfoot
This year's Wednesday at the Square series is generously sponsored by 2009 Super Bowl Champions, the New Orleans Saints. Wednesday at the Square concerts begin at 5:00 p.m. and last until 8:00 p.m.
Food, Drink, and Local Art
Food booths and other concessions surround Lafayette Square, offering local culinary specialties: everything from entrée items to yummy desserts. A variety of alcoholic and non-alcoholic beverages are also for sale. All food and beverage items must be purchased with tickets that are sold on the grounds.
Food and beverage sales are what help sponsor the events and keep them admission-free. No outside food or beverages may be brought in to any of the events.
Parking, Transportation, and Other Considerations
Lafayette Square is located just one block off of Poydras Street, between St. Charles Avenue and Camp Street, opposite the Federal Court buildings. It is within convenient walking distance from all downtown hotels.
For those who drive to the event, parking is available in nearby garages or on the adjacent streets where there are parking meters. Paid, on-street parking ends at 6:00 p.m.
Cars parked by expired meters or not displaying a paid parking receipt on the dashboard will be ticketed. Illegally parked cars blocking driveways or fire hydrants, or parked too close to corners, or in 24-hour freight zones or passenger zones, are at risk of being towed.
Pets are allowed in the square during the concerts, provided they are on a leash no longer than six feet at all times.
For more information about the Wednesday at the Square Concert Series, call 504-585-1500, email feedback@WednesdayAtTheSquare.com or visit www.wednesdayatthesquare.com.