Wednesday at the Square

Wednesdays Between March 11-May 27, 2015
When:
Wednesdays from
March 11 - May 27, 2015
5:00 p.m. - 8:00 p.m.
Where:
Lafayette Square
Cost:
FREE!
More Info:
Click Here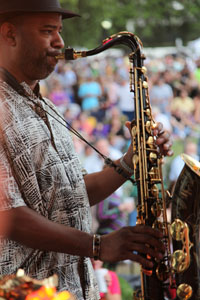 Springtime in New Orleans means Wednesday at Square is back! It's time to bring in the warm weather with a free concert every week at Lafayette Square.
The Event
Every Wednesday from now through May 27, you can head over to the Square for live music from 5-8 p.m.
As you watch the sun go down over the park, you can grab a bite to eat and drink from some of the best vendors in New Orleans. There will be local artists, families and friends, and a different band at every event. Feel free to bring a lawn chair, picnic blanket, or just some comfy shoes to spend your Wednesday evening dancing the night away at Lafayette Square!
Music
Wednesday at the Square, sponsored by the Young Leadership Council of New Orleans, offers a 12-week series of popular New Orleans and Louisiana artists to play on a large elevated stage with plenty of dancing room in front.
You'll hear a variety of local music styles like jazz, funk, swamp pop, Latin rhythms and more. There will also be performances by some of New Orleans' most famous brass bands. And the music is all free!
Concerts usually start at 5 p.m. and last until 7:00 or 7:30. This year's lineup of musicians includes:
March 11 - Marc Broussard + Pocket Aces Brass Band
March 18 - Bonerama + Louisiana Spice
March 25 - TYSSON + Mia Borders
April 1 - The Revivalists + Robin Barnes
April 8 - Kermit Ruffins + Alanna Royale
April 15 - Big Sam's Funky Nations + Amanda Shaw
April 22 - Flow Tribe + Sweet Crude
April 29 - Marcia Ball+ Lynn Drury
May 6 - Earphunk + Meschiya Lake
May 13 - Dumpstaphunk + Daria & the Hip Drops
May 20 - George Porter Jr. and Runnin Pardners + Hazy Ray
May 27 - Irma Thomas + Andrew Duhon
For more information on this year's music visit www.wednesdayatthesquare.com/musicians
Food and Drink
Food and beverage vendors will be all around Lafayette Square ready to satisfy your cravings. Food options range from entrees to dessert, and a variety of alcoholic and non-alcoholic beverages will be offered.
All food and beverages at the event will be available for purchase using tickets. Tickets can be bought purchased at each concert or you can preorder them online!
Parking
Parking is available on nearby streets where you can pay a meter (be sure to bring a few quarters), and street parking is free after 6 p.m.
You can also park in a nearby garage for a small fee.
Pets are allowed at the event but must be kept on a leash.
For more information about the Wednesday at the Square Concert Series call 504-585-1500, email feedback@WednesdayAtTheSquare.com or visit their website at www.wednesdayatthesquare.com.