Festigals

June 11-14, 2015
When:
June 11-14, 2015
Where:
JW Marriott Hotel
More Info:
Click Here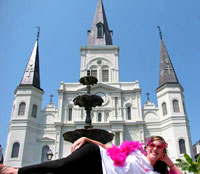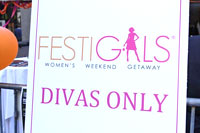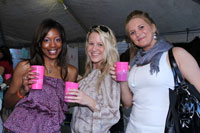 Ladies, have you ever dreamed of getting away and spending a fun weekend in New Orleans? Or, if you have already, wouldn't you just love to come back and do it again?
Well, now you can live or re-live that fun weekend: four full days of it, in fact. Over the weekend of June 11-14, the Fifth Annual FestiGals celebration is gearing up for a time for you to relax, enjoy special events and explore New Orleans' diverse cultural and culinary heritage.
FestiGals is a girlfriend's getaway celebrating women and giving back to the community. "Ordinary Women, Extraordinary Journeys" is this year's theme.
Most of the celebration takes place in downtown New Orleans, adjacent to the historic French Quarter, where you'll enjoy customized experiences and activities that range from decadent to elegant to educational to just plain fun. During this celebration of womanhood you can attend empowerment seminars on everything from health and beauty tips to business advice to inspirational motivation. You'll dine on haute cuisine, shop till you drop, be pampered at local spas and even strut your stuff in a second-line parade. And, if you don't know what a second-line is you owe it to yourselves to come on down to New Orleans and find out. You will love it!
A festival created by women for women, FestiGals is a weekend dedicated to empowering women and celebrating fashion, food, friendship and...here's that word again...FUN! FestiGals organizers call it "The Ultimate Girlfriend Getaway" and "A Party with a Purpose."
A majority of the indoor events – including seminars, most of the meals and other social events – will take place in the JW Marriott Hotel, New Orleans, just steps away from the excitement of Bourbon Street and the picturesque architecture and quaint shops along Royal Street.
There will be opportunities to get out and enjoy other attractions the city has to offer, such as the new and expanded Southern Food & Beverage Museum where a Friday evening dinner, prepared by instructors at the world-renowned New Orleans School of Cooking, will be served. A private home tour is also being planned, the date and location of which will be announced when it is finalized.
Highlights
Among the highlights of the FestiGals weekend is the Friday luncheon with the festival's keynote speaker. Past speakers have included newscasters Soledad O'Brien and Hoda Kotb, ABC "Good Morning America" weekly contributor Tory Johnson and renowned entrepreneur and commentator Amilya Antonetti.
Another highlight – this one for a worthy cause – is the "Bodacious Bras for a Cause" Luncheon and Auction fundraiser. Creatively decorated brassieres are auctioned off in a bidding frenzy that, over the years, has raised over $55,000. The proceeds of this one-of-a-kind event are donated to the Cancer Association of Greater New Orleans to provide wigs, prostheses, and other meaningful services and support to women with cancer.
This year, the event is adding Breastoration as a co-beneficiary to educate and provide financial support to women requiring reconstructive surgery.
And yet another highlight is the "Stiletto Stroll" in which the participants literally "strut their stuff" wearing high heels and stunning (dare we say, sexy!) apparel in a New Orleans-style second-line parade along a route still to be finalized. This year there will also be a "Stiletto Sprint," a short foot race in heels, also at a location to be finalized.
The Grammy Award-winning "Soul Queen of New Orleans," Irma Thomas will be leading the "Stiletto Stroll" as Grand Diva. Thomas will also be taking part in a Friday afternoon seminar focused on New Orleans music.
Most of the schedule of events for this year's FestiGals celebration has been finalized. Here is a summary:
Thursday, June 11: 3:00-9:00 p.m. – FestiGals 2015 registration in the JW Marriott Hotel. 5:30-7:30 p.m. – Welcome Reception for Ultimate Package Ladies in a private French Quarter penthouse (includes complimentary beverages and nibbles).
Friday, June 12–"Empowerment Day," a full day of professional and personal enrichment, starting with a continental breakfast featuring guest speakers on the achievements of women in the aftermath of Hurricane Katrina. Other inspirational and educational seminars will take place throughout the day, plus a Power Lunch with a dynamic keynote speaker. The evening features a "sip and shop" and cocktail showcase, plus the dinner option at the Southern Food & Beverage Museum.
Saturday, June 13–"Thriver Day," with a morning "wake up to a healthier you breakfast," a Bloody Mary Mixer and the "Bodacious Bras for a Cause" Luncheon and Auction fundraiser with a keynote speaker and "thriver" fashion show. The afternoon will include a private home tour, the "Stiletto Sprint" and "Stiletto Stroll" Second Line Parade and an after-glow party at a location still to be announced.
Sunday, June 14–"Saints & Sinners Morning," (Hangover Hospital), featuring an optional mass at St. Louis Cathedral, plus a 10:00 a.m.-noon brunch with New Orleans-style entertainment at Muriel's Restaurant on Jackson Square.
Packages and Pricing
The value-driven FestiGals fun-filled Ultimate Package may be purchased for $395, which is inclusive of all events.
All events are individually priced. For those who wish to pay separately for the events they plan to attend, those prices are also listed.
Accommodations
The JW Marriott Hotel, which serves as the Official FestiGals Headquarters for the event, is offering special rates, available only when registering for FestiGals. You must register first at www.festigals.org to obtain the exclusive FestiGals rate.
Information
For more information, call 1-855-GAL-WKND (425-9563) or visit www.festigals.org. For email inquiries, info@festigals.org. Find FestiGals on Facebook and Twitter.
FestiGals History
Founded by veteran meeting planner Diane Lyons, FestiGals was launched in October 2011 with more than 150 women from across the country attending the inaugural event. Participants experienced the best of New Orleans, along with seminars featuring prominent women speakers, fabulous parties and a unique "Stiletto Stroll," a New Orleans-style second-line parade (with a proud feminine touch) through the French Quarter.

FestiGals produced their second event in June 2012, just eight months later. In only its second year, FestiGals nearly tripled its initial attendance with participants from 16 states coast to coast. It attracted the attention of a number of high-profile journalists from prestigious media outlets, giving favorable coverage to the city of New Orleans.

The following June, FestiGals 2013 welcomed women from a variety of states. Nearly half of all registrants were repeat attendees who expressed plans to return annually. Programming included seminars on women's health, lifestyle and professional enrichment, integrated with fun activities like exclusive insider home tours, shopping experiences, the Stiletto Stroll, an interactive culinary showcase and a Saints & Sinners Sunday Brunch.

In 2014, the fourth FestiGals weekend reached new heights and a greater audience with nearly 1,500 women from across the United States gathered in the Crescent City. New programming featured a full day devoted exclusively to personal and professional development, entitled "Branding YOU!"

The day kicked off with a breakfast presentation by White House Correspondent Amie Parnes, followed by a variety of empowering presentations and panels with women-centric topics. The highlight of the day featured women's champion, Tory Johnson of ABC's "Good Morning America," who delivered a keynote speech to a capacity crowd of over 200 women.

FestiGals has raised funds for the Cancer Association of Greater New Orleans (CAGNO), as well as for the local chapter of Dress for Success and the Breast Center at Ochsner Baptist Hospital. To date, the Bodacious Bras for a Cause Luncheon & Auction has generated over $55,000 with 100 percent of the proceeds dedicated to CAGNO, an organization that provides meaningful support to women with cancer.