Festigals

When:
TBA
Where:
Hotel Monteleone
More Info:
Click Here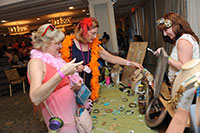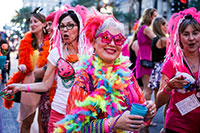 Ladies, are you looking for a fun, safe and enriching weekend to relax, enjoy special events and explore New Orleans' rich and diverse cultural heritage? If so you won't want to miss the annual FestiGals Women's Weekend Getaway held each year in mid-June.
A festival created by women for women, FestiGals is a weekend dedicated to empowering women and celebrating fashion, food, friendship and fun! FestiGals organizers call it "The Ultimate Girlfriend Getaway" and "A Party with a Purpose." A chance for women to "get away from it all," recharge and reconnect with a relaxing, festive and authentic New Orleans experience. Participants can shop, eat, drink, explore local culture and history or just relax and be pampered for three days. The first FestiGals event in 2011 was voted "Best Girls Getaway" by AAA Southern Traveler.
The highlight of the weekend is an inspirational Keynote Luncheon headlining prominent, successful women who have reached the top echelon in their fields. Past FestiGals have featured CNN Anchor and Special Correspondent and bestselling author Soledad O'Brien and Today Show co-host and Dateline NBC correspondent Hoda Kotb, also a bestselling author.
Other guest speakers are scheduled throughout the festival, as well, each an expert in their chosen field. Q&A sessions follow these presentations. Topics may range from pointers on starting a business and staying in business or climbing the corporate ladder to more fun topics like cocktails and tips for entertaining.  Participants have numerous opportunities to network and establish mutually beneficial connections.
During the weekend there are fabulous meals at some of New Orleans' most renowned restaurants, musical entertainment, fashion, exclusive home tours, culinary presentations with top chefs, and even a "Stiletto Stroll" – a New Orleans-style street parade through the French Quarter where FestiGal divas are decked out and become the stars.
The event also serves a charitable purpose. FestiGals chooses a non-profit organization that focuses on women's issues and creates a fundraiser to support that organization. To date, FestiGals has supported Dress for Success, Women to Women International and the Cancer Association of Greater New Orleans.
Ground Zero for the fun is the world-famous French Quarter.  The FestiGals Ultimate Package includes receptions, tours, lunches, the Stiletto Stroll and much more.  Some individual events are also priced separately.
For more information, call 504-524-1227 or visit www.festigals.org.
While visiting them on the web, you can sign up for the FestiGals email updates at info@festigals.org. Also friend them on Facebook at www.facebook.com/FestiGalsNewOrleans and follow them on
Twitter at www.twitter.com#!FestiGalsNOLA.
For inquiries email info@festigals.org or call 1-855-GAL-WKND (425-9563).