Festigals

July 28-30, 2016
When:
July 28-30, 2016
Where:
JW Marriott Hotel
More Info:
Click Here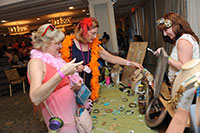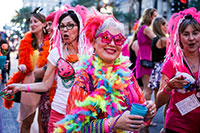 This July, take time to unwind with the women in your life at Festigals. With insightful professional development conferences, inspiring keynote speakers, and never-ending food, drinks, and shopping, you'll leave Festigals feeling empowered, and confident. Events will take place throughout the weekend at the JW Marriott and around the Downtown area.
Background
Created for women by women, Festigals is a nonprofit organization dedicated to enriching the lives of women and providing a weekend-long venue to enjoy women-focused special events and the diverse culture of New Orleans. Nicknamed "The Ultimate Girlfriend Getaway," women can recharge and reconnect with a relaxing and festive New Orleans experience. Special events throughout the weekend will donate 100% of the proceeds to women's causes.
Events
The weekend will be packed with special events to attend. From inspiring female-led seminars to shopping sprees, there's something perfect for everyone. Stay tuned for updates on times and locations here.
Friday, July 29, 2016
New Orleans Women's Conference: Strategies for Success Sessions & Luncheon
Friday will be dedicated to sessions with incredible female speakers who will educate and challenge you. Topics will range from personal to professional development, and this year's keynote speaker is Carla Harris. As a Wall Street banker, gospel singer, and author, Ms. Harris will be sure to deliver wisdom.
Sip & Shop
Enjoy time shopping over cocktails with your girlfriends in New Orleans while exploring the city's fashion, jewelry, and antique scene.
Culinary Showcase
No weekend in New Orleans is complete without a glimpse into the city's amazing restaurants.
Join one of New Orleans' most acclaimed chefs for a cooking demonstration and tasting at Festigals' Culinary Showcase.
Saturday, July 30, 2016
Bloody Mary Mixer
Start your Saturday right with a Bloody Mary! Mix and mingle at this cocktail party before heading to brunch.
Bodacious Bras for a Cause Brunch
Everyday brassieres will be transformed into festive purses, hats, and tops with bangles, beads, and sparkles. The BBFC Brunch will feature a live Bra-art auction and a Thriver Fashion Show, featuring thriving women on their cancer journeys. Be sure to wear your best chapeau for the chance to win special prizes! Proceeds will be shared by the Cancer Association of Greater New Orleans and Breastoration.
Private Home Tours
Diva Package ladies will receive an exclusive tour of private New Orleans homes. Get to know the beautiful and funky architecture and the homeowners of the city!
Stiletto Stroll: Illuminating Domestic Violence
The Stiletto Stroll is the largest all women second-line parade! This year's theme is Illuminating Domestic Violence, which will be raising funds for the New Orleans Family Justice Center.
After Glow Party
When the Stiletto Stroll ends at Mardi Gras World, the After Glow party begins! Food and drinks sponsored by local restaurants will be available while you enjoy the tunes of Rockin' Dopsie Junior & the Zydeco Twisters.
Tickets
Tickets for Festigals can be purchased here. All-access packages and individual tickets are available.