LUNA Fête
When:
TBD
Where:
TBD
Cost:
FREE!
More Info:
Click Here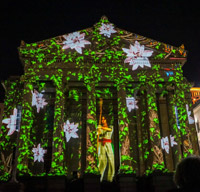 Luna Fete 2014 in New Orleans
As one of New Orleans's most unique festivals, LUNA Fête connects the local community to contemporary art. LUNA Fête (which stands for Light Up NOLA Arts) blends New Orleans' historic architecture with contemporary light and video mapping technology, sound installation and motion graphics.
The festival has previously launched with community-created work projected on a historic venue, with additional light installations across the Central Business District and Oretha Castle Haley Blvd. LUNA Fête stimulates connectivity across the community and shines a light on arts in New Orleans just in time for the holiday season.
The festival is FREE and open to the public, and is held in late November/early December with nightly projections.
About LUNA Fête
LUNA Fête is an initiative by the Arts Council of New Orleans to employ the city's iconic architecture as the canvas for large-scale, awe-inspiring outdoor light installations across the city, leading up to the New Orleans 2018 Tricentennial. LUNA Fête initiates a cultural exchange effort that fosters international economic exchange and opportunities for the local arts community.
LUNA Fête highlights art in New Orleans through new and exciting video mapping technology. The festival creates a display that compliments other local holiday lighting displays such as those in City Park (Celebration in the Oaks), on Canal Street and in the lobbies of major hotels such as the Roosevelt and Royal Sonesta.
Projection Mapping: How it Works
Projection mapping, also known as video mapping and spatial augmented reality, is a projection technology used to turn objects, often irregularly shaped, into a display surface for video projection. These objects may be complex industrial landscapes, such as buildings.
By using specialized software, a two- or three-dimensional object is spatially mapped on the virtual program, which mimics the real environment it is to be projected on. The software can interact with a projector to fit any desired image onto the surface of that object. Artists and advertisers add extra dimensions, optical illusions, and notions of movement onto previously static objects using this technique. The video is commonly combined with, or triggered by, audio to create an audio-visual narrative.
France-based La Maison Production was originally chosen as the lead artist studio for the launch of LUNA Fête. The selection of the French studio as the inaugural artist team is rooted in their experience and accomplishments in the field of video mapping. Past work includes extraordinary shows incorporating the legendary Damascus Gate and the Bolshoi. The award-winning video mapping team will project a site-specific work made explicitly for the façade of Gallier Hall with Lafayette Square serving as an advantageous viewing spot.
For more information about visit the www.artsneworleans.org/event/luna-fete.