Red Dress Run

August 9, 2014
When:
August 9, 2014
Where:
Starts at
Louis Armstrong Park
Cost:
$60 before July 31; $70 after August 1; and $70 (cash only) on August 9
More Info:
Click Here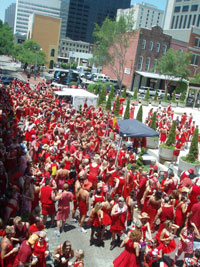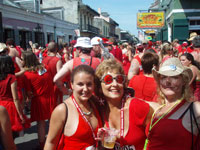 Sponsored by the New Orleans Hash House Harriers, a self-proclaimed "drinking club with a running problem," the Annual Red Dress Run through the French Quarter is a unique and fun New Orleans event that doubles as a fundraiser.
This year marks the 20th anniversary of the event.
Open to men and women alike, the Red Dress Run has raised over a million dollars for 100 local charities in the past few years.

This year's Red Dress Run, a two-mile run/walk through the French Quarter, takes place on Saturday, August 9. Participants begin assembling, registering, and drinking at 9:00 a.m., and the run is open to anyone over 21 looking for a fun way to raise money for a good cause in the beautiful French Quarter.

The $60 registration fee ($70 after August 1) includes beer, food, live music, and giveaways. For people signing up on the day of the event, only cash - no credit cards - will be accepted.
Five Finger Discount and Flow Tribe will play on the day of the run, along with the BrownCoat Brothers and DJ Marion Perret.

Don't have a red dress for the occasion? Don't worry. You can find a wide selection at a number of local New Orleans thrift stores and costume shops.
To register, or for more information visit the official Red Dress Run website.

More About the NOH3
The New Orleans Hash House Harriers, also known as NOH3, is one of the many clubs and organizations in New Orleans whose main purpose is to have fun, celebrate the city's unique joie de vivre (joys of life) and raise money for worthy causes. Its members love to dress up in outlandish costumes, consume alcoholic beverages - especially beer (within reason, of course) - and devise any excuse or reason to have a party.

You can find more information on the New Orleans Hash House Harriers website or by calling (504) 889-4274.