Red Dress Run

August 12, 2017
When:
August 12, 2017
Where:
Starts at
Louis Armstrong Park
Cost:
$55 before June 30; $60 between July 1 & August 7; and $80 (cash only) day of event
More Info:
Click Here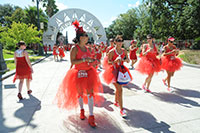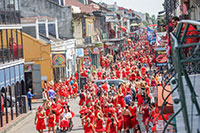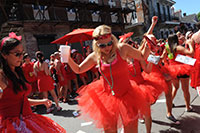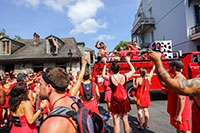 Get ready to see hundreds of red dresses flying through the streets of New Orleans. The Red Dress Run is coming up!
Background
Every year the "Hash House Harriers," a self-proclaimed "drinking club with a running problem," hosts The Red Dress Run throughout the French Quarter. This unique event is open to men and women alike, and it doubles as a fundraiser for over 100 local charities.
The Event
This year's 23rd Annual Red Dress Run will be held on Saturday, August 12th. The run typically takes off at 12:30 p.m., but participants may begin gathering as early as 9 a.m. in Crescent Park. Registered runners can expect unlimited beer, food and live music by The Topcats and The Mixed Nuts. From there, the run will commence as red dresses of all kinds parade through the French Quarter while visitors come from near and far to cheer them on.
Giving Back
Proceeds from the race benefit dozens of different charities and organizations in New Orleans, and each organization can receive a Red Dress Grant of up to $5000. If you can't make the race for any particular reason, you can still be a part of it by donating through the event's website.
Attire
A red dress, of course – even for the guys! Participants come clad in red from head to toe, with many finding their red dresses in thrift shops, online and even in their mother's closets. Some participants make their own dresses as well!
Notes
This is an adult only event. Participants must be at least 21 years of age. Everyone must pick up their own race-day packet and provide a valid form of ID, as well as sign their own waiver.
Registration
Registration costs $55 per participant online through June 30, $60 through August 7 or $80 (cash only) day-of at the event site.
For more information on The New Orleans Red Dress Run, visit www.nolareddress.com.