Hell Yes Festival

When:
TBA
Where:
Citywide
More Info:
Click Here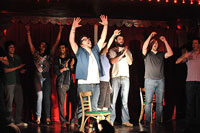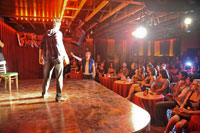 It's been called "the biggest factor in the explosion of New Orleans' comedy scene." Every year during the second week of November the Hell Yes Festival brings to the stage and screen dozens of standup comedy acts, films and other comedy elements designed to entertain, enlighten and even outrage (in a good-natured way, of course).
Throughout the nearly weeklong festival, black box theaters, pubs and other venues in the French Quarter and the adjacent Faubourg Marigny neighborhood host individual and group acts. Past headliners have included some of the top names in standup comedy, including Eric Andre, host of a popular show on Turner Broadcasting's Adult Swim animated and live-action series for young adults.
In addition to standup comedy, the Hell Yes Fest also includes a film festival, podcast recordings, and sketch and improvised comedy.
The Hell Yes Festival began in Austin, Texas where it is still held every year in April. Its success there encouraged the founders to expand into New Orleans in 2011 and it has found a welcome reception here.
For more information about the Hell Yes Festival visit their website at www.hellyesfest.com.