Mardi Gras Fundamentals

By Arthur Hardy
So you're new to Mardi Gras but don't want to act like it? Here, in brief, are the basic facts about America's greatest party.
Mardi Gras can occur on any Tuesday from February 3 through March 9. The fluctuating date was established by the Catholic Church, which designed the Gregorian calendar with a fixed date for Christmas, but with moveable dates for other religious holidays. Easter can fall on any Sunday from March 23 to April 25, and its exact date was set to coincide with the first Sunday after the full moon that follows the spring equinox. Mardi Gras is always scheduled 47 days preceding Easter (the 40 days of Lent, plus seven Sundays).
Since Rex, the King of Carnival, selected them in 1872, the official colors of Mardi Gras have been purple, green and gold. While they were probably chosen simply because they looked good together, Rex assigned a meaning to each in his 1892 parade entitled Symbolism of Colors. Purple represents justice, green stands for faith, and gold signifies power.
There is no general theme for Mardi Gras, but each individual parade depicts a specific subject. The floats then reflect the krewe's theme for that year. Maskers are costumed in a manner that illustrates the overall parade theme and the individual float title.
The themes depicted by the nearly 2,000 Mardi Gras parades staged in New Orleans since 1857 have ranged from the ridiculous to the sublime. Among the more popular subjects have been history, children's stories, legends, geography, famous people, entertainment, mythology and literature.
The colorful worlds of Greek, Roman and Egyptian mythology are the sources of nearly half of the area's krewe names. Some clubs are named after the neighborhoods through which they travel, while others are named after historical figures or places.
Carnival clubs are chartered as non-profit entities. They are financed by dues, by the sale of krewe-emblemed merchandise to the members and by fund-raising projects such as bingos. Most Mardi Gras krewes are also actively involved in charitable work.
Almost all Carnival parades follow a standard parade format, normally with the captain appearing at the head of the procession, either on a special float, in a convertible or on horseback. Next come the officers, the king or queen, and in some parades, the maids and dukes, followed by the title float and the floats that carry riding members. An 18-float procession of a 200-member krewe may feature more than 75 units. When band members, dance groups, posses, clown units and motorcycle squadrons are all added up, it is not uncommon for the number of participants to total more than 3,000.
While several "pre-season" parades have become quite grand in scale, local parish ordinances dictate that the New Orleans Mardi Gras parade season officially begin on the second Friday before Fat Tuesday. During the 12-day period leading up to Mardi Gras, nearly 70 parades are held in the four-parish area of Orleans, Jefferson, St. Bernard and St. Tammany.
Baubles have been tossed off floats since at least 1871, when a masker costumed as Santa Claus aboard float No. 24 in the Twelfth Night Revelers parade dispensed gifts to the crowd.
Less than a dozen Carnival clubs build their own original floats each year. Since their floats will be used only once, these krewes have greater flexibility with the subject matter their parades portray. Float design tends to be quite faithful to the parade theme. Most other krewes select from a pool of rental floats, and their themes tend to be generic in nature. Thus, the "Sherwood Forest" float from a parade entitled Robin Hood might show up two days later as lead unit in another parade whose subject is "All-Time Favorite Mythical Characters". In Orleans Parish, a city ordinance prohibits the use of the same float more than twice in the Central Business District during any given parade season.
The method of selecting Mardi Gras royalty varies from krewe to krewe. The King of Carnival is chosen by the inner circle of the School of Design, the sponsoring organization for the Rex parade. Some krewes hold random drawings to pick their king or queen. Most clubs charge the selected monarch a fee to reign. In several of the newer krewes, elaborate ceremonies called "coronation balls" have supplanted the tableau ball in importance and in grandeur.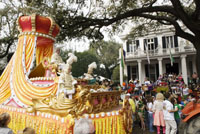 Super-krewes such as Bacchus, Endymion and Orpheus, scheduled for the three nights before Fat Tuesday, feature a combined total of 110 floats, 90 marching bands, and more than 350 units. Their collective 3,500 members toss more than 2 million cups, 3.5 million doubloons and 350,000 gross of beads. They also annually invite guest celebrities to ride in their parades. Some of the more popular stars to have appeared are Bob Hope, Dolly Parton, Wayne Newton, John Goodman, Jackie Gleason, Dennis Quaid, Kirk Douglas, Harry Connick Jr. and the Beach Boys.
Before the age of recycling, the success of Mardi Gras in Orleans Parish was sometimes measured by the amount of trash collected by the New Orleans Sanitation Department. For several years in the late 1980s, the total for the 12-day parading season topped the 2,000-ton mark.
Visit www.mardigrasguide.com for more information.