Mardi Gras Throws
Mardi Gras "throws" have been a New Orleans tradition for over 130 years, as people love to catch the beads and trinkets that fly through the sky at every parade. Each Mardi Gras Krewe has its own unique set of throws, and many of them spend all year preparing and decorating their coveted items that parade goers love to take home as souvenirs.
Mardi Gras throws have evolved from simple bead necklaces and cups, to the highly coveted Zulu coconuts and high heel shoes from Muses. Catching these throws can be highly competitive, but quite thrilling, especially if you know what to look for!
See our list of notable Mardi Gras throws and when to find them on the parade routes:
Beads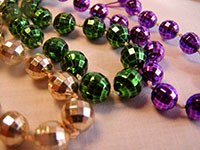 Beads
The most iconic of throws- you can catch beads by the handful at every parade. Many people try to collect as many beads as possible to see who can catch the most. Warning: always keep an eye out for beads flying through the air during a parade. They look light, but they can hurt if you're not looking!
Cups
Most parade krewes hand out plastic cups with their unique insignia – perfect to take home with you for the memories.
Shoes and Plush Toy Hairdryers from Muses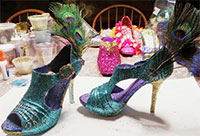 Muses Shoes and Plush Toy Hairdryers
You can't buy these beautiful shoes at a store. The women of Muses spend months decorating these high heels to throw out to the crowd, along with their mini toy hairdryers and other fabulous goodies.
Shrimp Boots from the
Krewe of Carrollton
If high heels aren't your thing, you'll find some of the most unique throws from the Krewe of Carrollton – including their decorated shrimp boots – a classic symbol of Louisiana coastal culture.
Purses from the Mystic Krewe of Nyx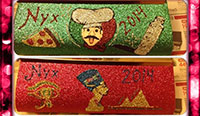 Purses from the Mystic Krewe of Nyx
From the largest all female Mardi Gras krewe in New Orleans, look for the dazzling purses from the women of Nyx, the Goddess of Night.
Plungers,Toilet Glasses and Toilet Brushes from Tucks
You'll see a little bit of everything during Mardi Gras, including toiletry-themed throws from the Krewe of Tucks, the best parade for those with a sense of humor!
Sunglasses from the Krewe of Iris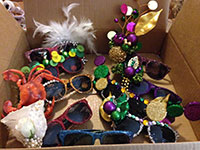 Sunglasses from the Krewe of Iris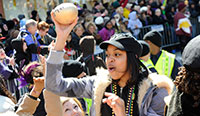 Zulu Coconuts
Doubloons
"The sun always shines on Iris!" Look for the famous sunglasses from the oldest female Mardi Gras krewe that parades every year- rain or shine.
Zulu Coconuts
Perhaps the most highly sought after throw of Mardi Gras – these decorated coconuts are rare, and only the luckiest and most determined parade goers will catch them during the Zulu parade on Mardi Gras Day.
Doubloons
Introduced by the original Krewe of Rex, the doubloon is one of Mardi Gras most treasured throws. These colorful metal medallions are now customized by parade and can be caught from the various Super Krewes like Orpheus, Rex and Bacchus, along with their signature bead necklaces and pillows.