Oy! Such a Home
Businessman and philanthropist Judah Touro, founder of Touro Infirmary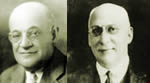 Drugstore tycoons Gustave Katz and Sydney J. Besthoff, better know by the initials of their stores, K&B.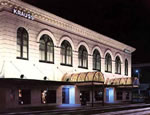 Krauss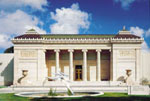 New Orleans Museum of Art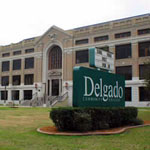 Delgado Community College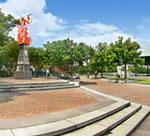 Before any Jews had even come to Louisiana, the Code Noir (Black Code) of the French colonial period decreed that they be expelled. No one bothered to enforce this part of the code against the handful of Jews who gradually trickled into New Orleans in the mid-1700s. After taking control in 1769, the second Spanish governor, however, did expel certain successful Jewish merchants-in particular the family of Isaac Monsanto who temporarily fled to Florida-but the Spanish governor's probable motivation was more a perceived threat to Spanish economic power rather than religious intolerance.
Judaism, after all, was not very important to New Orleans' early Jews. Independent and individualistic, they generally came alone to New Orleans, seeking opportunity and leaving established Jewish enclaves elsewhere. A religious Jew in early New Orleans would have had a hard time upholding Jewish traditions which require, among other things, praying with at least nine others and following certain dietary restrictions. In fact, local Jewish history says the first New Orleans congregation, Gates of Mercy, began in 1827 when a Jew named Isaac Solis couldn't find any unleavened bread to eat during Passover and decided to do something about the lack of Jewish life in the city.
The Jewish community developed into a small but prominent population in New Orleans. The lifetime bachelor Judah Touro, a New England Jew of Dutch descent, steadily amassed a fortune as a merchant and businessman. He wasn't particularly religious, but he was charitable, and his many philanthropic works include funding the congregation that became Touro Synagogue in 1850 and two years later starting Touro Infirmary, which grew into the enormous hospital it is today.
While the first Jews of New Orleans had roots in Western Europe, a new wave began arriving from Eastern Europe. These Dryades Street Jews, so named after the Central City neighborhood where they settled, tended to be Orthodox, working class, and somewhat removed from city life, even from the established Jewish community.
Jews hadn't faced much anti-Semitism in New Orleans. The Krewe of Rex's first King of Carnival in 1872 was even Jewish. But by the early 20th century, Jews were excluded from elite Mardi Gras krewes and other social organizations no matter how wealthy or prominent they were in city's structure.
Nevertheless, Jews continued to be leaders in the city. Many of New Orleans beloved retail stores have been Jewish-owned: the former Canal St. department stores Krauss and Maison Blanche, the dearly missed K&B Drugs, and the still functioning Adler's, Hurwitz-Mintz, and Rubensteins. Jewish philanthropy to New Orleans did not stop with Touro. Isaac Delgado founded Delgado Community College and the Museum of Art in City Park; Isidore Newman began one of the city's top college prep schools; and the city can thank Malcolm Woldenberg for Woldenberg Park.
Over the decades, the Jewish community's focus gradually shifted farther uptown and is now dispersed throughout the city and into Metairie. Jewish Community Centers in both New Orleans and Metairie and congregations across the metropolitan area keep New Orleans Jewish life thriving.
Jewish Community Centers
Jewish Community Center-Uptown
5342 St. Charles Avenue
New Orleans, LA 70115
(504) 897-0143
www.nojcc.com
Goldring-Woldenberg Jewish Community Center-Metairie
3747 W. Esplanade Avenue
Metairie, LA 70002
(504) 887-5158
www.nojcc.com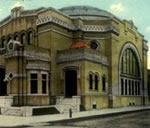 Touro Synagogue

Temple Sinai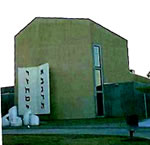 Congretation Gates of Prayer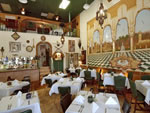 Casablanca Restaurant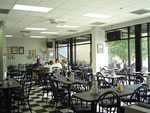 Kosher Cajun Deli
Synagogues
Touro Synagogue
4238 St. Charles Avenue
New Orleans, LA 70115
(504) 895-4843
www.tourosynagogue.com
Temple Sinai
6227 St. Charles Avenue
New Orleans, LA 70118
(504) 861-3693
www.templesinaino.org
Congregation Gates of Prayer
4000 West Esplanade Avenue
Metairie, LA 70002
(504) 885-2600
www.gatesofprayer.org
Kosher Restaurants
Casablanca Restaurant
3030 Severn Ave.
Metairie, LA 70002
(504) 888-2209
Kosher Cajun Deli
3519 Severn Ave.
Metairie, LA 70002
(504) 888-2010
www.koshercajun.com
Judaica Shops
Dashka Roth Contemporary Jewelry & Judaica
332 Chartres Street
New Orleans, LA 70130
(504) 523-0805
www.dashkaroth.com
L'Dor V'Dor Judaica
3519 Severn Ave.
Metairie, LA 70002
(504) 455-4450
Naghi's
633 Royal Street
New Orleans, LA 70130
(504) 586-8373
www.naghis.com
M.S. Rau Antiques
630 Royal Street
New Orleans, LA 70130
(504) 523-5660
www.rauantiques.com