Halloween in New Orleans
Looking for a ghoulishly good time this Halloween? There is something for everyone from the smallest trick-or-treaters to the biggest party monsters in New Orleans. New Orleans is a city rich with haunted history so there is no place better for frightening festivities.
Get into the mood by going on one of the many haunted tours in the city through the French Quarter. Exploring one of the city's historic and beautiful cemeteries will also set an eerily perfect tone to the day.
Check out the French Quarter's Voodoo shops to learn a little more about the history behind the spiritual practices and you might even learn a few new spells. Some of the shops plan special events for Halloween, so make sure you stop by and get in on the action.
Then grab your costume and head to one of the city's many parties. Didn't pack a costume? Check out one of the city's many costume shops. You can get anything from cat ears and fairy wings to over-the-top outfits. And take it from us – New Orleanians take their costumes very seriously, so if you want to keep up with the pack, and really have some fun, make sure you pick up some kind of costume!Most bars, shops and eateries welcome and encourage costumed guests.
One of the biggest celebrations occurs every year on Frenchmen Street in the Marigny. Throngs of partygoers, including locals and tourists, take to the streets donning elaborate costumes. If you want to escape the crowds, duck into one of the many jazz clubs along the street for some live music and a drink.
You can also join thousands of gays and lesbians for Halloween New Orleans, a weekend full of festivities celebrating Halloween. Elaborate costumes, exciting galas, and drinking and dancing with friends characterize this festive celebration. The proceeds go to Project Lazarus, a home in New Orleans for people living with AIDS – so you know your good times are going to an even more important cause. The schedule, theme and venue change from year to year, so check out www.HalloweenNewOrleans.com to find out more about this spooky shindig.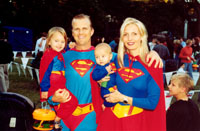 If you're looking for something a little more family-friendly, check out Audubon Zoo's annual "Boo at the Zoo." The Zoo stays open for the evening with entertainment, food, trick-or-treating, (not so) scary stories, a haunted house, and more. Tickets are available as Halloween approaches and can be purchased by phone at either (800) 774-7394 or (504) 581-4629, or at the main office of the Zoo. Other events for children often pop up from year to year, so make sure to check up on children's activities as Halloween gets closer.
There's no such thing as ghosts, right? You might rethink that after visiting one of New Orleans most iconic and historic hotels. The Hotel Monteleone, known for its haunted rooms, hosts an annual ball in honor of the hotel's supernatural guests of honor. Even if you're not a guest of the hotel, you can stop by for a drink at the Carousel Piano Bar and Lounge.You may just end up rubbing elbows with the hotels most infamous and creepy residents. Check out the hotel's website for more information on this spooky spectacle.
New Orleans also has a number of Haunted Houses in the area set up each year by different groups. Get your fill of creepy-crawlers, ghoulish ghosts, and other Halloween regulars inside these sanctuaries of scare. Its important to remember that different houses range in extremes of goriness, so make sure you check up on the fear factor before heading out – especially if you have children. While there are a lot of haunted houses that are suitable for children, some locations are aimed more at thrill-seeking visitors, feature far more frightening fare than some skittish guests may be up for. For real ghost hunting and paranormal investigating during Halloween season, try one of the guided night tours at The Haunted Mortuary located at the "dead end" of Canal Street and accompany trained professionals on their constant quest for new discoveries –any activity your equipment picks up they will document and credit to you!
New Orleans is known for its outrageous parties and Halloween is no exception. So come on down for a spine-tingling celebration.