New Year's Eve in New Orleans

December 31, 2014
When:
December 31, 2014
Where:
Jackson Square
Cost:
FREE!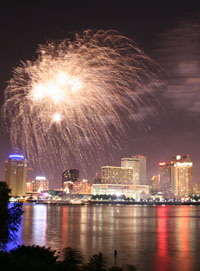 High above the Mississippi River the sky will be exploding in a panoply of colors and shapes as a New Year begins!
A spectacular, 15-minute fireworks display launched skyward from twin barges anchored in mid-river will herald the midway point of the 21st century's second decade. This colorful, sonic-booming, pyrotechnic extravaganza is consistently ranked as one of the best in the nation, and it can be yours to enjoy if you're lucky enough to be in New Orleans on New Year's Eve.
No place on earth can offer a more fun-filled experience on the first night of the new calendar year. Some of the best things you'll enjoy that night are free, including a fleur-de-lis drop from the rooftop of Jax Brewery and fireworks over the nearby river that you can see (and hear!) with unobstructed views.
It's a night you will always remember, and the fun doesn't stop there either.
Just a short few blocks away is the French Quarter, the epicenter of which is Bourbon Street, widely reputed to be the liveliest half-mile on the planet. Bars and music clubs will rock and swing all night long, into the wee hours of the morning, inviting you to come in and celebrate the New Year and the joys of being alive.
Frenchmen Street is also just a few blocks away, with a concentration of music clubs rivaling those of the French Quarter. Whatever suits your musical tastes and dancing impulses, you'll find it there.
If the weather is warm, which it often is at this time of year, you can party outdoors in the street and take your drinks out there with you. Make the most of this great opportunity! There aren't many other places in the country where you can do THAT.
Live music, exotic drink specialties, great food, happy people celebrating in the streets and much more can be found in New Orleans on New Year's Eve.
Dining and Entertainment
If outdoor celebrations and big crowds are not for you, there are plenty of classy places around the city to relax and enjoy the festive occasion. You can make a reservation at one of the city's many fine restaurants and celebrate the evening over a delectable meal. Don't forget to order a glass of champagne for a traditional New Year's toast with your loved one(s). Many restaurants offer special deals or packages for the evening, so make sure you check ahead to ensure the perfect night for you and your party.
You can also check out local listings to find out which other bands are playing that night in other venues. New Year's concerts in music clubs feel more like parties. Many places offer hors d'oeuvres and open bars for a flat cover fee. Most bars and restaurants, regardless of size, have something special going on that night.
Two large-scale events that have already begun taking reservations will be at the Hyatt Regency and Westin Canal Place Hotels, both of which are on Canal Street in close proximity to the action. "Big Night New Orleans 2014-2015" at the Hyatt offers, for one all-inclusive price, open bars, food buffets, 10 live bands, dancing, party favors and more. The party runs from 9:00 p.m. to 1:30 a.m.
The Westin Canal Place, with spectacular views of the river and the fireworks, offers an evening of New Year's fun featuring a menu of prime rib and Cajun fried turkey, pasta, Louisiana fresh seafood, fresh shucked and Oysters Rockefeller, sausage gumbo and hot hors d'oeurves, with Bananas Foster flambé for dessert. Champagne and party favors are also included in the single price. The action goes from 8:00 p.m. to 1:00 a.m.
When planning your trip, make sure you call ahead of time to make any reservations, since many of these private parties sell out before the big night. Most major credit cards are accepted and reservations can often be made and confirmed online.
Riverboat Fireworks Cruises
Two paddlewheel riverboats operating from the docks of New Orleans are offering cruises on the Mississippi River before, during, and shortly after the New Year's Eve fireworks celebrations. You can choose between the Natchez or the Creole Queen and either way you can't go wrong. Both offer a fantastic waterborne experience you'll always remember.
The Creole Queen will be taking on passengers between 10:00 and 11:00 p.m. and setting sail an hour before midnight. In addition to being as close to the fireworks as possible, you will also be treated to a late night buffet, open bar, champagne toast and the music of a live deejay. The boat returns to the dock at 1:00 a.m., leaving you plenty of time to still get out and enjoy the festivities of the French Quarter nearby. Reserve online or by calling (504) 293-2316.
Passengers who book reservations on the Natchez will be boarding between 9:30 and 10:00 p.m. on Dec. 31, with the boat setting sail at 10:00. The cruise will feature a delicious holiday buffet, a premium brand open bar and live entertainment. The boat will dock shortly after the fireworks display ends and the party continues dockside, at the Toulouse Street Wharf, until 12:30 a.m.
Reservations are required and holiday attire recommended. Call toll free (800) 365-2628. The local number is (504) 586-8777.
For the Kids (and their parents)
If you're looking for a celebration the whole family can enjoy, there are fun options for all of you. The Louisiana Children's Museum hosts an annual Countdown to Noon – a festive celebration featuring games, entertainment, and a New Year's countdown to 12:00 noon, complete with balloon and confetti drops and a soda-pop toast. Festive hats and noisemakers are also included to make the afternoon an extra-special affair.
Similarly, the Audubon Zoo hosts a "Noon Year's Eve" celebration, so your little party animal can ring in the New Year in one of the country's top-rated zoos. This event features live music, games and prizes, and a countdown with sparkling apple cider.
Whatever your preference is, New Orleans has all the bases covered for New Year's Eve: everything you could possibly imagine for everyone. It's a time you will never forget! Once you've experienced New Year's Eve in New Orleans, you won't want to celebrate it anywhere else. That's a promise!
For more detailed information as the date gets closer check out the following website: www.crescentcitycountdown.com
IMPORTANT NOTE: If you plan on spending New Year's Eve in New Orleans you need to make your reservations as soon as possible. The Allstate Sugar Bowl is being played on Thursday, January 1 and hotel rooms will start filling up several days before that.