Bayou Classic
When:
TBA
Where:
Mercedes-Benz Superdome
More Info:
Click Here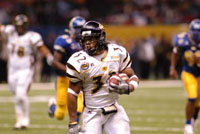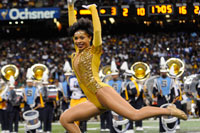 Every year, the Southern University Jaguars battle it out with the Grambling State University Tigers in one of the most exciting events in college football. The event is held annually on the last Saturday in November at the Mercedes-Benz Superdome.
The rivalry between the two schools goes back to 1974, when the first Bayou Classic was held in New Orleans' Tulane Stadium. Since then, thousands of fans gather not only for the game, but also for a weekend full of festivities in the city. Further entertainment is provided by the school's individual marching bands ­ the Grambling "Marching Tigers" and Southern "Human Jukebox", who compete in a "Battle of the Bands" event held the night before the football game.
The landmark game is a celebration not only of the rivalries between the two schools, but also a tradition that brings family and friends together every year in the name of football, fun and historical significance. Tickets sell out in advance, so make sure you get them early.
Even if you don't get to enjoy the game inside the Mercedes-Benz Superdome, Bayou Classic Weekend is sure to be an exciting and entertaining experience.