Crescent City Classic
When:
TBD
Where:
Citywide
More Info:
Click Here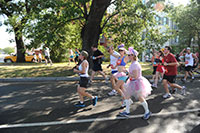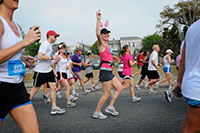 With top runners from throughout the world participating in previous years, the annual Crescent City Classic 10k has grown to become one of New Orleans' largest 10k races. The race takes participants throughout the city from historic Jackson Square to the modern financial district, past the elegant old homes of Esplanade Avenue, and on to the ancient moss-draped oaks of City Park for a post-race celebration.
The Classic is organized by The Crescent City Fitness Foundation. The race is open to anyone who wishes to participate. It is a favorite with local runners and walkers from the New Orleans area as well as world-class athletes who view this race as one of the top races of its kind. The party following the race is also open to the runners' families and friends for a small admission fee. The celebration features some of New Orleans' favorite music as well as plenty of food and drink. The Crescent City Health and Fitness Expo, held the Thursday and Friday before the race is also open to the public.
Top times receive trophies and cash prizes. Limited edition Crescent City Classic race posters are given to the first 500 finishers and females with a race time under 44 minutes.
For information on the race or to enter the race online visit: www.ccc10k.com.